Sponsored by James Patterson's MAX EINSTEIN series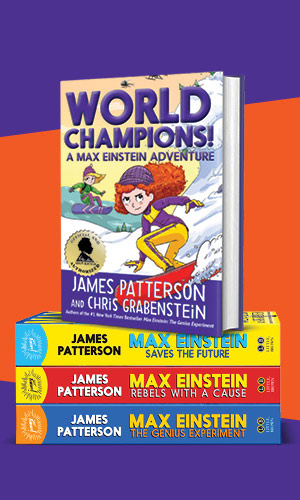 tk
Take A First Look At Amazon's Adaptation of The Wheel of Time
Amazon's adaptation of Robert Jordan's Wheel of Time fantasy series is coming this November. And while that's still a few months away, you can take a first look at The Wheel of Time adaptation right now online at Entertainment Weekly's website and in the September issue of their magazine. The series stars Rosamund Pike as Moiraine, who rescues a group of villagers after monsters attack their home. Pike explains, "Moiraine is the guide figure in this world, the mysterious stranger who comes to town and changes their lives forever. They leave with her on a journey that will either save or destroy humanity." Showrunner Rafe Judkins says he sees The Wheel of Time as a perfect bridge between Game of Thrones and Lord of the Rings, another fantasy series being adapted by Amazon into a show.
Anthony Mackie Will Carry the Shield in Captain America 4
It's official! Anthony Mackie has closed a deal to carry the shield in the next Captain America movie. Very few details are known about the project at this time. We know that the film will be written by The Falcon and the Winter Soldier head writer and creator Malcolm Spellman, along with series staff writer Dalan Musson. It is unknown whether Sebastian Stan or Chris Evans will be involved in the project. A director for the film has yet to be chosen.
Disney to Adapt Janae Marks' From the Desk of Zoe Washington
Disney Branded Television is developing the critically-acclaimed From the Desk of Zoe Washington by Zoe Marks into a film. The project was officially announced on Twitter on Wednesday, August 18th. From the Desk of Zoe Washington is a middle grade novel that follows the story of Zoe, a young aspiring pastry chef who wants to audition for Food Network's "Kids Bake Challenge" the summer before seventh grade. Then she gets a letter from her father Marcus, who was sent to prison before she was born. When Marcus tells Zoe he's innocent, Zoe is shocked that an innocent man could be sent to prison, and she begins looking into systemic racism and injustice in prisons. Kerry Washington, Pilar Savone, and Effie T. Brown have signed on to executive produce the film. Disney promises that more details are coming soon!
Book Riot Will Match Your Donation to the Indian Residential School Survivors Society
Book Riot is matching donations up to $2,500 USD to the Indian Residential School Survivors Society. Read this post to find out more and how you can help.