Sponsored by Amazon Publishing.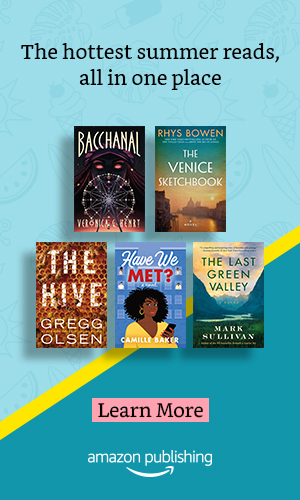 tk
Megan Rapinoe Announces Literati Book Club
Professional soccer player and activist Megan Rapinoe has announced an exclusive book club with Literati. Rapinoe's book club, called The Call In, will feature books that tackle important issues impacting the world today, like racism, immigration, transgender rights, body positivity, addiction, and more. "Reading is a powerful educational tool that allows us to connect directly to someone's experience—even through fiction. I want this book club to open readers' minds and hearts to one another, and I want everyone to see and feel how truly connected we all are," says Rapinoe. "I hope readers will be inspired by the authors and stories that I select. I hope that people who join my club will create change in their own lives as a result. My call to action is for each of us to shift the ground that is beneath us." Rapinoe has chosen the club's first book for September: #MeToo founder Tarana Burke's Unbound: My Story of Liberation and the Birth of the Me Too Movement.
Stephen Graham Jones Wins Multiple Shirley Jackson Awards
The winners of the Shirley Jackson Awards have been announced! Author Stephen Graham Jones has won multiple awards this year: The Only Good Indians won for best novel, and The Night of the Mannequins won for best novella. The Shirley Jackson Awards are voted upon by a jury of professional writers, editors, critics, and academics. In a pre-recorded ceremony on Sunday, August 15, all of the winners were announced. The other winners were The Attic Tragedy by J. Ashley-Smith for best novelette; "Not the Man I Married" by R. A. Busby for best short fiction; Velocities: Stories by Kathe Koja for best single-author collection; and Black Cranes: Tales of Unquiet Women, edited by Lee Murray & Geneve Flynn, for best edited anthology. You can watch the full ceremony here.
Judy Blume's Forever is Finally Becoming an Audiobook
Forty-six years after its original publication, Judy Blume's cult classic Forever is finally becoming an audiobook. The new audiobook will be narrated by actress Caitlin Kinnunen, and it will be available on September 14. Kinnunen was hand-picked by Judy Blume herself to narrate the novel, after the author heard Kinnunen's narration on another audiobook. "Getting to read this beautiful book by Judy Blume is a true honor," says the Tony Award-nominated actress. "Her work is timeless and this story is still as impactful as the day it was first published. I cannot wait for today's generation to discover these characters and fall in love with them for the first time."
6 Myth Retellings on Audiobook
Love mythology? Here are six ancient Greek mythology retellings that span the globe, from modern day Korea and Nigeria, back to ancient Greece. And they're all available on audio!