Sponsored by Friends Forever by Shannon Hale and LeUyen Pham with Macmillan Children's.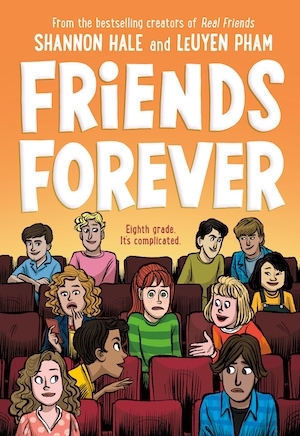 A follow-up to the mega-bestselling Real Friends and Best Friends graphic memoirs, Shannon Hale and LeUyen Pham are back with Friends Forever, a story about learning to love yourself exactly as you are. Shannon is in eighth grade, and everything keeps changing. Her classmates are starting to date each other, and no matter how hard she tries, Shannon can never seem to just be happy. With their signature humor, warmth, and insight, Shannon Hale and LeUyen Pham have crafted another incredible love letter to their younger selves and to readers everywhere, a reminder to us all that we are enough.
Hi Kid Lit Friends,
My mailbox has been filled with beautiful books centered around what it means to be American, and I thought this would be a perfect time to do a little round-up. A couple of these books release this fall but I wanted to get them on your radar now!
This beautiful picture book examines a question that the author herself asked when she was a child: Do you love me? Do you love me from the inside out? Do you love me from the outside in? The book continues to ask questions that I believe all young people ask themselves. Does their country love them? Does their country love them even when they stand in, stand up, and stand out?
I Am An American: The Wong Kim Ark Story (11/2/21, Little, Brown) by Martha Brockenbrough with Grace Lin, illustrated by Julia Kuo
One of the qualifications to be an American citizen is to be born on American soil, but did you know that a Supreme Court Case decided that? When American-born Wong Kim Ark returns home to San Francisco after a visit to China, he's stopped and told he cannot enter because he isn't American. After being imprisoned on a ship for months, Wong Kim Ark takes his case to the Supreme Court and argues any person born in America is an American citizen.
The People Remember by Ibi Zoboi, illustrated by Loveis Wise (9/28/21, HarperCollins)
I loved this picture book in verse by Ibi Zoboi that is gorgeously illustrated by Loveis Wise. The book tells the journey of African descendants in America by connecting their history to the seven principles of Kwanzaa. This book is perfect to read aloud so young readers can deepen their understanding of African American history in relation to their own lives and current social justice movements.
This middle grade book in verse tells the story of Reha. At school she is the only Indian American student but at home she is surrounded by family, Indian culture, and customs. Reha feels especially estranged from her mother, who has high expectations for her. But when Amma gets sick, Reha knows she has to do everything she can to make her mom better, even if it means doing everything she can to be the perfect Indian daughter.
The Undefeated by Kwame Alexander, illustrated by Kadir Nelson
This incredible picture book won the Caldecott Medal as well as the Newbery Honor, and it's no surprise because it's a fantastic book. A love letter to Black life in the United States, it highlights the unspeakable trauma of slavery, the faith and fire of the civil rights movement, and the grit, passion, and perseverance of some of the world's greatest heroes.
What are you reading these days? Let me know! Find me on Twitter at @KarinaYanGlaser, on Instagram at @KarinaIsReadingAndWriting, or email me at KarinaBookRiot@gmail.com.
Until next time!
Karina
*If this e-mail was forwarded to you, follow this link to subscribe to "The Kids Are All Right" newsletter and other fabulous Book Riot newsletters for your own customized e-mail delivery. Thank you!*