Sponsored by This Party's Dead by Erica Buist from Unbound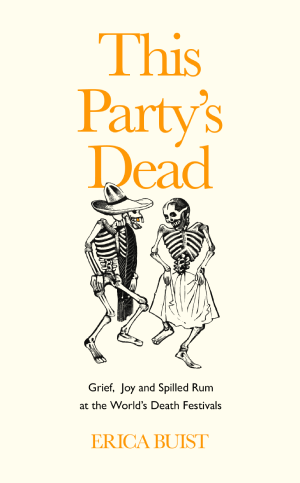 tk
Akwaeke Emezi Reveals Cover for Upcoming YA Novel Bitter
Earlier today on Instagram, Akwaeke Emezi shared the cover for their upcoming YA novel Bitter. Emezi wrote, "this one is for everyone who wanted a prequel to PET—i got you! you get to see jam's mom as a teenager, lucille as it was during the revolution, and how the angels came about in the first place!" Shyama Golden, who also designed the cover for Emezi's Pet, also created the cover art for Bitter. The novel will be published by Knopf Teen and available on February 15, 2022.
Mindy Kaling Adapting Novel HANA KHAN CARRIES ON as Film
Amazon Studios and Mindy Kaling's Kaling International are adapting Uzma Jalaluddin's novel Hana Khan Carries On as a film. The story is a romance centered around two Halal shops. Hana Khans's family owns Three Sisters, a restaurant whose business is threatened when a more commercial, fusion-based restaurant opens up down the street. Unfortunately, Hana finds herself having an instant romantic connection with the owner of the other restaurant, Aydin. Sahar Jahani—who has previously written for the television series 13 Reasons Why, The Bold Type, and Ramy—will write the script, and Mindy Kaling and Jessica Kumai Scott will produce via Kaling International.
Prince Makes an Appearance in New Batman '89 Comic
Blink and you'll miss it, but if you look closely at the opening pages of the new Batman '89 comic, you'll see a cameo from Prince. Written by original Batman screenwriter Sam Hamm with art by Joe Quinones and Leonardo Ito, Batman '89 is a new comic based on the hit 1989 Batman film starring Michael Keaton and Jack Nicholson. In one of the first pages of the comic, a Gotham newscaster interviews trick-or-treaters about all of the Batman and Joker costumes at this year's Halloween celebrations. One of the costumed people she talks to is a Joker cosplayer who looks almost exactly like Prince from the Batman music videos. You can get Batman '89 right now wherever comic books are sold.
Your Guide to New Marvel Movies and TV in 2021 and 2022
Disney and Marvel clearly have a lot of stories left to tell. Here's your guide to what the MCU has in store for the rest of 2021 and 2022.