Sponsored by Oni Press.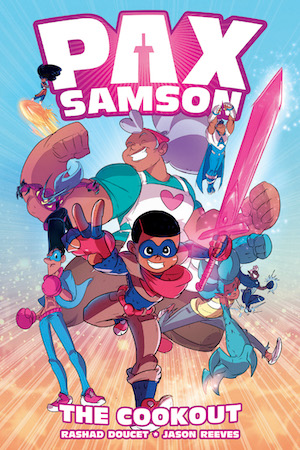 When it comes to the kitchen, no one knows cooking better than twelve-year-old Pax Samson. He's a hero when it comes to supplying Dragon Noodle Soup at his family's cookouts. It's tough being a master chef, though, when the rest of your family are world-famous superheroes, and they expect Pax to take up the beacon to keep the world safe with his telekinetic powers. But when old villains resurface and threaten his world, he'll have to make a choice between the superhero life and the chef life, and it'll take a lot of training to live up to his family's legends.
Welcome to Check Your Shelf. Blaine has asked me to mention the fact that J.W. Rinzler, author of multiple best-selling "making of" books about Star Wars, Indiana Jones, and Alien has passed away at 58. He asked me to mention this because he had been thinking about how J.W. Rinzler would be a great author to do a making-of book about The Shining, and when he went to check if there were any updates about Rinzler's work, he learned that a) Rinzler had passed away and b) that Rinzler had indeed been working on a making-of book about The Shining, so he demanded asked nicely that I mention his telepathic incident in the newsletter. On a serious note, though, Rinzler's books are gorgeous keepsakes for pop culture/movie buffs, and if you haven't looked at one yet, make sure to do so.
---
Collection Development Corner
Publishing News
Reese Witherspoon's media business, Hello Sunshine, has been sold to an unnamed-media venture run by two former Disney executives for an estimated $900,000.
TikTok users launch a free virtual BookTalk conference.
New & Upcoming Titles
Lisa Berne is writing a Regency-era romantic comedy that's billed as Bridgerton meets Groundhog Day.
Kacen Callender is writing a middle-grade book about a 12-year-old who struggles with depression and suicidal ideation.
Mel Brooks is publishing a new memoir, All About Me!, which will come out in November 2021.
Here's a first look at Emily Henry's upcoming book, Book Lovers.
And here's everything we know about Sally Rooney's upcoming book, Beautiful World, Where Are You.
Buffy the Vampire Slayer gets a YA sequel trilogy from Disney Books.
Stephenie Meyer's Twilight and Midnight Sun books will be reissued with new covers in 2022.
6 new debut novelists for the last days of summer.
12 Canadian books about love and romance to read this summer.
The 50 hottest new books everyone should be reading this summer.
48 new YA books that are extremely on-trend.
Weekly book picks from Bustle, Crime Reads, New York Times, and USA Today.
July 2021 romances graded on a flame scale.
August picks from Bitch Media, Book Marks (SFF), Brightly (children's & YA), Bustle, Crime Reads, Entertainment Weekly, Good Morning America, The Millions, OprahDaily, Shondaland, Tor.com (SF), and Washington Post (general picks, mysteries/thrillers).
What Your Patrons Are Hearing About
Billy Summers – Stephen King (Esquire, The Guardian, New York Times, USA Today)
Afterparties – Anthony Veasna So (New York Times, NPR, USA Today, Vulture)
The Turnout – Megan Abbott (Entertainment Weekly, Today, Washington Post)
Her Heart For a Compass – Sarah Ferguson (Good Morning America, The Guardian, USA Today)
Ghosts – Dolly Alderton (Entertainment Weekly, Washington Post)
The Husbands – Chandler Baker (Entertainment Weekly, Good Morning America)
Ladyparts – Deborah Copaken (New York Times, Washington Post)
The Quiet Zone: Unraveling the Mystery of a Town Suspended in Silence – Stephen Kurczy (New York Times, USA Today)
We Are the Brennans – Tracey Lange (Entertainment Weekly, New York Times)
RA/Genre Resources
Readalikes for Billy Summer by Stephen King.
Playing favorites with favorites, or what we talk about when we talk about our favorite books.
On the Riot
New YA books featuring female athletes.
New adult, YA, and children's releases to TBR.
Where are the fat children in picture books?
There's no environmental literature without Indigenous authors.
A brief guide to ecofiction by BIPOC authors.
A beginner's guide to Mississippi writers.
Reading pathway for Mary Roach.
The way back to reading joy may be through the backlist.
What is silkpunk, and what is it definitely not?
Your guide to blackout poetry.
What murder mysteries get wrong about forensics.
All Things Comics
Korean comics gain popularity in North America.
Top DC executives speak out about DC Comics being in rebuilding mode, and "future-proofing" publishing.
The best comics published in July 2021.
10 shonen manga to read if you love magic schools.
On the Riot
A starter guide to the Loki comics.
A look into the history of the Comics Code Authority.
Audiophilia
The August 2021 Earphones Award winners have been announced.
9 audiobooks recommended by Chandler Baker.
The 3 best new audiobooks to listen to in August.
On the Riot
10 of Libro.fm's most pre-ordered audiobooks for Fall 2021.
Book Lists, Book Lists, Book Lists
Children/Teens
Epic dragon books for teens and tweens.
21 joyful YA books about queer women.
21 YA books that have actually broken Team Epic Reads out of their reading slumps.
Adults
All 91 books in Oprah's Book Club. (Now there's a ready-made display idea if I've ever seen one.)
Great books by queer authors from the last 5 years.
8 books about queer people dealing with cancer.
Books about sports and leadership, as recommended by Abby Wambach.
A list of ultra-dark thrillers.
4 books featuring cutthroat female characters.
7 thrillers about vacations gone wrong.
7 books about women in purgatory.
7 music novels to shape your summer soundtrack.
15 cookbooks everyone should own.
On the Riot
Energizing high-contrast board books.
Rioters' favorite picture books.
9 of the best read-aloud books about starting school.
Middle grade fiction about the environment.
Coming-of-age in space books for teens.
8 fantastic romance novels by Indigenous authors.
9 books that feel like Pushing Daisies.
8 queer books that explore place, nature, and the environment.
Novels with an ecofeminist bent.
Hopepunk featuring creative solutions to the climate crisis.
9 mysteries with environment and conservation themes.
Books about sustainability and nature.
10 books at the intersection of climate change and capitalism.
9 eye-opening memoirs about nature and the environment.
22 of the best love scenes in books.
9 great camping horror novels.
Level Up (Library Reads)
Do you take part in Library Reads, the monthly list of best books selected by librarians only? We've made it easy for you to find eligible diverse titles to nominate. Kelly Jensen created a database of upcoming diverse books that anyone can edit, and Nora Rawlins of Early Word is doing the same, as well as including information about series, vendors, and publisher buzz.
---
Catch you later, friends. Have a good week!
—Katie McLain Horner, @kt_librarylady on Twitter. Currently reading The Bombay Prince by Sujata Massey.