Sponsored by Ecco, publishers of Afterparties by Anthony Veasna So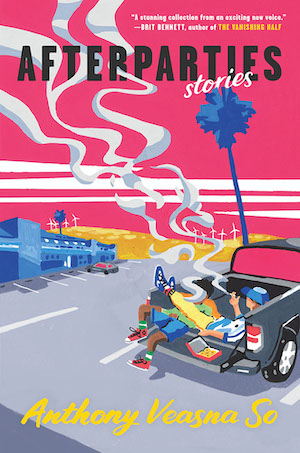 tk
Laurence Fishburne to Produce Sag Harbor Series
Colson Whitehead's 2009 novel Sag Harbor is now being adapted into a series with actor Laurence Fishburne serving as executive producer. The new HBO Max series follows the story of Benji Cooper, a Black teenager who spends the summer of 1985 with his family at a town in the Hamptons. The first episode in the series will be written by playwright and actor Daniel "Koa" Beaty. Beaty will also serve as an executive producer on the project alongside Fishburne, Whitehead, Katie O'Connell Marsh, and Helen Sugland. "Colson is a once-in-a-generation author who has the unique ability to craft beautiful and authentic stories that captivate and transform readers, and Sag Harbor is a true expression of that gift," O'Connell Marsh said. "We're thrilled to be working with HBO Max, Cinema Gypsy and Koa to bring this coming-of-age story to the screen."
11 Year-Old Simeon Hudson Writes Book to Help Stop Bullying
After fourth grader Simeon Hudson saw a friend being bullied at school and called a "nerd," he knew he wanted to do something about it. And so Simeon wrote a book to help stop bullying. With the help of his mother Candace Hudson, Simeon wrote Harry and His Big Nose, which is now available for purchase. "It took us about a year and then COVID slowed us down, so it took a while. It took about until I was in the sixth grade to get it out," Simeon said. He and his mother are now working on making the book the first of the series. The next book will be entitled Harry and His Hygiene.
Kansas City Public Library Hires Dedicated Wikipedian-in-Residence
The Kanas City Public Library has hired Miranda Pratt as "the first Wikipedian-In-Residence appointed by a public library in the United States." Pratt's position in the library is to be an advocate for the community. Her job is to build awareness and increase engagement in Kansas City surrounding the free online encyclopedia Wikipedia.org. "With this position, I'm kind of creating community awareness that we can all write our history together on Wikipedia," Pratt said in an interview.
Here Are All the New Suicide Squad Characters
The Suicide Squad, with all-new Suicide Squad characters, is now playing in theaters and on HBO Max. Here are all of the new characters featured in the movie!