Sponsored by Albatross Funnybooks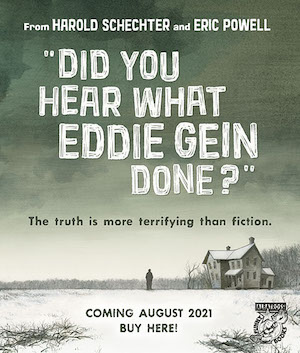 One of the greats in the field of true crime literature, Harold Schechter (Deviant, The Serial Killer Files, Hell's Princess), teams with five-time Eisner Award-winning graphic novelist Eric Powell (The Goon, Big Man Plans, Hillbilly) to bring you the tale of one of the most notoriously deranged serial killers in American history, Ed Gein. Painstakingly researched and illustrated, Schechter and Powell's true crime graphic novel takes the Gein story out of the realms of exploitation and gives the reader a fact-based dramatization of these tragic, psychotic and heartbreaking events. Because, in this case, the truth needs no embellishment to be horrifying.
Welcome to Check Your Shelf, where I've made the very silly decision to start reading a book that I KNEW was going to be a one-sitting book, and now I don't have any choice except to finish it before I go to bed. After I finish this newsletter, of course.
So, let's library, and I'll get back to reading!
---
Collection Development Corner
Publishing News
Lincoln Center Poet-in-Residence Mahogany L. Browne is launching the first Woke Baby Book Fair, which will be free and open to the public.
Testing the in-person book show waters.
New & Upcoming Titles
Random House just announced a forthcoming memoir from Prince Harry, which will be published in late 2022.
Winnie-the-Pooh is getting an official prequel.
Barack Obama and Bruce Springsteen are publishing a book developed from their podcast conversations.
We're also getting a young adult edition of Obama's Dreams From My Father this fall.
Stacey Abrams is publishing her first children's book, Stacey's Extraordinary Words, which will be out in late December.
Viola Davis and Kelly Ripa are each publishing nonfiction books in 2022.
Here's a first look at Emily St. John Mandel's new book, Sea of Tranquility, that she wrote during quarantine.
Ocean Vuong announces a new poetry collection, Time Is a Mother.
Adam Cesare is writing a sequel to Clown in a Cornfield, called Clown in a Cornfield 2: Frendo Lives.
Weekly book picks from Crime Reads and USA Today.
Barnes & Noble has their most anticipated August releases for adults and children/teens.
What Your Patrons Are Hearing About
Intimacies – Katie Kitamura (Bustle, LA Times, New York Times, NPR)
The Cult of We: WeWork, Adam Neumann, and the Great Startup Delusion – Eliot Brown & Maureen Farrell (New York Times, Washington Post)
Better to Have Gone: Love, Death, and the Quest for Utopia in Auroville – Akash Kapur (New York Times, NPR)
Nightbitch – Rachel Yoder (Esquire, The Guardian)
RA/Genre Resources
The space to exist: the other kind of diversity in storytelling.
The many shades of gatekeeping: how the term "emerging author" hurts more than it helps.
Asexual romance readers are finally getting their happily ever afters.
The international authors to read this summer.
On the Riot
9 gripping new summer thrillers to add to your beach bag.
Weekly new releases to add to your TBR.
Your guide to techno thrillers.
An introduction to literary nonfiction.
When a "romantic" read is really about grooming. (TW: grooming, sexual abuse)
All Things Comics
These were the buzziest panels at ComicCon At Home.
Michael B. Jordan is bringing Black Superman Val-Zod to HBO Max. (If anyone's keeping track, this is separate from Ta-Nehisi Coates' and JJ Abrams' plans to bring a Black Superman to the big screen.)
Black Panther gets a new origin story with the launch of Black Panther Legends.
Mel Valentine Vargas is adapting Meg Medina's YA novel, Yaqui Delgado Wants to Kick Your Ass into a graphic novel.
Michaela Cole has joined the cast for Black Panther: Wakanda Forever.
Leslie Grace is going to be the new Barbara Gordon in the upcoming Batgirl movie.
Plans are in the works to turn The Chilling Adventures of Sabrina into new comics.
The greatest seinen manga of the decade, according to Goodreads.
On the Riot
9 new and upcoming comics and graphic memoirs that embody queer joy.
6 manhwa and manga like The Beginning After the End.
Books you never knew had manga adaptations.
Manga erotica: a beginner's guide to ecchi and hentai.
Can you read manga on a Kindle?
This Barbie comic is really, really weird.
Audiophilia
The Panoramic Project looks at audiobook use in 2020 and context around reading and other entertainment media.
Regé-Jean Page joins the cast of The Sandman on Audible.
7 great audiobooks to listen to this month.
13 summer activities to pair with audiobooks.
Audiobooks for every attention span.
7 kids' audiobooks for a summer road trip.
On the Riot
5 audiobooks for your next road trip.
30 of the best Audible books for kids.
Book Lists, Book Lists, Book Lists
Children/Teens
10 new children's books in translation to read this summer.
12 of the best books for three-year-olds.
17 YA books about starting over.
16 YA fairy-tale retellings that live up to the hype.
Adults
A reading list for Disability Pride Month.
7 novels about scandalous small towns.
For fans of Sherlock Holmes: 15 recommendations for detective book lovers.
6 books for nature lovers.
Reader-recommended climate fiction.
5 must-read books about the invisible borders between culture and identity.
9 books with plots pulled from real life.
Thrillers set in the great outdoors.
9 books to transport you around the world.
15 Pulitzer Prize book winners and finalists that deserve a spot on your TBR.
11 books recommended by TikTokers.
On the Riot
9 funny chapter book series that will keep kids giggling.
15 books about going off to college.
"It's gay and it slaps:" TikTok's favorite LGBTQ books.
9 LGBTQ+ memoirs to read this summer.
8 notable queer contemporary fiction novels by Asian authors.
8 books about Japanese culture to read before the Olympics.
10 books about cryptids and cryptozoology.
10 recent magical realism novels.
8 unconventional romantic reads like Netflix's Sexy Beasts.
Level Up (Library Reads)
Do you take part in Library Reads, the monthly list of best books selected by librarians only? We've made it easy for you to find eligible diverse titles to nominate. Kelly Jensen created a database of upcoming diverse books that anyone can edit, and Nora Rawlins of Early Word is doing the same, as well as including information about series, vendors, and publisher buzz.
---
All right, I'm off to continue reading. Have a good week, everyone!
—Katie McLain Horner, @kt_librarylady on Twitter. Currently reading Survive the Night by Riley Sager. (Yeah, this is the book determined to keep me up past my bedtime.)