Sponsored by The Lunar Chronicles by Marissa Meyer, with Fierce Reads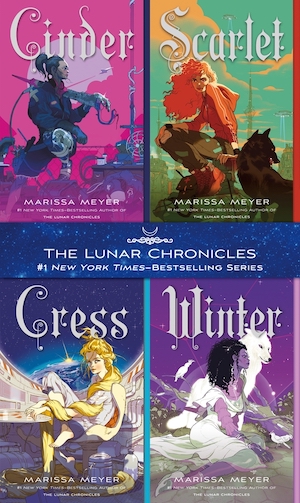 tk
Shailene Woodley to Star in Upcoming Showtime Series Based on the Book Three Women
Shailene Woodley will star in Showtime's upcoming series, based on the book Three Women by Lisa Taddeo. Woodley will play a character based on Taddeo herself, who spent several years reporting on three women who were scrutinized for their sexual desires. The drama series has been given a straight-to-series order, and it is set to begin production in the fall.
Bruce Springsteen and Barack Obama are Publishing a Book
Bruce Springsteen and former president Barack Obama recently started a podcast together, and now they're turning that podcast into a book. The book is entitled Renegades: Born in the USA, and it'll be out on October 26 globally from Penguin Random House in partnership with Higher Ground. The 320-page oversized, illustrated book will include hand-written Bruce Springsteen lyrics and Obama speeches, among other archival materials. Obama writes in the book's opening pages: "Over the years, what we've found is that we've got a shared sensibility. About work, about family, and about America. In our own ways, Bruce and I have been on parallel journeys trying to understand this country that's given us both so much. Trying to chronicle the stories of its people. Looking for a way to connect our own individual searches for meaning and truth and community with the larger story of America."
Marvel Launches New Origin Series with Black Panther Legends
Black Panther is getting a new origin story this fall when Marvel Comics launches Black Panther Legends. The four-issue series will tell the story of T'Challa of Wakanda and how he became the Black Panther. Black Panther Legends is written by Tochi Onyebuchi, author of Riot Baby, and drawn by Setor Fiadzigbey (Bunheads). The first issue will be out in October. This is just the beginning for Marvel and their origin story Legends line. More details forthcoming, but Marvel Senior Editor Lauren Bisom teased, "Let's just say we are very excited to (re)introduce readers to Marvel's strongest Avenger."
8 Notable Queer Contemporary Books by Asian Writers
You're going to want to add all of these eight notable queer contemporary novels by Asian writers to your TBR, ASAP!