Sponsored by Oni Press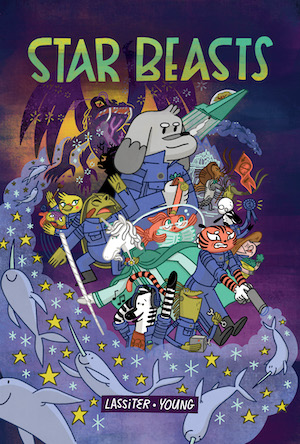 Bandit is a pup who leaves his family on Earth to join the secret order of the Star Beasts–cosmic creatures sworn to protect Earth and spread goodness throughout the universe. When powerful ancient relics are stolen, Bandit leads the crew on a kick-asteroid space race to collect them all and defeat the evil Khaos Krill from destroying Earth!
Welcome to Check Your Shelf. It feels like there's been a lot of recent news about far-right groups trying to gut libraries and schools from the inside out, and while I am jaded and cynical by nature, it still boggles my mind to see such a coordinated attack. I don't have anything to add to the discourse that's already happening, but the whole situation is absolutely infuriating.
---
Libraries & Librarians
News Updates
(TW: transphobia, violence against trans people) Magician Mikayla Oz, a trans woman, canceled her series of performances at the Campbell County Public Library in Gillette, Wyoming after the library started receiving threats of violence from community members.
The Norwalk Public Library (CT) is considering the removal of a children's book with illustrations of a Sikh leader after a resident said the depictions were insulting to the religion.
Cool Library Updates
A look at the growing practice of library gardens.
Worth Reading
Demolishing public libraries from the inside: Niles Public Library is a warning.
Here's another article about how right-wing groups are trying to keep libraries from promoting racial justice.
The importance of counting people in public libraries.
Book Adaptations in the News
Robert Downey Jr. is co-starring in the series adaptation of Viet Thanh Nguyen's The Sympathizer.
Bridgerton director Julie Anne Robinson and star Adjoa Andoh are teaming up for a series adaptation of Island Queen by Vanessa Riley.
The Three-Body Problem by Cixin Liu is now a serialized podcast.
Charlize Theron and the Muschiettis are developing The Final Girl for HBO, which is based on Grady Hendrix's recent novel The Final Girl Support Group.
HBO is developing two more animated Game of Thrones shows.
David Heska Wanbli Weiden's novel Winter Counts has been optioned for the big screen.
She Said: Breaking the Sexual Harassment Story That Helped Ignite a Movement by Jodi Kantor and Megan Twohey will be turned into a film adaptation starring Carey Mulligan.
The horror comic Basketful of Heads by Joe Hill will be turned into a TV series.
Oscar "Zeta" Acosta's novels will be adapted for a TV series.
British director Prano Bailey-Bond is directing an adaptation of Mariana Enriquez's short story "Things We Lost in the Fire."
Marjan Kamali's novel The Stationery Shop is getting a series on HBO.
FX has ordered a pilot based on Octavia E. Butler's Kindred.
The Wheel of Time is getting a movie trilogy.
There's going to be a Pet Sematary prequel. (Did I know this? I can't remember…)
Jennifer Carpenter is returning for the Dexter revival.
Here's the teaser trailer for One of Us is Lying.
Books & Authors in the News
Award-winning YA author and journalist Ann Rinaldi has passed away at 86.
(TW: transphobia) The American Booksellers Association has apologized for including "an anti-trans book" in a recent promotional shipment to members.
The book Jack of Hearts (And Other Parts) by L.C. Rosen is under fire by a Christian right group in Irving, Texas.
President Biden has nominated author Atul Gawande as assistant administrator of the Bureau for Global Health.
Liveright Publishing will be publishing Patricia Highsmith's diaries for the first time.
Is Sylvia Plath literature's most misunderstood icon?
Numbers & Trends
A new study shows a 20% decline in school librarians over the past decade.
These are the best-selling books of 2021, so far.
How our streaming habits are changing contemporary fiction.
Fear Street is leading a revival of 90's YA horror adaptations.
Publishing can't stop (won't stop?) making Trump books.
Award News
Emmy nominations have been announced.
The Center for Fiction has announced the 2021 First Novel Prize longlist.
Pop Cultured
Here's the trailer for season 3 of What We Do in the Shadows.
On the Riot
Summer reading programs for kids made this reader feel invincible.
Real and fictional librarians leading resistance.
Indigenous books Netflix needs to adapt.
5 author pseudonyms that have never been revealed.
If you joined all the book clubs, here's what you'd be reading.
A look at the Goodreads bot problem.
A compelling reason to only read one book at a time.
This 5th grade teacher set one reading rule, which forever changed this reader's life.
School summer reading lists: a brief and nerdy history.
How to learn a new language by reading slightly beyond your scope (and other tips).
Oral history through the ages.
---
Well I'm out, friends. Remember to vote in your local elections, and keep fighting the good fight against censorship. Have a peaceful weekend!
—Katie McLain Horner, @kt_librarylady on Twitter.