Sponsored by HarperCollins Children's Books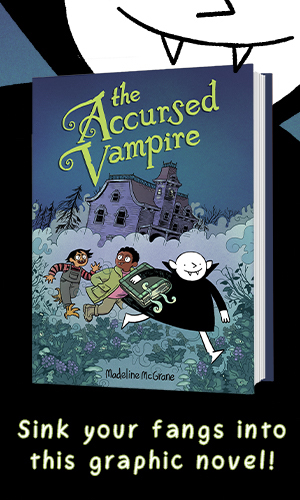 Dragoslava is a vampire kid, but sometimes being stuck as a kid forever can be a pain in the neck. And that's not even the worst part. Centuries ago, a witch cursed Drago. If they don't complete every task she sets, they will be turned into worms.
When the witch wants a spellbook from Baneberry Falls, Drago sets off with their immortal friends. But mysteries await in this sleepy Midwestern town, and Drago must figure out if the keepers of the spellbook have a hidden agenda. One thing's for sure though: Drago's immortal life will never be the same again!
Welcome to Check Your Shelf, where I am still nursing a pair of very sore knees after all that wedding dancing last week. YIKES. If I ever needed a wake up call that I am no longer in my 20's…that was it.
So, let's talk about something much more low-impact and that won't destroy your cartilage: books!
Collection Development Corner
Publishing News
Penguin Random House is reopening offices to vaccinated staff on September 13th.
If you're following the latest eBook price-fixing lawsuit against Amazon and the Big 5, here's an update.
New & Upcoming Titles
Colin Kaepernick is publishing a new children's book about the beauty of being different.
Amber Tamblyn has a new essay collection coming out.
Jamie Lynn Spears is writing a memoir.
Dawn Kurtagich is writing a sequel to her YA horror novel Teeth in the Mist.
The Millions posted their Most Anticipated list for the second half of 2021.
60 horror titles to thrill readers in 2021.
35 new and upcoming scifi thrillers you won't want to put down.
7 new books perfect for summer beach reads.
11 new releases that would make great summer book club picks.
June picks you may have missed from LitHub and The Millions.
Weekly book picks from Crime Reads, New York Times, and USA Today.
July picks from Nightfire (horror), Parade, and Seattle Times (crime fiction).
The best books of 2021, so far from USA Today and Vulture (romance).
What Your Patrons Are Hearing About
Intimacies – Katie Kitamura (New York Times, Vulture, Washington Post)
I Alone Can Fix It: Donald J. Trump's Catastrophic Final Year – Carol Leonnig & Philip Rucker (New York Times, NPR, Washington Post)
A Passage North – Anuk Arudpragasam (New York Times, NPR)
Bring Your Baggage and Don't Pack Light: Essays – Helen Ellis (Entertainment Weekly, NPR)
The Letters of Shirley Jackson – Shirley Jackson (LA Times, New York Times)
Landslide: The Final Days of the Trump Presidency – Michael Wolff (New York Times, Slate)
The Final Girl Support Group – Grady Hendrix (USA Today)
Sword Stone Table: Old Legends, New Voices – Swapna Krishna & our very own Jenn Northington (eds.) (NPR)
RA/Genre Resources
Beyond Goodreads: 4 tools that help readers track their books.
Readalikes for Daniel Silva's The Cellist.
LitHub and Tor Books have partnered to create a new podcast: Voyage into Genre!.
The rise of African speculative fiction.
Why are there so many children's books written about the Holocaust?
On the Riot
Our best books of 2021 so far!
12 new releases with Asian representation on the cover.
15 LGBTQ reads for mid and late 2021.
3 new diverse YA classic retellings.
New weekly releases for your TBR.
9 new books to pick up at the airport.
How we sell stories: a brief history of paratext.
White gatekeeping in YA harms teen readers.
Does solving the mystery make a difference?
The rise and fall of the western.
How to find a book using a vague description.
All Things Comics
DC is publishing a follow-up to Joe Hill's Basketful of Heads, called Refrigerator Full of Heads.
On the Riot
9 LGBTQ+ comic book characters that give us hope for more representation.
The best new manga and light novels to pick up in 2021.
Classics that this reader would love to see as comics.
We want more Indigenous superheroes!
Audiophilia
Rosamund Pike is narrating Paula Hawkins' new audiobook, A Slow Fire Burning.
Anne of Green Gables star Megan Follows is narrating the Emily of New Moon audiobooks.
The July 2021 Earphones Award winners have been announced.
This Libro.fm quiz will pair you with an audiobook written by an author with a disability.
7 great audiobooks for long drives.
10 SFF audiobooks to listen to in July.
On the Riot
5 audiobooks to help you explore nature.
Book Lists, Book Lists, Book Lists
Children/Teens
12 nonfiction books for teens that are total page turners.
24 YA books that open up an honest conversation about depression.
Adults
22 books by LGBTQ+ authors you need to add to your reading list.
10 books with moral dilemmas you'll contemplate for days.
Fascinating reads featuring characters with mundane jobs.
SFF books about ecology and climate change.
7 books about the search for intimacy.
Cozy mysteries featuring crime-fighting pets.
5 speculative visions of a future America.
22 books about Manhattan jet-setters that will make you feel like one.
7 books about the heartbreak of losing a sibling.
On the Riot
8 children's books with Indigenous main characters in Latin America.
15 magical books like Legendborn.
Vintage '90s teen horror to enjoy.
10 impactful books about public health.
8 spectacular books by non-binary authors.
Incredibly epic fantasy journeys for every reader.
The best paranormal romances to read right now.
The joy of reading about cooking: non-cookbook books by chefs.
Level Up (Library Reads)
Do you take part in Library Reads, the monthly list of best books selected by librarians only? We've made it easy for you to find eligible diverse titles to nominate. Kelly Jensen created a database of upcoming diverse books that anyone can edit, and Nora Rawlins of Early Word is doing the same, as well as including information about series, vendors, and publisher buzz.
Catch you on Friday. Have a good week, everyone!
—Katie McLain Horner, @kt_librarylady on Twitter.