Sponsored by Macmillan eDeals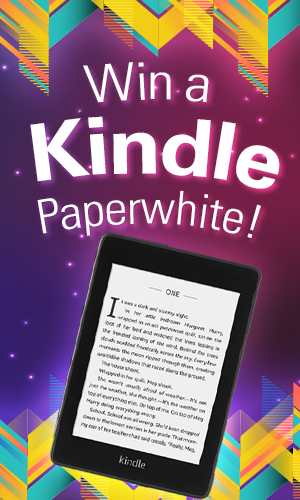 Book Riot is teaming up with Macmillan eDeals to giveaway one Kindle Paperwhite. Enter the form and sign-up for the Macmillan eDeals newsletter for a chance to win!
Here's a little more about the Macmillan eDeals newsletter: Be the first to hear about our down-priced eBooks across a variety of genres from your favorite authors, starting at $2.99!
Happy Friday, shipmates! It's Alex with some links to take you into the weekend, and a book that really grabbed me by the heart that I want to talk about–The Mirror Season by Anna-Marie McLemore. And I'm still excited over here about all the Emmy nominations WandaVision got. (I bet Loki is going to get some next year, too.) Here's hoping Marvel takes the hint and gives us something much weirder in the future. Have a great weekend, space pirates, stay safe out there, and I'll see you on Tuesday!
Here's a thing to smile about: I love excavators
Let's make the world a better place, together. Here's somewhere to start: https://blacklivesmatters.carrd.co/ and anti-asianviolenceresources.carrd.co
---
News and Views
Queer Dads: Demons and Machines in Sorcerer's Son by Phyllis Eisenstein and the Terminator Franchise
Goodreads: Meet the Authors of the Summer's Biggest Sci-Fi and Fantasy Adventures
Makeshift Modernity: The rise of African speculative fiction
Cixin Liu's The Three Body Problem has now become a serialized podcast
How women are written in sci-fi movies
What We Do in the Shadows season 3 teaser
How WandaVision Went From "Totally Bananas" Underdog to Emmy Juggernaut
Elon Musk Is Correct, I Am Specifically Attacking Space Itself and Not Just His Mars Colonization Project
90-year-old William Shatner conquers his fear of sharks by swimming with them
The ultimate fate of a nearby four-planet system: cosmic pinball, then game over
We're getting a Wheel of Time prequel film trilogy to augment Amazon series
SFF eBook Deals
Autumn Bones by Jacqueline Carey for $1.99
Alpha Bots by Ava Lock for $0.99
The Traitor's Son by Pedro Urvi for $0.99
On Book Riot
Incredibly epic fantasy journeys for every reader
I spy with my little eye 9 fantasy books about spies
15 magical books like Legendborn
This week's SFF Yeah! podcast is about our favorite SFF of 2021 so far
This month you can enter to win a $250 Barnes & Noble gift card, a Kindle Paperwhite, and a Kindle Oasis.
Free Association Friday
While I know I normally like to do fun little lists that the ol' brain meats free associate this day of the week, I occasionally want to take this corner of the newsletter to talk about a particular book that's really stuck with me, that I want to shove at everyone and shriek at them to read.
This is one of those Fridays.
I will say up front that this book comes with big trigger warnings for sexual assault and, to a lesser extent, bullying. It is an easy book to read because Anna-Marie McLemore's prose is gorgeous and rich while still being sleek and light. It's an incredibly hard book to read because of what it's about, which is two teenagers who start out as strangers meeting on the worst night of their lives, during which they are both sexually assaulted. It follows them through the stutter-step process of reaching a full understanding of what happened to them and how it affects them and their friendships and their relationship to each other. It's unflinching in its depiction of healing as an uneven, nonlinear process that takes time and is never entirely finished.
The Mirror Season isn't a plot-heavy book because it's so much about what's going on with the characters, and it gives them space to process and interact and think and breathe, which is something I feel like I find only rarely in genre books. There's a lot of push for things to be pacy in SFF, which makes it really stand out to me when I find a book that's so completely focused on character.
Also, if you are even a tiny bit into baking, this book is an absolute feast. Which feels like a strange thing to say about a book built around recovery from sexual assault, but there's very consciously a lot of joy in the pages of The Mirror Season to balance out the pain and anxiety. The main character, Graciela, works at a pasteleria and has a magical ability to tell exactly what kind of pan dulce every customer wants. In the immediate aftermath of the assault, she loses her power, but then slowly recovers it as part of her own healing. And the baked goods she describes! I spent a lot of this book absolutely desperate for a concha.
I'll be thinking about The Mirror Season for a long time. Difficult, beautiful, and necessary.
---
See you, space pirates. If you'd like to know more about my secret plans to dominate the seas and skies, you can catch me over at my personal site.