Sponsored by Rosewind Books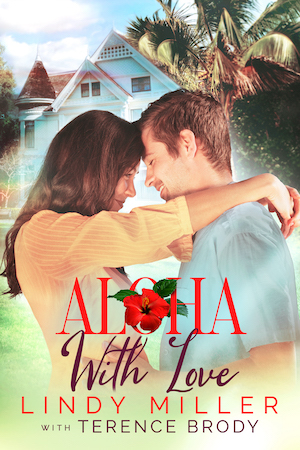 Soon to be a motion picture! From the award-winning author of The Magic Ingredient and the screenwriter of Rescuing Madison and A Lesson in Romance on Hallmark, comes what Publishers Weekly calls a "charming new romance" sure to "draw in Hallmark Channel devotees in droves" about a talented and broken-hearted architect summoned to the suburbs to renovate her Aunt's old house—and the handsome contractor hired to do the job. Read the book before it hits screens!
Hello again romance readers. I'm PN Hinton, your companion for the world of romance. I hope your spirit is doing well today. If you're new to the Kissing Books newsletter, welcome and enjoy your stay. If you're a long-time reader, welcome back; it's good to see you again.
Another weekend is looming ahead of us and I'm here for it. Don't get me wrong; last weekend was a good one. My book club met and it ended catching up since only two of us (not me) had read the book. But there were new kittens that required cuddling so…
Now, I'm perfectly fine with not finishing the book. We've never been that type of book club that shames members for not reading. Life happens and gets in the way and sometimes a book just doesn't resonate with you. Also, I'm no longer forcing myself to finish a book for "insert reason here." Sometimes it is wanting to keep a finger on the pulse of what's popular. Sometimes it's because it was a gift or an ARC. The reasons vary but the feeling of 'should' was still real. Which isn't healthy or how one should approach reading in any situation. So, when I tried for the umpteenth time to get through the book I just couldn't and I gave up the ghost. Life's too short.
Romance Tidbits
Don't forget to listen to this week's episode of When in Romance where Jess and Trisha discuss the results of the survey. There is still time to take it if you haven't though since they're leaving it up for about another week. They will be discussing Wrong Number, Right Woman so you still have time to read that as well.
Jackie Lau has a M/M romance coming soon!
Here is a list of Alyssa Cole's Summer 2021 reads.
Happy Birthday to Violet Gaze Press! I don't know about y'all but, given the hullabaloo with them and Amazon a few weeks ago, I'm super happy that this wonderful diverse and inclusive company reached this milestone. Be sure to check out their catalog of books if you haven't already to snag a few of their wonderful titles.
Recommendations
I made mention last time of the joy I've been finding in the Loki TV series and that is something that I know a lot of the world is experiencing as well. Loki is arguably one of the most complex characters all around, even for those who knew about him prior to the MCU movies or even comics. He plays quite a large role in Norse mythology even when one doesn't include his role in bringing on Ragnarok.
In his current comic iteration though, he's not quite a villain; but he sure as hell ain't a one-hundred percent hero. He would, at best, be an anti-hero because his morals are gray at best. He has some redeeming qualities though and manages to always act smooth even after he's been thrown around like a rag doll by the Hulk. It doesn't hurt that Tom Hiddleston has an equally smooth and soothing voice.
That leads to today's recommendations which are romances with leads that lean more towards antiheroes. This doesn't mean that they're as morally gray as Loki or a flat out bad boy either; they're just not people who could or would be classified as the hero in a story.
Hades and Persephone retellings are running rampant now and I love them all. This one finds Persephone running into the Underworld to escape a forced marriage to Zeus, who is the absolute worst. Together they form an alliance to help bring down the tyrant king of the gods. This book absolutely sizzles with sensuality and I've heard that it's actual one of the more tame from this author. So, take that as you will.
Emily is a washer who is forced to work for Kazimir to save her brother from being another one of the hitman's victims when he is suspected of murdering Rumi, the top washer in the Russian mafia. This is one that is well loved by a lot of dark romance readers especially those who enjoy Mafia ties. This is the first in the Lion and Mouse series so if you're looking to settle down with some characters for a few books, this may be a good option.
When thief Blue wanders into one of hitman Mick's jobs a year after a year of not seeing each other, Mick saves him and then disappears. Blue is determined to return the favor and goes after him, opening up the men the possibility of a romance neither could have foreseen. I don't think anyone would liken anyone in either one of those professions as a hero so there is proof right now. When you add in adrenaline and attraction, it's bound to be a bumpy ride indeed.
And that's all for now friends! Give me a follow over on Twitter @PScribe801. Have a great and relaxing weekend. I'll see you Monday.