Sponsored by Dreamscape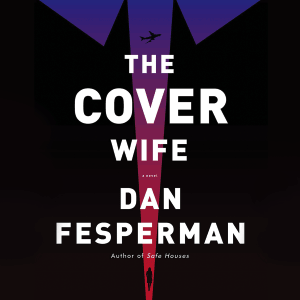 From the author of Safe Houses comes an electrifying new novel about a CIA agent and a young Moroccan expat who becomes ensnared in the conspiracy behind the 9/11 terror attacks. Enter for a chance to win a copy of The Cover Wife audiobook!
Hello, audiophiles! Thank you all so much for your kind words of welcome. Audiobooks have long been my first love, and I look forward to celebrating them with you every week.
I hope all of you in the American Southeast are safe and well after Elsa galavanted across the country. We bunkered down here in the Low Country and much of the island lost power. I want to send a huge thanks to all of the teams that have worked hard to restore power to communities on the east coast after the storm.
After Elsa passed through, Dylan was more than happy to reclaim his favorite spot on the porch. He enjoys spying on the neighbors and barking at the dogs that walk by our front porch.
Backlist Love
While I didn't have the internet after Elsa came to town, I listened to audiobooks downloaded on my phone. It felt restorative to listen to Robin Wall Kimmerer read her audiobook Braiding Sweetgrass to me. Each essay in the book focuses on a different aspect of how human beings are part of nature, holding key roles in many of its ecosystems. There's just something so special with how Kimmerer encourages folks to think about their actions and how that affects the natural world around them.
With her encouragement, I walked outside and began looking at the palm trees and tall grasses around my house. I moved outside of Appalachia for the first time back in October, so many of the plants were unfamiliar to me. I pulled out my Seek app and began learning about the different species of fauna that make their home near mine.
That's where Robin Wall Kimmerer shines best. With her stories of learning how to weave baskets from freshly felled trees to scooping algae out of her pond, you get the sense she knows the wildlife around her intimately, as fellow sharers of the land. There's so much wisdom in this book. I know it's one I'll listen to again and again.
Narrated by Robin Wall Kimmerer
Long-awaited New Releases
In the audiobook world, most audiobook editions release the same day as the print edition—but not always! To make sure y'all still know about them, I'm highlighting some recent audiobooks that have been released long after their print editions entered the world.
This incredible novel came out in hardcover last summer, but we FINALLY have an audiobook as of the end of last June. I adored Even As We Breathe and can't stop talking about it. This work of historical fiction follows a disabled Cherokee man named Cowney who gets a summer job at the historic Grove Park Inn in Asheville, North Carolina. While WWII rages on, the US military is using the inn to hold prisoner foreign diplomats of enemy countries. When a young Japanese girl goes missing, Cowney is racially profiled and brought in for questioning. Kaipo Schwab performs the audiobook with such emotional depth, capturing Cowney's perspective perfectly.
Narrated by Kaipo Schwab, who is also part of the cast who performs Black Sun by Rebecca Roanhorse and Kink edited by Garth Greenwell and R.O. Kwon
This week, The Birds of Opulence arrived in my audiobook app, and I could not have been more excited. I've waited for the audio edition for several years now and feel overjoyed that the time has finally arrived! Affrilachian author Crystal Wilkinson is the current Poet Laureate of Kentucky, but she also writes fiction! The Birds of Opulence is in many ways a family story that focuses on the different generations of Black women in the same community. Narrator Allyson Johnson captures the beautiful cadence of Wilkinson's incredible prose.
Narrated by Allyson Johnson, who also performs The History of White People by Nell Irvin Painter and Fearing the Black Body by Sabrina Strings
Though the audiobook for Pure America was delayed only a couple months, I could not have been more thrilled to have one of my most anticipated releases of 2021 finally in my hands (well, in an audiobook app on my phone, which I was holding…close enough!). Perhaps most well known for her book What You Are Getting Wrong About Appalachia (which she wrote in response to the unfortunately popular Hillbilly Elegy), Catte is back with Pure America, a look at the role of eugenics in Virginia. With the #FreeBritney movement saturating our newsfeeds, this audiobook comes at the perfect time. The discussion around Britney's conservatorship has shined a spotlight on how America's healthcare and legal systems have repeatedly failed and often actively harmed disabled people. Pure America tackles this same topic with Catte's signature attention to detail and finesse. Jo Anna Perrin performance shines when she's narrating the complicated details throughout the book, making it easy for listeners to follow along.
Narrated by Jo Anna Perrin, who also performs What You Are Getting Wrong About Appalachia by Elizabeth Catte
Over on the Riot
If you loved Braiding Sweetgrass as much as I did, you have to check out 5 Audiobooks that Help You Explore Nature!
Around the Web
Check out this quiz from Libro.fm that pairs you with an audiobook written by a disabled author!
Scribd's Reading Challenge for July
Vogue editors list their favorite audiobooks for summer road trips
Andy Serkis is recording a new edition of the Lord of the Rings Trilogy
The Mary Sue lists 10 sci-fi/fantasy audiobooks you definitely should check out
---
I'd love to hear from you! Drop me a line at kendra@readingwomenpodcast.com or say hi over on Instagram @kdwinchester (or follow Dylan @thebookcorgi). For even MORE audiobook content, you can find my articles over on Book Riot.
Happy listening, bookish friends!
~ Kendra