Sponsored by Flatiron Books, publisher of Razorblade Tears by S.A. Cosby.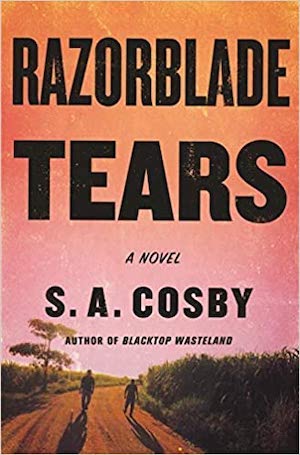 Provocative and fast-paced, S. A. Cosby's Razorblade Tears is a story of bloody retribution, heartfelt change — and maybe even redemption.
Welcome to Check Your Shelf. I am officially a year older (although perhaps not wiser), and I am also fast approaching my 10 year library career anniversary! My career may have started at a different library, but 10 years in libraries is a pretty cool achievement regardless, so I definitely plan on bringing donuts to celebrate!
---
Libraries & Librarians
News Updates
ALA's Committee on Diversity has released a Diversity, Equity, and Inclusion scorecard for library and information organizations.
This Minneapolis-area police department got trolled after they reported thefts from a Little Free Library. While it's nice that they donated books to refill the LFL, isn't the point of a LFL is for people to…take the books? Anyway, if you run a LFL and notice the books disappearing, maybe ask for book donations instead of calling the police? Just a thought…
A Massachusetts man recently returned books from the 1920's and 30's to the local library.
Cool Library Updates
The Horror Writers Association has established the Young Adults Write Now fund, which will provide up to 5 endowments of $250 to selected libraries to create new, or support ongoing, writing programs.
The Stanwood (WA) Library got the city's help to rescue ducklings. (I had a very similar duckling rescue experience a few weeks ago in a parking lot, where I had to gently scoop up a duckling and bring him back to his mama and siblings to make sure he didn't get hurt. They're so tiny!!!) Hopefully they're all swimming peacefully in a nearby pond.
Worth Reading
Libraries and telehealth tackle healthcare gap full force.
Libraries and the curse of knowledge.
Take a look behind the spine of these books.
Book Adaptations in the News
Netflix is adapting the Ivy & Bean children's series.
Blumhouse Productions is planning a sequel to The Exorcist.
The Unhoneymooners by Christina Lauren will be adapted by BCDF Pictures.
The Stephen King-inspired series Chapelwaite (set in Salem's Lot) gets an August release date.
Casting updates for The Monster of Florence and No Exit.
5 great movies based on Patricia Highsmith books (that aren't the Ripley adaptations).
9 of the best LGBTQ+ books that deserve a movie or TV series adaptation.
Books & Authors in the News
The Putnam County (FL) School District is under fire for removing three books from its summer reading list after receiving pushback from parents. One of the books was Trevor Noah's Born a Crime.
A promotional event for the book Forget the Alamo: The Rise and Fall of an American Myth, which examines the role of slavery in the Battle for the Alamo and Texas' push for independence from Mexico, was canceled by Texas Lt. Gov. Dan Patrick, who called the book "fact free" and said it was a rewriting of Texas history.
Nikole Hannah-Jones and Ta-Nehisi Coates have joined the faculty at Howard University.
Numbers & Trends
TikTok is taking the book industry by storm.
Award News
Elle McNicoll wins the Waterstones Children's Book Prize for her debut, A Kind of Spark.
The 2021 CWA Dagger Winners are announced.
The nominees for the Shirley Jackson Awards have been announced.
Joy Williams wins the 2021 Library of Congress Prize for American Fiction.
Here are the winners and runners-up for the inaugural Good Sex Awards.
Bookish Curiosities & Miscellaneous
These heckin good doggos were kept calm on the 4th of July, thanks to these volunteers who came to the Kentucky Humane Society animal shelter and read children's books to the dogs.
On the Riot
10 book adaptations you can watch this summer.
What the Literati reviews don't tell you.
What this writer has learned after a decade of book blogging.
On Wednesdays we read Tolkien: Lord of the Rings fandom in 2021.
A case against assigned summer reading.
The most bookish cities in the world.
---
Stay cool, friends. I'll catch you next week!
—Katie McLain Horner, @kt_librarylady on Twitter. Currently reading The Other Black Girl by Zakiya Dalila Harris.