Sponsored by AfterShock Comics.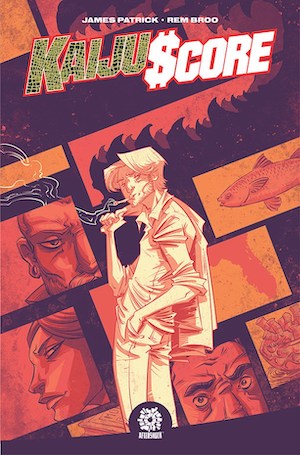 It's the most dangerous heist ever attempted. Four desperate criminals are going all in on a once-in-a-lifetime chance to steal millions in art and turn their miserable lives around. The catch? They have to pull it off under the nose of a one thousand-ton Kaiju. And a giant monster might just be the least of their problems.
Welcome to Read This Book, the newsletter where I recommend one book for your TBR that I think you're going to love! Genre fiction is my wheelhouse, and about 90% of my personal TBR, so if you're looking for recommendations in horror, fantasy, or romance, I've got you covered!
This week's recommendation is one of my favorite YA Fantasy novels of recent years. Not only is it based on one of my most beloved films of all times, it's also a gorgeous, magical (and musical) novel, perfect for those who love their fantasy novels with a dark twist.
In a long list of fae-based YA fantasy novels (and it really is a long list, and getting longer, and I am not complaining), Wintersong is uniquely beautiful. The first magical duology that is unapologetically and lovingly inspired by Jim Henson's Labyrinth, Wintersong is both historical and fantastical, split between 18th century Bavaria and the magical Underground of the Goblin King and his court. Liesl grew up on tales of the Goblin King and his strange, alluring kingdom. But her connection to him does not end with fairy stories. When Liesl was small they were playmates. Then she grew up, and came to think of him as only her imaginary friend, someone she had dreamed up to escape her everyday life as it grew increasingly difficult. Until the day he stole her sister.
Abduction is a common trope in tales of the fae. You see it in old stories like Tam Lin, and in new ones like Labyrinth. And, as in Labyrinth, the abduction of Liesl's sister in Wintersong serves as a means of drawing the heroine of the story into the realm of the fae, in this case the Underground, in search of what was lost. It's a journey that never goes smoothly for the quester, but Liesl's trip into the Underground is more than usually fraught with danger. The deeper she goes the more she realizes how tangled up her entire family is with the magic of the Underground, because it's family that really drives Jae-Jones' novel. Yes the Goblin King is a fascinating character, but it is Liesl and her siblings, and her love for her siblings, that form the heart of Wintersong. Everything that she does, even the bargain that she strikes with the Goblin King and its inevitable end, is for her siblings.
If you're looking for a new fantasy series to sink your teeth into, one with gorgeous world building, a dark and compelling romance, and a deeply emotional, family-driven plot, you want Wintersong.
---
Happy Reading!
Jessica