Sponsored by Amazon Publishing.
Get a head start on your summer reading with the hottest summer reads from Amazon Originals. From chilling suspense to heartfelt romance, and everything in between, explore bestselling reads in every genre and start building your ultimate summer reading list today. Browse deals all summer long at amazon.com/AmazonSummerReading.
Happy Monday, star bits! I know you're never going to believe this but…I am excited about books today. LOL. Jk, jk, when am I not excited about books? I am up to my eyeballs in upcoming books, but I am also still working through Dune. But also the Interview with the Vampire news is giving me nostalgia feels now, so I kinda want to start reading those again too? I haven't read Anne Rice since high school which was *cough* years ago, but I did love the first three vampire books, and The Witching Hour, and The Mummy. Will they hold up? Stay tuned!
Moving on: On top of the Interview with the Vampire story, I have lots more fun news for you today! I also have a look at an awesome creepy fall YA novel, plus cover reveals, a terrible pun, my little orange vulture, and trivia! Let's get started, shall we?
Here's Monday's trivia question: In The Maidens by Alex Michaelides, The Maidens are a secret society at what school? (Scroll to the bottom for the answer.)
Deals, Reals, and Squeals!
A series adaptation of Interview with the Vampire by Anne Rice is headed to AMC and AMC+ in 2022.
The winners of the Indigenous Voices Awards have been announced.
Hamnet by Maggie O'Farrell is being made into a film.
Here's the cover reveal for Sense and Second-Degree Murder, the new Jane Austen mystery from fellow Rioter Tirzah Price!
Alexandra Huynh has been announced as Amanda Gorman's California successor for youth poet laureate.
Roxane Gay and Tressie McMillan Cottom are holding Here to Slay, an empowerment weekend.
Here's the cover reveal for the upcoming novel Sleepwalk by Dan Chaon. I am so excited—I LOVE his books!
Saaed Jones has a new collection of poetry coming next year.
Evie Drake Starts Over author Linda Holmes teased a new book.
Paramount has optioned the rediscovered Richard Wright novel The Man Who Lived Underground.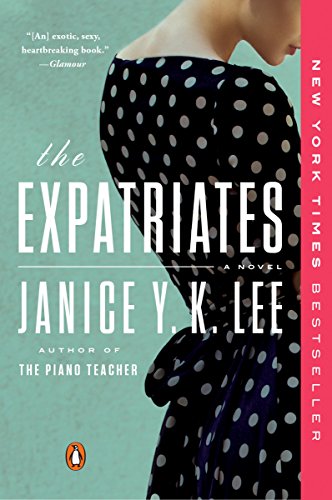 Sarayu Blue has joined the cast of Expats, based on the novel The Expatriates by Janice Y.K. Lee.
Robert Downey Jr. will star in the HBO Max adaptation of Samantha Downing's For Your Own Good.
Anne Hathaway will star in the adaptation of Robinne Lee's novel The Idea of You.
A biography of Barbara Walters has been announced.
Book Riot Recommends
At Book Riot, I work on the New Books! email, the All the Books! podcast about new releases, and the Book Riot Insiders New Release Index. I am very fortunate to get to read a lot of upcoming titles, and learn about a lot of upcoming titles, and I'm delighted to share a couple with you each week so you can add them to your TBR! (It will now be books I loved on Mondays and books I'm excited to read on Thursdays. YAY, BOOKS!)
Loved, loved, loved: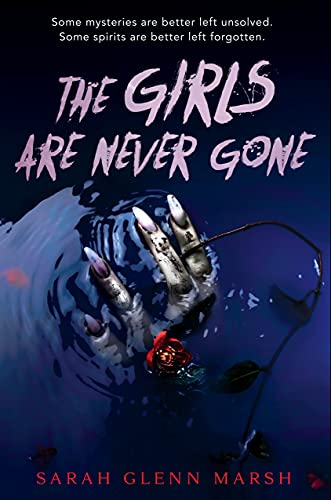 I don't know about you, but I am a big fan of all the podcast-related novels that have popped up over the last couple years. You know, where someone within the book is making a podcast, usually about an unsolved event, and then scary things start happening again.
That's certainly what is going on in this excellent YA fall thriller. Dare Chase is a teenager supernatural skeptic with a pretty big hit podcast on her hands. But now she needs a new subject for her next season. So when she gets a chance to spend a little time at Arrington Estate, she jumps at it.
Because Arrington Estate has a scary backstory: 30 years ago, teenager Atheleen Bell drowned in Arrington's lake, and local legend says her spirit still haunts the estate. The house itself is falling into disrepair and is in need of renovations, which is what Dare has been hired on to do. She quickly makes friends with Quinn, the new house owner's daughter, and another teen girl, who will also be helping in the cleanup efforts.
But right away, it's evident that something weird is happening around the house. Warnings to stay out of the lake go unheeded and terrible things happen. As Dare finds herself falling for Quinn, she begins to worry more and more that she might be wrong about the existence of ghosts. And her stubbornness and insistence on continuing to get material for her show might get them all killed.
Like I said, I love a podcast-in-a-book story, and things in bodies of water freak me the eff out! (Have you ever read Tananarive Due's short story collection Ghost Summer?!?) Plus there's a big spooky house and lots of romantic tension. So this book was a big win for me. It's a fun queer supernatural thriller that will haunt your fall reading!
(CW for murder, gore, animal death, and drowning.)
What I'm reading this week.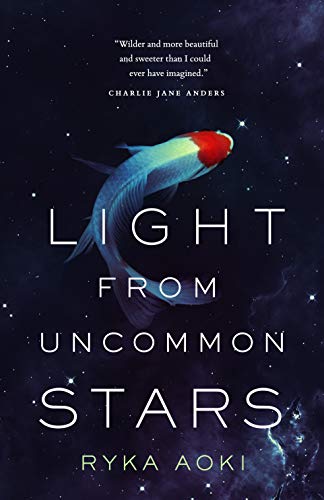 Light From Uncommon Stars by Ryka Aoki
Ghosts by Dolly Alderton
The Helm of Midnight by Marina Lostetter
Gearbreakers by Zoe Hana Mikuta
Beast: John Bonham and the Rise of Led Zeppelin by C. M. Kushins
Groan-worthy joke of the week:
Where was the dripping coming from in the fridge? The leeks.
And this is funny:
Happy things:
Here are a few things I enjoy that I thought you might like as well:
Rocks and crystals: I have discovered one of the new things I find relaxing is looking at pictures of rocks and crystals. I bought a guide book but I also go on etsy and look at all the pictures of crystals for sale. They're so shiny and pretty! I even bought an angel aura crystal and I love it so much! Nature never fails to be astounding.
Rutherford Falls: I thought this show was really charming! (It does require a Peacock subscription, though.)
Purrli: This website makes the relaxing sounds of a cat purring.
And here's a cat picture!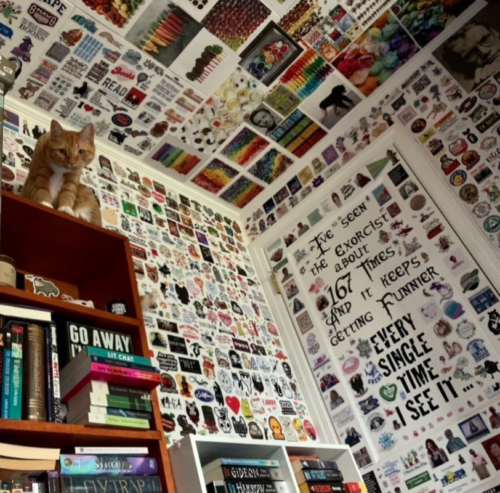 Zevon reminds me of Snoopy when he's pretending to be a vulture.
Trivia answer: Cambridge University.
Remember that whatever you are doing or watching or reading this week, I am sending you love and hugs. Please be safe, and be mindful of others. It takes no effort to be kind. I'll see you again on Thursday. xoxo, Liberty