Sponsored by OverDrive.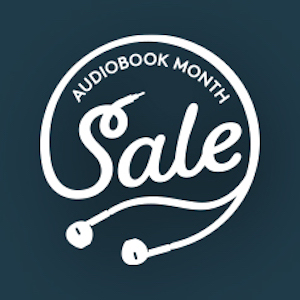 Have you heard? OverDrive's Audiobook Month Sale is on now! Don't miss out on 25-50% savings on audiobooks all through the month of June. Popular genres include new releases, diverse reads, Book Club picks, romance, mystery and more. With thousands of titles on sale, there's something for all your patrons to enjoy. Start shopping!
Welcome to Check Your Shelf, where I'm writing this newsletter a little bit earlier than usual because IT'S THE WEEKEND and I have plans on Sunday! (First Cubs game at Wrigley Field in two years!!) Blaine and I are fully vaccinated and preparing to cheer on the Cubs with 20,000 other people, which is both exciting and extremely overwhelming after the last year. Fingers crossed for a win, and I hope that all of you readers had (have?) a lovely holiday weekend!
---
Collection Development Corner
Publishing News
Roxane Gay starts her own imprint with Grove Atlantic.
Checking in with Black bookstores nearly a year after 2020's book boom on racism.
How booksellers were complicit in the resurgence of white supremacy and the rise of Donald Trump.
New & Upcoming Titles
4 chilling debut thrillers for your summer reading list.
30 LGBTQ YA books to read this spring. Plus, 23 new LGBTQ+ YA books to add to your TBR.
The best new LGBTQ+ rom-coms to read this summer.
The 31 best books of 2021 (so far).
Weekly book picks from Buzzfeed, Crime Reads, LitHub, and USA Today.
June picks from Epic Reads (YA), New York Times, and Vanity Fair.
Summer picks from Amazon (romance), Star Tribune, Time, and Vulture.
What Your Patrons Are Hearing About
The Kingdoms – Natasha Pulley (New York Times, Tor.com, USA Today)
Heaven – Mieko Kawakami (New York Times, NPR, Washington Post)
King Richard: Nixon and Watergate: An American Tragedy – Michael Dobbs (New York Times, USA Today)
Languages of Truth: Essays 2003 – 2020 – Salman Rushdie (The Guardian, New York Times)
The Other Black Girl – Zakiya Dalila Harris (New York Times)
RA/Genre Resources
Romancing the Discourse is a new monthly online romance lecture and Q&A series hosted by author Ali Williams.
Feminist science fiction in all of its gritty glory.
The gay royal romance novel is having a moment. (USA Today)
On the Riot
Preorder these queer books coming out in June!
19 true crime books coming out in 2021.
Weekly book picks you need to read.
5 new books for AAPI Heritage Month 2021.
A beginner's guide to reading fan fiction.
Cyberpunk: everything you did (and maybe didn't) want to know.
All Things Comics
Marvel confirms Oscar Isaac as the star of the upcoming Moon Knight series on Disney+. I've never had much interest in Marvel, but I may find myself watching a few episodes of this…
The CW has greenlit Ava DuVernay's comic adaptation of DC's Naomi.
Keanu Reeves discussed his comic book debut at the inaugural US Book Show.
We're getting a graphic novel about the life of Freddie Mercury!
10 Marvel comics with healthy LGBTQ representation.
On the Riot
Graphic nonfiction for middle grade readers.
Simply complicated: why comics aren't always what they seem.
Communicating science through illustration.
Audiophilia
Celebrating the 2021 Edgar Award winners on audio.
May's bookseller-recommended audiobooks.
On the Riot
8 of the best audiobooks by Black southern writers.
Book Lists, Book Lists, Book Lists
Children/Teens
The best picture books for growing emotional intelligence.
11 enchanting mermaid books for kids.
Adults
15 of the best books to help you understand the Israeli-Palestinian conflict.
An essential reading list on police and Pride.
7 queer books with heartstopping twists.
10 translated books from Haiti to read right now.
10 of the best post-apocalyptic novels.
8 mindbending books you'll be thinking about for days.
Horror, scifi, and fantasy books that make the most of circus settings.
The best books, podcasts, and documentaries about cults.
7 stories on the absurdity of love.
12 books featuring the New York underworld.
Nonfiction about crime, corruption, and fraud in Silicon Valley.
11 of the best mental health books.
Literary recommendations for each character on Friends.
11 of the best books on #BookTok.
On the Riot
10 fish books for kids: they don't get betta than this! (Puns usually make me roll my eyes, but I have to tip my hat to this one…that's pretty good.)
6 soothing bedtime books for kids.
Middle grade books about mental health.
Dark fiction in YA literature: the horror of coming of age.
4 great YA novels set in the 1950's.
16 nonfiction books you may have missed because of the pandemic.
6 historical fiction books set in South Asia.
7 books that share the same title.
5 contemporary, game-changing literary fiction novels.
6 books for submitting to the mortifying ordeal of being known. Ouch.
11 books like The Kiss Quotient.
15 of the best romantic thrillers to TBR.
Horror novels set in the woods.
5 of the best horror novels about small towns.
5 of the best horror novels about mothers.
7 books about the attention economy.
Gimme! Gimme! Gimme! Books like Mamma Mia!
5 recent and upcoming cocktail books to whet your appetite.
Level Up (Library Reads)
Do you take part in Library Reads, the monthly list of best books selected by librarians only? We've made it easy for you to find eligible diverse titles to nominate. Kelly Jensen created a database of upcoming diverse books that anyone can edit, and Nora Rawlins of Early Word is doing the same, as well as including information about series, vendors, and publisher buzz.
---
That's it for me! I'm off to Wrigley Field, where I sincerely hope the rest of the team can stay off of the Injured List. Go Cubs go, and I'll catch you all on Friday!
—Katie McLain Horner, @kt_librarylady on Twitter.