Sponsored by the Oni-Lion Forge Publishing Group.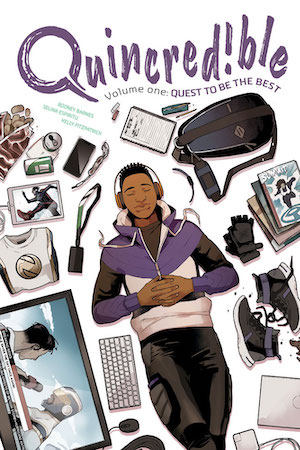 Invulnerability is a pretty useless superpower if you've only got a one hundred pound frame to back it up. That's what Quinton West's life became when he went from small guy who got beat up to small guy who can't get hurt after the meteor shower dubbed "The Event" gifted him the power of invulnerability but no other powers to compliment it. But there's more to Quin than meets the eye, and Quin realizes that he can use his quirky hobby of creating Rube Goldberg-like devices to outsmart the opposition.
Happy Thursday, star slough! I hope you have been having a fabulous week. I've been reading books and watching a lot of Modern Family, because you know how it takes me a decade to catch up with what's popular. Pretty soon I'm going to check out this Taylor Swift everyone is talking about! (I kid, I kid.) The real reason is that I'm an impatient little monster and prefer to watch things after every single episode is available to me.
Moving on, I I have exciting adaptation news, cover reveals, and book talk. Plus I've included a picture of orange gremlins, some trivia, and more! Whatever you are doing or watching or reading this week, I hope you good bob and we same place again very now. – xoxo, Liberty, Your Friendly Neighborhood Velocireader™
Trivia question time! What is the name of Xandra's dog in Donna Tartt's The Goldfinch? (Scroll to the bottom for the answer.)
Deals, Reals, and Squeals!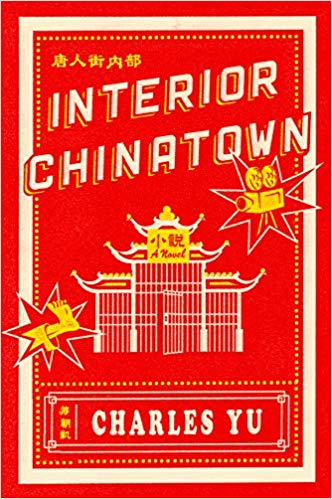 Interior Chinatown author Charles Yu has established a prize for young Taiwanese American creative writers.
Rachel McAdams and Abby Ryder Fortson have joined the Are You There God? It's Me, Margaret movie.
Amblin Television is making a show based on Walter Mosley's Ezekiel "Easy" Rawlins series.
Charlize Theron and Kerry Washington have joined the cast of The School of Good and Evil.
Mila Kunis will star in the adaptation of Jessica Knoll's Luckiest Girl Alive for Netflix.
Here's the cover reveal for Sword Stone Table: Old Legends, New Voices, an anthology of Arthurian retellings edited by Swapna Krishna and Book Riot's very own Jenn Northington!
Farrah Rochon announced a new book with Disney-Hyperion.
Here's the first look at Netflix's The Irregulars, based on the Baker Street Irregulars from Sherlocks Holmes.
The Horror Writers Association has announced the finalists for the 2020 Bram Stoker Awards.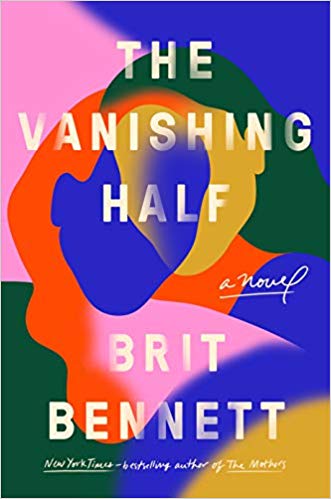 HBO has picked Aziza Barnes and Jeremy O. Harris as the writers for its potential series based on Brit Bennett's novel The Vanishing Half.
Anthony Bourdain's crime novel Gone Bamboo to become a TV series.
Hillary Clinton to publish a political thriller with author Louise Penny.
An animated adaptation of The Great Gatsby is in the works.
Here's the first look at the upcoming adaptation of Lisey's Story by Stephen King. And speaking of King, Edgar Wright will direct the remake of The Running Man.
Disney+ is making a sequel to their adaptation of Stargirl by Jerry Spinelli.
Book Riot Recommends
At Book Riot, I work on the New Books! email, the All the Books! podcast about new releases, and the Book Riot Insiders New Release Index. I am very fortunate to get to read a lot of upcoming titles, and learn about a lot of upcoming titles, and I'm delighted to share a couple with you each week so you can add them to your TBR! (It will now be books I loved on Mondays and books I'm excited to read on Thursdays. YAY, BOOKS!)
Excited to read:
Not Your Average Hot Guy by Gwenda Bond (St. Martin's Griffin, October 5)
I've adored Gwenda Bond's books in the past, so I am really looking forward to getting my hot (pun intended) little hands on her upcoming romance novel about a young woman named Callie who meets a Satanic cult while running her family's escape room business and a handsome young man named Luke who offers to help drive the cult off before the bring about the destruction of the world. And it turns out Luke is perfect for this particular task, because he is the actual son of the Devil himself. So, the question is, should Callie date the hot son of the Prince of Darkness if the end of the world is a possibility anyway? INQUIRING MINDS WANT TO KNOW.
What I'm reading this week.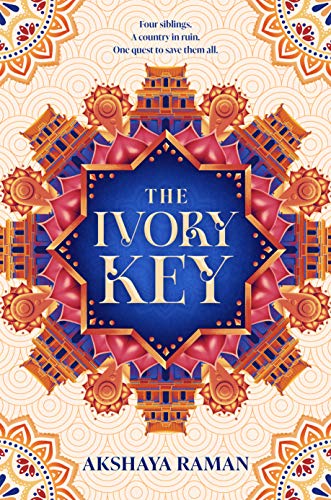 The Ivory Key by Akshaya Raman
Grave Reservations by Cherie Priest
Never Saw Me Coming by Vera Kurian
The Final Girl Support Group by Grady Hendrix
Lightseekers by Femi Kayode
Song stuck in my head:
Dark Runs Out by Amy Stroup. (Also, I'm still really into listening to songs I loved when I was young. You can listen to a lot of them in this playlist I made!)
And this is funny:
I've watched this too many times.
Happy things:
Here are a few things I enjoy that I thought you might like as well:
Modern Family: This show makes me laugh a lot. I am a big fan of people falling down and/or getting hit in the head.
Law & Order: Special Victims Unit: Okay, so this is in no way a happy thing, but it's just what I need playing in the background while I do jigsaw puzzles. I have now made it to the middle of season five and I am still into it. After watching so much Murder She Wrote recently, I'm enjoying the crimes coming to them, not just happening everywhere they go.
Jigsaw puzzles! I have moved on to two-in-one puzzles, where you have to separate the pieces to make two entirely different puzzles.
Purrli: This website makes the relaxing sounds of a cat purring.
And here's a cat picture!
I'm letting them drive these boxes even though they don't have licenses.
Trivia answer: Popper.
You made it to the bottom! High five. Thanks for reading! – xo, L