Sponsored by Flatiron Books, publisher of The Survivors by Jane Harper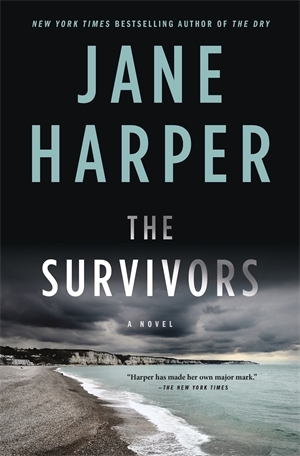 Coming home dredges up deeply buried secrets in The Survivors, a thrilling mystery by Jane Harper. Kieran life changed forever on the day a reckless mistake led to devastating consequences. The guilt that still haunts him resurfaces during a visit with his family to the small coastal community he once called home. Kieran's parents are struggling in a town where fortunes are forged by the sea. Between them all is his absent brother, Finn. When a body is discovered on the beach, long-held secrets threaten to emerge. A sunken wreck, a missing girl, and questions that have never washed away…
Welcome to Check Your Shelf. Before we jump in, I have a correction from last Friday's newsletter. A few readers correctly pointed out that I had mistakenly said that Walter Mosley wrote Deacon King Kong. James McBride is the correct author of Deacon King Kong, and I think my brain was in Walter Mosley mode because Nusrah and I had talked about his latest book the day before while recording Read or Dead. So I apologize for that mistake, and I give a nod of thanks to the readers who pointed it out.
So, let's jump into today's newsletter.
---
Collection Development Corner
Publishing News
Harlequin introduces a larger mass market paperback format.
How getting canceled on social media can derail a book deal (perhaps a better headline would be: How Actions Have Consequences)
Indie bookstores embrace e-commerce – and it pays off.
New & Upcoming Titles
Elizabeth Warren has a picture book called Pinkie Promises coming out this fall.
Romance author Rebekah Weatherspoon is writing her first YA novel.
Ken Follett has a new book slated for November 2021.
Danny Trejo has a memoir coming out in July called Trejo: My Life of Crime, Redemption, and Hollywood.
Esteemed dancer Misty Copeland has a middle grade novel coming out in November called Black Ballerinas.
Publishers Weekly's most anticipated children's and YA books for Spring 2021.
10 recent teen reads for Black History Month.
10 Latine-authored books to read in 2021.
Weekly book picks from Booklist Reader, Bustle, Buzzfeed, Crime Reads, The Millions, New York Times, Shelf Awareness, and USA Today.
February book picks from AV Club, Crime Reads (psychological thrillers), Kirkus Reviews, The Millions (poetry), Tor.com (horror/genre bending fiction), and Town and Country.
What Your Patrons Are Hearing About
My Year Abroad – Chang Rae Lee (The Atlantic, New York Times, New Yorker)
We Run the Tides – Vendela Vida (LA Times, New York Times, NPR)
Wild Rain – Beverly Jenkins (New York Times, NPR)
No One Is Talking About This – Patricia Lockwood (LA Times, Washington Post)
RA/Genre Resources
The creation, innovation, and evolution of early anti-racism writing.
On the Riot
Reducing the environmental toll of paper in the publishing industry
2021 trend alert: fake dating books galore!
Judging a book cover by its color.
What is documentary poetry? 5 contemporary works to get you started.
---
All Things Comics
Milestone Media, the African American–owned publisher that created the Black superhero comics universe, will relaunch its publishing program later this month.
Expect to see a lot of Afrofuturism comics and graphic novels this year.
The best comics to read this February.
On the Riot
5 queer graphic novels and memoirs coming out in 2021.
Some of the best witchy characters in comics.
What Rioters miss most about comic book conventions.
---
Audiophilia
Roxane Gay has written and recorded a Scribd original audiobook about her experiences writing from trauma with the release of her memoir Hunger.
Audible editors talk about the audiobooks that changed their lives.
Audiobooks about love, unbidden. Plus, 9 audiobook love stories for Valentine's Day.
Romantic suspense for Valentine's Day.
On the Riot
5 of the best YA audiobooks.
---
Book Lists, Book Lists, Book Lists
Children/Teens
Books and activities to celebrate Black History Month.
11 YA mysteries and thrillers you need to read if you loved We Were Liars by E. Lockhart.
15 YA nonfiction books you need to be reading.
21 awesomely fluffy YA novels.
YA novels that take place over the course of 24 hours.
Adults
What to read when you want to celebrate Black History Month.
10 must-read Black History Month book recommendations.
11 nonfiction books by women authors to read for Black History Month.
Memoirs that spotlight Black lives.
Fantastic fiction by African American authors.
6 great Africanfuturist sci-fi books.
31 Black-authored cookbooks everyone should have in their kitchen.
Chinese cookbooks to help you ring in the Lunar New Year.
5 best rom-com novels for Valentine's Day.
Romance novel suggestions for Valentine's Day.
50 best historical fiction books of all time.
Sylvain Neuvel shares 10 of his favorite alternate histories.
SFF books that feature royals.
6 crime novels about women on the run.
On the Riot
8 OwnVoices children's books about Black history.
Chinese New Year books for children.
20 must-read funny kids books.
25 must-read sports books for kids.
6 Caribbean children's and YA book authors.
15 cute LGBTQ books to lift your spirits.
4 swoonworthy YA romances for Valentine's Day.
15 nonfiction Black History books to read this month.
7 books for fans of This is Us.
25 of the best Kindle Unlimited romance novels in 2021 you can read right now.
5 dystopian novels about the economy and work culture.
9 books about life during COVID-19.
16 of the best self-love books.
5 compelling memoirs written by doctors.
4 poetry collections that break the mold.
---
Level Up (Library Reads)
Do you take part in Library Reads, the monthly list of best books selected by librarians only? We've made it easy for you to find eligible diverse titles to nominate. Kelly Jensen created a database of upcoming diverse books that anyone can edit, and Nora Rawlins of Early Word is doing the same, as well as including information about series, vendors, and publisher buzz.
It's so mind-numbingly cold outside. Hopefully I'll unthaw by Friday.
—Katie McLain Horner, @kt_librarylady on Twitter. Currently listening to The Lost Man by Jane Harper.