Sponsored by Fart Quest by Aaron Reynolds; illustrated by Cam Kendell.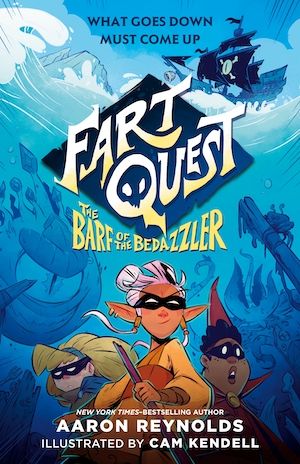 After their masters are vaporized in a goblin battle gone bad, Fart, Pan, and Moxie decide to impersonate their mentors and pick up the mantle as heroes of the realm. But they need more than a fancy robe, magic staff, and book of magical beasts to be real heroes. They need a quest! Jam-packed with potty humor, feats of bravery, and magical friendships, Fart Quest is perfect for every young hero looking for adventure. Nick Bruel, creator of the Bad Kitty series, calls this silent but deadly adventure from Aaron Reynolds "a love letter to humor and fantasy."
Hi, Kid Lit Friends!
I hope you are all enjoying the weekend, and hopefully some of you have President's Day off from work!
There has been so much interest in Presidents and the Presidential office in the last year given the election, so I thought I would round up some great books, most of them released in the past couple of months (and one coming out next month!).
1600 Pennsylvania Avenue is one of America's most iconic buildings, but how much do you know about what goes on inside? Who helps keep this historic house running? This informative book covers everything from its Residence workers, first ladies, presidential pets, and even a couple of ghosts (!!!). The book also includes photos and fun facts.
When Kamala was growing up in Oakland, California, her family marched for justice. And when Kamala went to school, she fought for the use of a soccer field in middle school. And after she graduated law school, she fought for the people in her home state of California in Congress. Now, Kamala uses her voice as the first woman to hold the office of Vice President of the United States. This stunning book tells Kamala's story.
This truly charming book follows the lives of Champ and Major, the first dogs of the United States of America. While Champ is used to the White House from his time there when his dad was the Vice President, Major was adopted afterwards and Champ has a lot to teach him! Watch how Major prepares Champ for his role as First Dog!
Former First Lady Michelle Obama wanted to grow the largest kitchen garden ever at the White House, but there was one problem. She had never gardened before. But every big project takes a village, so she enlisted help from local students, the White House staff, and even her husband, President Barack Obama. Her mission to inspire young people to adopt healthy eating habits continues now with her new Netflix show, Waffles + Mochi!
Joe Biden grew up in Scranton, Pennsylvania, the oldest of four children. He struggled with a stutter growing up, so he read aloud every day to overcome it. When he moved to Wilmington, Delaware, he become one of the youngest state senators to ever be elected at age 29 and later become Vice President under President Barack Obama. Now, he is the current President of the United States!
This beautiful book is Barack Obama's tribute to thirteen groundbreaking Americans who have inspired and shaped our nation. From the artistry of Georgia O'Keeffe, to the courage of Jackie Robinson, to the patriotism of George Washington, Obama sees the traits of these heroes within his own children, and within all of America's children. Loren Long's gorgeous illustrations bring the book to life!
---
What are you reading these days? Let me know! Find me on Twitter at @KarinaYanGlaser, on Instagram at @KarinaIsReadingAndWriting, or email me at KarinaBookRiot@gmail.com.
Until next time!
Karina
*If this e-mail was forwarded to you, follow this link to subscribe to "The Kids Are All Right" newsletter and other fabulous Book Riot newsletters for your own customized e-mail delivery. Thank you!*