Sponsored by We Free the Stars by Hafsah Faizal, with Fierce Reads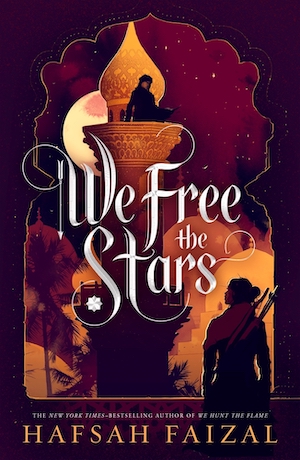 Proclaimed by TIME magazine as one of the Top 100 Fantasy Books of All Time, We Hunt the Flame has set the world on fire. Readers everywhere have fallen in love with this gripping story of discovery, conquering fear, and taking identity into your own hands. Now, the saga continues. Lush and striking, hopeful and devastating, We Free the Stars is the masterful conclusion to the Sands of Arawiya duology by New York Times–bestselling author Hafsah Faizal.
Happy Friday, shipmates! It's Alex, and as promised last week, I'm here with your selection of SFF Romance to play off that romantic SFF. My game of choice, Destiny 2, just dropped the new season so I've basically been running in circles, yelling about all of the new things, and retweeting silly Destiny memes on my Twitter. I hope there's been something as silly and joyful in your life this week. Stay safe, and I'll see you on Tuesday with more new releases.
Let's make 2021 better than 2020. A good place to start? The Okra Project and blacklivesmatter.carrd.co
---
News and Views
FIYAH Lit has a great thread of projects from Black creators, many of which are SFF or adjacent!
N.K. Jemisin on why it's never too late to quit your day job
Per io9: Gina Carano is no longer part of Star Wars
Netflix is adapting Brian Jacques' Redwall series
New story from Lavie Tidhar: Judge Dee and the Three Deaths of Count Wedenfels
Foz Meadows: Sequel Rights: A Review of Locus Reviews examines some issues, subtle and not, that have recently come to a head in SFF book reviews
If you're looking for more things fannish, check out Cora Buhlert's Fanzine Spotlight series. This week, it's on The Full Lid.
Nerds of a Feather talk about this year's Locus Recommended Reading List
Nnedi Okorafor and Walt Disney?
Stitch over at Teen Vogue: On Fanfiction, Fandom, and Why Criticism Is Healthy
On Book Riot
5 incisive dystopian books on the economy and work culture
This week's SFF Yeah! Podcast is about climate fiction
This month you can enter to win $100 at a bookstore of your choice, a bundle of YA books plus a $250 Visa gift card, and/or a Kindle Paperwhite. And only for Canadian Rioters, a $100 Indigo gift card.
Free Association Friday: SFF Romance
Last week was all about SFF that has a strong romance element in it, but this week, we're talking romance novels that are set in science fiction or fantasy universes!
The first book of Alyssa Cole's Off the Grid series, which takes palce in a post-apocalyptic world where all technology has failed and people need to band together to survive–and find romance while they're searching for supplies.
Also check out Alyssa's cute near-future AI romance, The AI Who Loved Me.
Holley Trent writes paranormal romance that is funny, and sharp, and snarky, and with characters who are delightful trash not-literal-goblins. This one's an F/F romance about a coyote shifter and the girlfriend she ghosted hashing out their problems.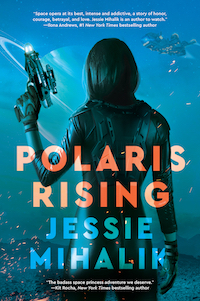 This is a space opera with noble houses, runaway daughters, political machinations, secret science experiments, incipient wars, the whole nine yards. And of course, romances between strong-willed daughters of a noble house with a particularly douchey dad and an array of dangerous men who are very good at shooting things.
Nalini Singh writes a ton of paranormal romance–she's got shifters, she's got changelings, she's got vampires, she's got angels. It's hard to think where to even start! Nalini herself points to this book as a good entry point to her Psy-Changeling series, which pairs emotionally distant Psy characters with Changeling shifters.
Lyre got sent by her people to betray Empress Sabine, and then fell in lover with her instead. Now they're on their way back to Lyre's home, a floating city that runs on biotech, and the city would like its revenge on both of them.
Like Nalini Singh, Kit Rocha writes a lot of great SFF romance in all sorts of subgenres. In all honesty, the reason I grabbed this book as the one to highlight is because I will never be over the concept of "mercenary librarians"–people who help those in need with knowledge and pay the bills by raiding data vaults. It's delightful stuff.
Kotahi Bay is a place where magic is real, mortals and gods cross paths, and witches and necromancers have to protect their home and their families–while maybe finding someone to share their lonely lives. This series has a bit of a dark undertone to it. JC Hart also writes fantasy/romance fairytale retellings as Nova Blake; check out Ebony Slumbers.
KJ Charles writes mostly queer historical romance, but this one's a historical romance with magic in it, including animated tattoos and a supernatural threat to a new earl's life, thanks to the enemies he inherited to go with the title. He hires a magician to protect him, and things get steamy from there. Honestly, I love everything this author writes.
---
See you, space pirates. If you'd like to know more about my secret plans to dominate the seas and skies, you can catch me over at my personal site.