Sponsored by Happily Ever After Newsletter.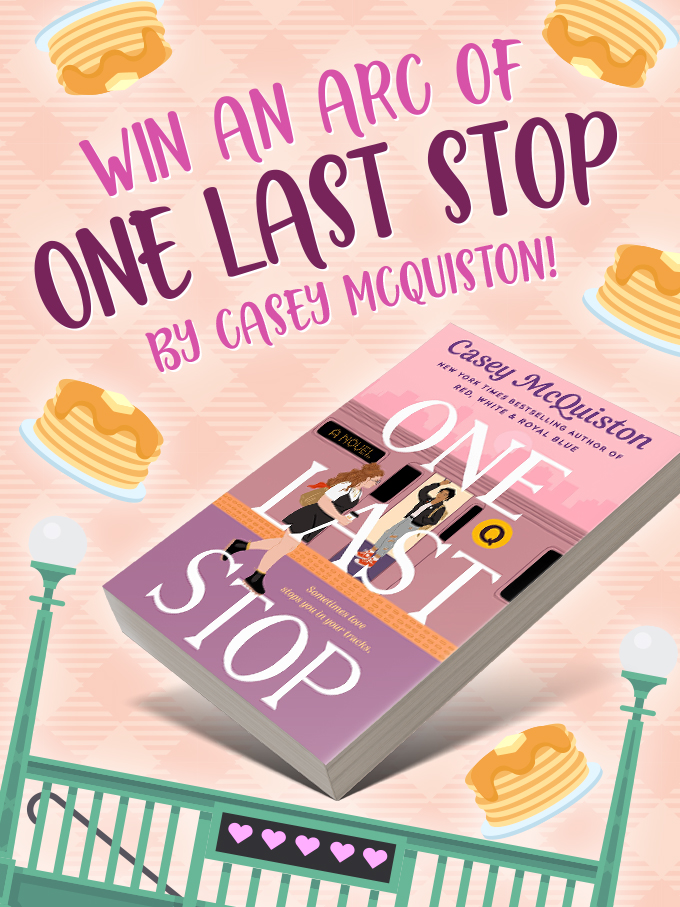 Book Riot is teaming up with the Happily Ever After newsletter from St. Martin's Press Romance for a chance to win an ARC of ONE LAST STOP by Casey McQuiston! Five winners will receive an ARC of this highly anticipated title.
Hey y'all! We're almost to the end of another week and, while I can't speak for everyone, this month seems to be going by fast. It's not even a matter of it being the shortest month of the year. It really does seem to be breezing by quickly. Of course, this was the case last year. Then we got to the March that never seemed to end and well…
Yeah.
Anyways.
In case you missed it in the last one, this is just a reminder that the 1997 version of Cinderella will begin streaming tomorrow over on Disney+. I'm excited and will likely queue up to watch it as soon as I get out of work and make sure all my other tasks are taken care of. I plan on singing along too, much (I'm sure) to the chagrin of my now officially teenage son.
Sorry not sorry kiddo; your mom had unfulfilled dreams of being in musical theater and this is how she comes to term with that.
One thing I'm putting out there in the world is that soon Disney will also bring back or reimagine the sing-along videos. I'd totally be down to follow the bouncing ball again and sing my heart out to old classics.
A few pieces of not as pleasant news. I did hear about that condescending Slate article that was making the rounds earlier this week. This kind of disparagement is not new to us in Romancelandia. It's nothing we haven't heard before as these types of articles seem to get published once a quarter. And no, I didn't read it. I'll hate-read a book, but I refuse to give a piece that mocks the genre I love and likely has no type of original thought behind it any more clicks than it already has received. At best, it deserves a cursory mention if for no other reason to warn fellow romance lovers to not waste their time. Read this review from Book Riot's very own Carole Bell instead.
Also, a few weeks ago I mentioned the new S.M. Soto book as a new release and allegations have come to light that it was heavily plagiarized from one of Kim Jones' books. And the screenshots that were floating around online are extremely damning. Soto has since made a statement on the situation and, as of the writing of this newsletter, I haven't found one from Jones.
Unfortunately, this isn't anything new to the romance genre (#copypastecris anyone?). Hell, even Nora Roberts went through this in the late '90s with the late Janet Dailey lifting at least three passages from her books for her own. But, it still always leaves a bad taste in readers' mouths because plagiarism feels like betrayal. Readers, no matter the genre, are loyal, sometimes to a fault. And to find out that one of the authors we enjoy took the creative work of another? Feels bad. This is all still developing but, since I had mentioned the Soto book a few weeks ago and it was newsworthy, I wanted to make sure to mention that update.
And, since I take the sandwich approach to feedback and news, there was a new episode of When in Romance this week. Give a listen to what Jess and Trish have thought about some of the recent shenanigans in the romance world.
Guest author Naima Simone wrote about some of her favorite first kisses of all time over on Frolic. This was a delightful read about some first kisses from all the various areas of the genre. The first kiss is still one of the most swoon-worthy parts of the book for me.
Valentine's Day is Sunday and I know that there are always a lot of mixed feelings about this holiday. A good number of people will be actively throwing anti-Valentine's Day parties in direct opposition to it. Some may prefer Galentine's Day, an idea popularized by Parks & Rec that is well on its way to being a legitimate holiday. Or, you may embrace the holiday, even if its history is a bit murky at best. Whatever the case, you can likely find a book that matches your stand on the holiday.
So, technically, this is a romance novel. However, I agree with a lot of other readers that the friendship between Samirah, London, and Taylor plays as much of a part as the romance between Daniel and Samirah. And, considering how those three ladies met, that is really saying something. So it's the perfect way to celebrate Galentine's Day! It's also the first in a trilogy so we can look forward to reading more about their friendships and the love interests of the other two. It's also the one that doesn't actively take place around the holiday.
Amber and Sebastian to have a mutual no-strings attached physical relationship as neither have the time nor inclination for romance. At least until their families get wind of them spending time together and devise ways to match them up permanently. I'll admit, I'm splitting hairs a bit for this, but since neither of them want a traditional relationship, I'm counting it as anti-Valentine. Of course there will be a HEA because if there isn't one, then it isn't romance.
So, there is more than a bit of banana pants coincidence that you'll have to take with this one. The family's name is Valentine. And the duchess and all three sons were born on the same day which was (you guessed it) Valentine's Day. All of that smacks of Valentine's Day love.
This one is a sort of second chance and friends to lover romance between Ellie and widower Ned. The former has finally decided to let go of her unrequited love for Ned right around the time Ned has decided to look for a new wife and begins to look at Ellie in a different light.
True story time; I told my spouse the synopsis of that last book and his eyes almost got stuck in the back of his head, he rolled them so hard. Don't get me wrong, he doesn't hate romance at all, but he was like, "Really?" But that level of cuteness actually made me enjoy the series just a little bit more!
---
And that's all she wrote for now. As always, catch up with me over on Twitter under the handle @PScribe801. Until next time.