Sponsored by Flatiron Books, publisher of Tales from the Hinterland by Melissa Albert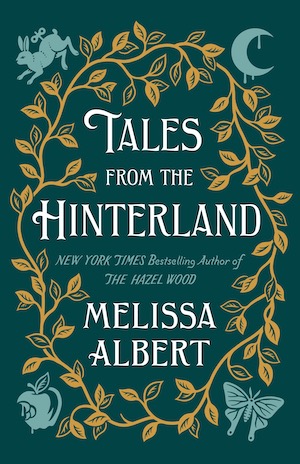 A gorgeously illustrated collection of twelve original stories by the New York Times bestselling author of The Hazel Wood and The Night Country. Journey into the Hinterland, a brutal and beautiful world where a young woman spends a night with Death, brides are wed to a mysterious house in the trees, and an enchantress is killed twice—and still lives. Perfect for new readers and dedicated fans alike, Tales from the Hinterland will include gorgeous illustrations by Jim Tierney, foil stamping, two-color interior printing, and two-color printed endpapers.
Happy Tuesday, shipmates! It's Alex, and I've got some great news: February is continuing strong with a ton of great new releases to help you while away the winter. I found a foot spa on sale last week and bought it on impulse, and let me tell you… best decision I ever made. There's nothing quite like soaking your feet while you read a good book and try not to notice your weirdo cat drinking the water like it's some kind of delicious foot soup. Hope you're pampering yourself as needed, stay safe, and I will see you on Friday!
Thing that made me smile this week: the large boulder returned. And then CDOT got in on the fun.
Let's make 2021 better than 2020. A good place to start? The Okra Project and blacklivesmatter.carrd.co
---
New Releases
Already an outsider in her own village, Deka fears what the blood ceremony reveals: that her blood runs gold, the color of impurity. A mysterious woman offers her an alternative to a fate worse than death, the opportunity to leave her village and join an army of girls just like her. Deka leaves behind the only home she has known to join in a war against the empire's greatest threat–and it's more dangerous than she could have ever imagined.
That good spirit Puck finally tells his own story, in which he faces a threat from the time before Faery, and the worst of all possible enemies: himself. Puck doesn't face this threat alone, however; he has the Iron Queen Meghan Chase and her prince consort, Ash, at his side. Together, the three of them must reckon with a darkness so profound even their combined powers may not be enough… and if they don't succeed, Faery will fall.
Princess Thanh was sent away as a hostage to Ephteria when she was a child. After returning home to her mother's court, she takes on the role of diplomat. This puts her directly in the path of her first love, Eldris of Ephteria, who wants both Thanh back and concessions from Thanh's home. But Thanh has her own fire inside, and she sees her chance to make her own fate and change the future of her country.
Angrboda is burned by Odin as punishment for not giving him knowledge of the future. She survives, her power severely damaged, and hides in a remote forest. There, she meets and falls in love with Loki. Together, they have three children, each with their own destiny. But as Angrboda heals and slowly regains her power of prophecy, she realizes her family, her life, and the entire world is at stake–and only she can remake the future into something better.
This is a collection of Isabel Yap's short fiction, including an entirely new novella titled A Spell for Foolish Hearts. Her subjects range from immigrant tales to urban legends, and the page sings for each.
Silicon Valley outsiders Ben and Adhi develop a computer that can connect to the internet one year in the future, and suddenly their startup is the hottest commodity out there. Their machine predicts everything perfectly, from the stock market to relationships, to deaths, and what seems like a chance for fortune at first reveals a darker future than they could have guessed, culminating in a possible apocalypse. Once they've seen the future, can they change it?
A group of humans is stranded for centuries on another world; they have no choice but to expose themselves to the alien biome, including all its viruses and bacteria. Survival means they must adapt. On the other side of that, are they still even human, or have they been remade into another species entirely?
News and Views
Tomorrow there will be a livesteam event with Lynell George (author of A Handful of Earth, a Handful of Sky: The World of Octavia E. Butler) and Connie Samaras
LeVar Burton is the inaugural PEN/Faulkner Literary Champion!
Charlie Jane Anders on how The Expanse transformed space opera for a new generation
Elsa Sjunneson on imagining futures and where our works go from here
An archived interview with Kurt Vonnegut from 1999
Aliette De Bodard has a new audiobook coming out!
Stacy Osei-Kuffour, who wrote for HBO's Watchmen, has been tapped to write the new Blade that will star Mahershala Ali.
How knitters reverse engineer garments from pop culture
Idris and Sabrine Elba are working on an Afrofuturistic sci-fi series for Crunchyroll
The ongoing fight to reimagine Sherlock Holmes
This is an amazing thread about bird species named by people who obviously hate birds
On Book Riot
Canadian rioters have until 11:45pm tonight to win a copy of Chain of Gold by Cassandra Clare. This month you can enter to win $100 at a bookstore of your choice, a bundle of YA books plus a $250 Visa gift card, and/or a Kindle Paperwhite. And only for Canadian Rioters, a $100 Indigo gift card.
---
See you, space pirates. If you'd like to know more about my secret plans to dominate the seas and skies, you can catch me over at my personal site.