Sponsored by Baen Books.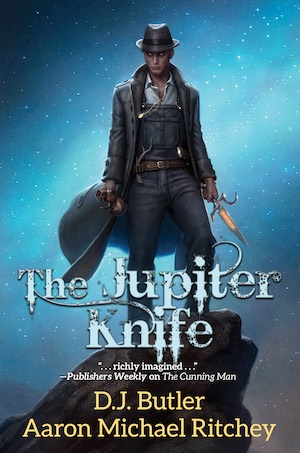 While dowsing a well, Hiram and his son Michael hear a cry of help from the ghost of a small boy. Suddenly a prosperous rancher is murdered right before them. In an attempt to help the ghost and find the killer, Hiram and Michael navigate an eccentric cast of characters: failed bank robbers, an inept sheriff, a crazy prospector, and a preacher with an apocalyptic grudge. While the murderer is slowly moving against them, there is an astrological puzzle that must be solved before they are trapped beyond escape.
Hey there Horror Fans, I'm Jessica Avery and I'll be delivering your weekly brief of all that's ghastly and grim in the world of Horror. Whether you're looking for a backlist book that will give you the willies, a terrifying new release, or the latest in horror community news, you'll find it here in The Fright Stuff.
I love YA horror. Some of the most talented voices in the horror genre at the moment are emerging in the field of YA horror and building a whole new tradition of teen terrors. As someone who cut her horror eye teeth on the remnants of the '80s-'90s horror boom that she managed to dig out of her school library's teen section, it brings me so much joy to see a new generation of horror arising for a new generation of readers.
So for Women in Horror Month this February, with a big, bright new year of horror ahead of us, let me shine a light on some of theYA horror titles by women that are sitting at the top of my to-buy list.
From the author of last year's chilling The Silence of the Bones comes a new book about families, secrets, and deception. Hwani's family and life have fallen apart ever since she and her younger sister vanished and were found unconscious in the forest on the edge of a crime scene. Though the family fled their small village to escape the incident, some histories are not so easily banished. Years later Hwani's father, Detective Min, is drawn back to their hometown by the unsolved cases of 13 other girls who recently vanished under similar circumstances as his own daughters. But when he returns to investigate, he too vanishes, leaving Hwani to follow in his footsteps in an attempt to find her father and finally put an end to the mystery that tore her family apart.
So if you've ever seen the 2017 British psychological thriller Beast, you might know why the synopsis of Mark of the Wicked caught my eye: a young woman, infatuated with the mysterious new boy in her town, finds herself suddenly surrounded by death and violence on all sides. The guilty party seems obvious, but are things really as simple as they seem? Matilda has always been told that her magic is to be used only when necessary. But Matilda isn't a good witch – she wants more from her life. She wants privilege and power. She wants vengeance, and conquest without consequences. When a spell gone wrong brings Oliver into her life, everything changes. As they grow closer, darkness piles up on either side and when a young girl dies all fingers point to Matilda. Matilda swears she isn't responsible! At least… not that she can remember.
Small Favors by Erin A. Craig (July 27)
BEES. Erin Craig has been promising horror bees on her Twitter feed ever since this book was announced and I need it. The Blackspire Mountain range is comprised of five sharp peaks bordered by a nearly impenetrable forest. And nestled amidst the Blackspires is the little town of Amity Falls. Visitors are rare and the wood is full of devils. This is Ellerie Downing's home, and the quiet life she's always known. But a sudden disappearance raises fears that the monsters the villagers once fought for survival may have returned, bringing with them honeyed promises of desires fulfilled. Asking only the smallest favors in return. Which, by the way, makes the hair on my arms stand up because oh my god do NOT strike deals with unknown creatures in the woods. Every nerve I have is screaming that this is some fair folk level nonsense. Of course I am excited.
Blackwood had me at "Jane Eyre retelling", because there is no version of this reality in which I am not obsessed with that novel. Entirely. Which is why I am absolutely dying to get my hands on Within These Wicked Walls. A debtera is an exorcist who is hired to cleanse households of the Evil Eye. So Andromeda, as a debtera, is familiar with the shadowy corners of reality. Still, when Magnus Rochester hires her to cleanse his castle of the evil that haunts it, Andromeda soon realizes that she is up to her neck in horror far beyond what she has been trained for. But despite the risk to her life, Andromeda cannot leave Magnus to face down this evil alone.
Here comes Jessica again with her obsession with sea-themed horror and dark fantasy, but in my defense I offer: highly suspect mer folk who want your children for unspecified reasons. Or at least unspecified in the synopsis – I'm curious to find out what the real reason ends up being that the Mer asked for one child of each generation in return for granting the O'Malley's the guaranteed safety of their ships upon the sea. Of course that was many years ago, and by the time Miren O'Malley came along her family had been unable to keep their side of the bargain and their fortunes had long since fallen. But Miren's grandmother will do anything it takes to regain the favor of Mer, even if it is Merin who may end up paying the price. Briefly I refer you back to my statement about making deals with unknown entities in forests and extend that to ocean dwelling somethings as well.
Fresh from the Skeleton's Mouth
Sarah Langan has written an article for LitHub about the archetype of the mother in fiction, and challenging that archetype in her new book Good Neighbors (Atria Books, February 2)
The Horror Writers Association is celebrating Women in Horror Month by presenting Females of Fright, the Zoom edition! The first of the two evening panels with members of the HWA is scheduled for February 12th at 8PM EST and is free to attend! Panelists include, among others, authors Christa Carmen (Something Borrowed, Something Blood-Soaked), Sara Tantlinger (Cradleland of Parasites), Jessica Guess (Cirque Berserk), and Zoje Stage (Baby Teeth).
Speaking of Sarah Tantlinger, she's conjured up a list of Horrormance titles if you'd like to make your Valentine's day a little bloodier!
---
As always, you can catch me on Twitter at @JtheBookworm, where I try to keep up on all that's new and frightening.