Sponsored by Flatiron Books, publisher of The Survivors by Jane Harper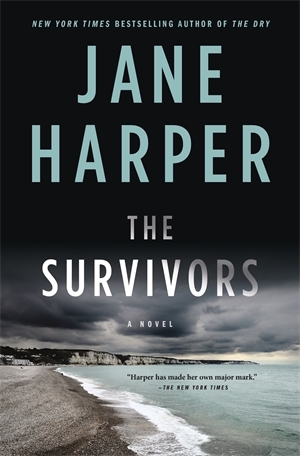 Coming home dredges up deeply buried secrets in The Survivors, a thrilling mystery by Jane Harper. Kieran life changed forever on the day a reckless mistake led to devastating consequences. The guilt that still haunts him resurfaces during a visit with his family to the small coastal community he once called home. Kieran's parents are struggling in a town where fortunes are forged by the sea. Between them all is his absent brother, Finn. When a body is discovered on the beach, long-held secrets threaten to emerge. A sunken wreck, a missing girl, and questions that have never washed away…
Hi mystery fans! I am a sucker for mysteries that are locked room and/or remote mysteries. This is certainly tied somehow to being a fan of Agatha Christie as a child, and the movie and VHS game Clue. It's also a favorite of mine because you know that the person(s) responsible are right in front of you, you just have to figure out who based on the why. And my first and foremost love of the mystery genre is based on my love of puzzles. My two selections are both influenced by Agatha Christie (and Sherlock Holmes for the first) but contemporary and set in different places in the world while also making the setting an important element. Put on your sleuthing hats and good luck guessing!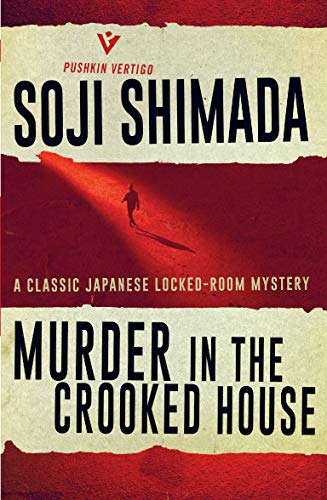 This is both a locked room mystery and a remote mystery, so basically two of my favorite things for the price of one! Wealthy Kozaburo Hamamoto has built a literally crooked house (sloping floors and the building is leaning–yes, think of Italy) in the remote northern tip of Japan, Hokkaido island. And, in 1984, Kozaburo and his daughter Eiko invite guest to stay over for Christmas in the house.
It starts with you meeting everyone as they arrive, Kozaburo setting up puzzle challenges for some guests, and telling his daughter if she wants to marry between two of the guests he could challenge them and see who solved his puzzles. But the festivities put the red in Christmas, no matter how much white snow is falling, when the murders start. In locked rooms! Clearly it has to be one of them, and the local detectives are staying over to figure out who. But they'll be competing with Kiyoshi Mitarai, a famous detective who can obviously figure this out over the local detectives–you get Agatha Christie inspiration and Sherlock Holmes, more two for the price of one.
This was fun and balanced how much you care about people when you know people are gonna be dying, and it was interesting to see how much early British mysteries have influenced Japanese mysteries. I always figure these out, but this has an added element I don't think anyone will solve 100% of, which I appreciated.
(TW attempted suicide, brief detail mentioned/fatphobia)
First a note: if you read Foley's previous book and were bothered by the use of mental illness as the boogieman, I felt this one didn't do that.
This is not a locked room mystery but a remote setting mystery that was one of the big books of last year. A clever thing I enjoyed about it is that you don't actually know who is dead at the start so the mystery is both who did it, but also to whom? It's a wedding and so everyone should be celebrating but L O L this is a murder mystery so it's just gonna be drama and secrets and at least one dead body. The bride and groom are wealthy, influential, and one is a mild celebrity with a survival type reality TV show, and they've invited family and friends to an island off Ireland's west coast.
We start with the scream, something awful has certainly happened and then we go back briefly in time to meet those arriving along with the bride and groom and the wedding planner who lives on the ten bedroom property the guests are staying at. Everyone has secrets and drama (family, romantic, friendship) and life problems as we rotate between the wedding planner, bridal party, bride, groom, and the bride's best friend's wife. The bride has issues with her mom stemming from her childhood, the bride's sister is going through a breakup, the bride's best-friend and his wife are trying to finally take a proper holiday from their kids, and the groom and his best mates are caught up in reverting back to adolescent behavior. It's fun when it feels like many people have many reasons to want to kill a few people–it's fiction, don't judge me.
I went with the audiobook because it's multi-voiced and that always makes me feel like the characters are easily separated and more defined. So if you audio, I recommend that format.
(TW self harm on page/ disordered eating talk/ fatphobia/ Non-consensual distribution of sexual images or video/ suicide, detail)
From Book Riot's Crime Vault
12 Recent Locked Room Mysteries For Fans Of Escape Rooms
---
Browse all the books recommended in Unusual Suspects previous newsletters on this shelf. See upcoming 2021 releases. Check out this Unusual Suspects Pinterest board and get Tailored Book Recommendations!
Until next time, keep investigating! In the meantime, come talk books with me on Twitter, Instagram, Goodreads, and Litsy–you can find me under Jamie Canavés.
If a mystery fan forwarded this newsletter to you and you'd like your very own, you can sign up here.