Sponsored by Baen Books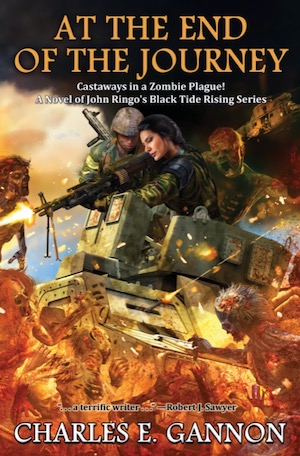 It was supposed to be fun. Six teenagers and their British captain headed on a senior year summer cruise to excitement and adventure. Then the world as they knew it ended. A plague spread throughout the globe, killing millions and turning the survivors into cannibalistic rage monsters. Only by putting aside their differences would the young crew survive. Now, they seek others like them, those fortunate souls who made it through the apocalypse. Yet thousands of infected stand in the way. If they succeed, humankind has a chance of rebuilding. If not, humanity may well be at the end of its journey.
Welcome to Check Your Shelf. I don't have much newsworthy stuff from my own life to update you all on, so here's Dini showing off his belly. Can't tell if he's relaxed or not…
---
Libraries & Librarians
News Updates
The Mellon Foundation announces that it will fund diversity programs at the Library of Congress.
YALSA announces its 2021 list of Quick Picks for Reluctant Young Adult Readers.
The Wayland Free Public Library has been finding random baked potatoes left out on its front lawn. And yes, I am considering this 100% newsworthy.
Cool Library Updates
The Brooklyn Public Library announces its Black American Library Card Project, which will solicit artwork for a limited-edition library card that will celebrate the culture and contributions of Black Americans.
Book bundles reimagine the public library browsing experience. (Can confirm – my library's Take 10 service has been enormously popular since we started it 6 months ago.)
Check out these Little Free Libraries in Los Angeles that look like replicas of US government buildings!
Worth Reading
Senator Patrick Leahy, a Democratic senator from Vermont, has appeared in five Batman movies (including The Dark Knight!) and he's donated all of the money he's made from his film appearances to his hometown public library – more than $150,000 in total!
Will there be a Trump Presidential Library?
5 things this writer misses about the library.
---
Book Adaptations in the News
Alex Marzano-Lesnevich's true crime memoir The Fact of a Body is being adapted by HBO. This is going to undoubtedly be some heavy watching. (TW for child abuse, sexual abuse)
Salma Hayek is developing an adaptation of Elizabeth Wetmore's Valentine for HBO.
The Never Game by Jeffery Deaver is getting a series adaptation.
TNT is planning a series adaptation of The Whistler by John Grisham.
Casting update for Magpie Murders by Anthony Horowitz.
Bridgerton has already been renewed for a second season on Netflix.
Queen Sugar also gets renewed for an additional season.
First look at Netflix's adaptation of Behind Her Eyes by Sarah Pinborough.
Here's the trailer for Kristin Hannah's Firefly Lane.
---
Books & Authors in the News
After being assigned Agatha Christie's And Then There Were None on their summer reading list and then learning about the racist history of the book, these eighth grade twins are now pushing for a change in IL legislation that would require all reading lists to be approved at the district level, to make sure that future reading assignments are free of historical inaccuracy or racial bias.
The Hungarian government has ordered the publisher of the LGBTQ fairytale anthology Wonderland is for Everyone to put a disclaimer on the book that the behavior described in the book is "inconsistent with traditional gender roles."
Stacey Abrams writes Black women into history.
After learning that a young fan planned to read a passage from one of his books at his bar mitzvah, Kwame Alexander surprised the boy at his home.
The public domain is responsible for transforming The Great Gatsby into The Great Gritty.
---
Numbers & Trends
Not surprisingly, books about political upheaval, including On Tyranny and 1984, are selling well.
Also not surprisingly, books by and about Joe Biden are also selling well.
---
Award News
The Edgar Award nominations are here!
Here's a roundup of all the 2021 Youth Media Awards announced at ALA Midwinter.
The Jane Addams Children's Book Awards have been announced.
The Walter Dean Myers Awards have also been announced.
The Gotham Book Prize announces the finalists for its first $50,000 award.
2021 Philip K. Dick Award nominees are out.
Nominations for the 2021 Left Coast Crime Lefty Awards have been announced.
---
Pop Cultured
Cloris Leachman (or as I best know her, Frau Blucher) has passed away at 94.
Netflix's new French crime series, Lupin, is set to reach an even larger crowd than Bridgerton.
There's a far off release date of March 17, 2023 for Wonka, a prequel based on the Roald Dahl books.
---
Bookish Curiosities & Miscellaneous
This book club is working to get its entire town vaccinated against COVID.
Here's a new way to think about book discovery: this bookstore categorizes and shelves its books by emotions.
Why should we read unfinished novels?
---
On the Riot
School libraries and their fight against fake news.
Banned, censored, and burned books: there's a museum for that!
Here are some book club questions to use for Daisy Jones and the Six.
20 ways to read more in 2021 when you just don't care anymore.
The history of the Scripps Spelling Bee. For the record, I used to be a spelling bee kid (never at this level, but I was school champ a couple years in a row), and the anxiety from those competitions still gives me heart palpitations.
What to know about getting rare books appraised.
---
You made it to the end of the newsletter, and the end of the week! Treat yourselves to something nice this weekend, and stay moisturized!
—Katie McLain Horner, @kt_librarylady on Twitter.