Sponsored by Early Bird Books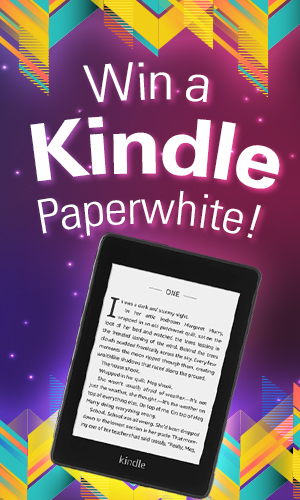 Love to read? Love great deals? Early Bird Books brings you free and bargain eBooks that match your interests. You can sign up for free, read the books on any device, and the books are yours to keep. Sign up to our eBook deals newsletter and start getting great deals on bestselling titles today! Learn more at earlybirdbooks.com.
Hola Audiophiles! It's snowing in Portland ("snowing" because it's kind of weak, but it still counts!) and I'm about to curl up on the couch with some Mexican hot chocolate and an audiobook to watch it from my window. My mood these days is just so much lighter! Wishing the same good vibes for all of you with me here today.
Ready? Let's audio.
---
New Releases – week of January 26  (publisher descriptions in quotes)
Content warnings provided where possible
I organically stumbled across Instagram posts by no less than six Rioters singing this book's phrases in a 48 hour period! Nora is a teen living with her aunt in Northern California dealing with an awkward love triangle (love shape?) between her and her two best friends. But skrrrrrr! That issue is put on pause when Nora and one of those friends walk into a bank and finds themselves in the middle of a robbery. Things escalate quickly, hostages are taken, and law enforcement awaits outside. But there's another wrinkle the robbers don't know about: among the hostages is a young woman who's been several girls in her short lifetime, and has enough dangerous criminal experience to be a seriously dangerous threat. (YA mystery/thriller)
Content warning: chemical use, physical violence, sexual abuse, domestic abuse, child abuse, murder, torture, and gore.
Read by the author, Tess Sharpe!
Cicely Tyson is a living legend, an icon, a gem in our midst! This is Miss Tyson's memoir chronicling a storied life and career: "It is me, plain and unvarnished, with the glitter and garland set aside. Here, I am indeed Cicely, the actress who has been blessed to grace the stage and screen for six decades. Yet I am also the church girl who once rarely spoke a word. I am the teenager who sought solace in the verses of the old hymn for which this book is named. I am a daughter and mother, a sister, and a friend. I am an observer of human nature and the dreamer of audacious dreams. I am a woman who has hurt as immeasurably as I have loved, a child of God divinely guided by His hand. And here in my ninth decade, I am a woman who, at long last, has something meaningful to say." (memoir)
Content warning: violence, racism, and chemical use.
Read by (are you ready??) Cicely Tyson, Viola Davis, and Robin Miles. Legends!
I looooove mythology and need this book in my hands now! Told from the perspective of Calliope, the goddess of poetry (and side note: one of my forever favorite characters in Grey's Anatomy history), this book is a fictionalized account of the Trojan war that focuses on the women: Trojan citizens, Penelope awaiting the return of Odysseus, the Amazon princess who fought Achilles, and three goddesses who started the whole damn thing. And in the highest of all cosigns, Song of Achilles and Circe author Madeline Miller says Haynes has given a "much-needed voice to the silenced women of the Trojan War." I. can. not. wait. (historical fiction, mythology)
Content warning: mention of slavery, murder, violence, sexual assault, violence
Read by the author (a theme today!)
Jamie and Zoe are strangers who have a funny little thing in common: they've each woken up in apartments they don't remember renting. They have no idea who they are or how they got there, and one more surprise: they have super powers! Jamie uses his powers to pull of bank heists and other shady endeavors while Zoe uses hers to rain down some vigilante justice. and that is how their paths come to cross. When they meet for a second time at a support group for folks with similar stories to tell, they realize they might all be part of a bigger plan. (fantasy)
Read by Emily Woo Zeller (Book Riot fave alert! The Bride Test by Helen Hoang, The Poppy War series by R. F. Kuang)
Latest Listens
All of my library holds are coming in and I'm trying to keep up! I inhaled this one in just a couple of days, the second book in Sonali Dev's Rajes series of Austen rom-com remixes.
Ashna Raje is not okay! She's struggling to run the failing restaurant that was her father's legacy and to prove to her estranged mother that she knows her own mind. When she gets a last-minute offer to be on The Food Network's latest celebrity cooking show, Ashna agrees begrudgingly. She does it mostly to avoid having to see her mother, and because winning the competition means a cash prize and the chance to turn her restaurant troubles right around. Pero… here's the thing: the gorgeous retired pro soccer player she's paired with on the show was once the love of her life, the one who ghosted her when she was at her absolute lowest. He has reasons of his own for wanting to be on the show, and him leaving her may not have gone exactly like Ashna remembers it. Is this partnership a recipe for disaster? Or will it end in sweet success? (tw: suicide, sexual assault; descriptions aren't extremely graphic, but may still be much for some)
I am always so impressed by how fun and hilarious Sonali Dev's books are while tackling some pretty heavy issues. The women in all of her books (and all of her characters in general) are so dynamic and layered, flawed and relatable. Both Ashna and her mother have moved through the world in ways that are difficult to understand as onlookers until we examine their behaviors through the lens of trauma. I am still sitting with the feelings that surfaced for me once the motivations behind Ashna's attachment to the restaurant and loyalty to her father were revealed, and when her mother's decision to rebel against societal norms at the cost of her family is made clear. Sonali Dev continues to give us these thoughtful examinations of the ways in which women have had to advocate for themselves, often at immense personal sacrifice, and rewarding us with a deliciously satisfying happily ever after for joining her in that reflection.
As for narration, I cannot imagine a more perfectly suited voice for Sonali Dev's books than Soneela Nankani. In addition to also reading Pride, Prejudice, and Other Flavors, her catalog includes titles like The Daevabad Trilogy by S. A. Chakraborty, The Widows of Malabar Hill by Sujata Massey, and Internment by Samira Ahmed. She gives you mid-30s anxious, Brazilian-British athlete swag, wise aunty energy, and more with seamless transitions.
So go, dear reader, and treat yourself to Recipe for Persuasion. Oh, and you don't need to read the series in order, but do absolutely make some time for Pride, Prejudice, and Other Flavors! and look for Incense and Sensibility in July!
From the Internets
2021 Amazing Audiobooks for Young Adults — This list from YALSA (Young Adult Library Services Association) is a little dense visually, but worth it for the content.
Spotify Launches Audiobooks Program with 9 Classics, including Frankenstein and Jane Eyre.
Are you thinking, "How do I listen to audiobooks on Spotify??" Here you go!
at Audible: an interview with Alanis Morissette
at AudioFile: Families in Mystery Audiobooks: The Good and the Really Bad
at Libro.fm: 18 Audiobooks to Pre-Order Before Spring
Over at the Riot
6 of the Best Audiobooks Narrated by Prentice Onayemi
On this week's Hey YA: Extra Credit episode, Hannah is joined by special guest Emily Blaeser to talk about their favorite YA audiobooks.
---
Thanks for hanging with me today! Shoot me an email at vanessa@riotnewmedia.com with with all things audiobook or find me on Twitter and the gram @buenosdiazsd. Sign up for the In The Club newsletter and catch me once a month on the All the Books podcast.
Stay bad & bookish, my friends.
Vanessa