Sponsored by Baen Books.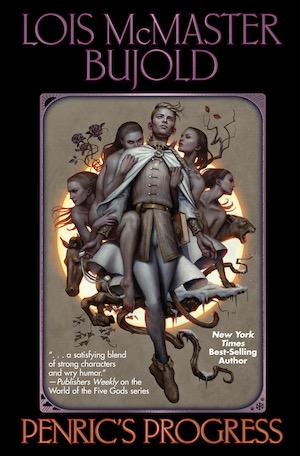 Penric's Demon: On the way to his betrothal young Lord Penric happens upon a riding accident. The victim is a Temple divine. As she lies dying, she passes her strange powers to Penric—and changes the course of his life forever. Penric and the Shaman: Penric must accompany a Locator of the Father's Order assigned to capture a runaway shaman charged with the murder of his best friend. Penric's Fox: When the body of a sorceress is found, it is up to Penric and his friends, to unravel a mystery mixing magic, murder, and the strange realities of Temple demons.
Happy Tuesday, shipmates! It's Alex with a pack of new releases for you. Publishing's picking back up after a sleepy December. (Just wait 'til you see what the list for next week looks like. It's HUGE.) I've been reading a nonfiction book lately that I want to mention: Underland by Robert Macfarlane is a book about deep time and humanity's interaction with geology, which is unsurprisingly right up my alley. It articulates a lot of my own feeling about our place in deep time and the responsibilities is places upon us. I definitely recommend it. Stay safe out there, space pirates. I'll see you on Friday!
Let's make 2021 better than 2020. A good place to start? The Okra Project and blacklivesmatter.carrd.co
---
New Releases
Two archrivals meet at a memory loss support group after having their pasts erased: Jamie, who uses his powers to read and erase the memories of others to hold up banks; and Zoe, who uses her powers of super speed and strength to mostly deliver fast food. They soon realize that the keys to their missing pasts lie in each other. As outer threats begin to mount, they must learn to trust each other–and themselves.
Rubi Whiting has convinced the galactic governing body that humanity deserves a seat at the table… and the responsibility of fixing its own problems. But humanity isn't being welcomed universally into the galactic community of worlds, and there are those who would happily sabotage its stumbling attempts to stand on equal footing.
After her mother is murdered on her doorstep, Rue is taken away from her neighborhood and her sister, Tasha, by the father she never knew and whisked away to the hidden island of Ghizon. There she learns she is half-god among magic wielders who thrive on human suffering. She escapes to visit Tasha on the anniversary of their mother's death and discovers her falling under the influence of those that took everything from them. Rue must embrace her true identity and powers if she's to save her sister and her home.
Driwana is a soldier who works for a merchant guild, guarding their caravans. During a bandit attack, she discovers a corpse hidden in one of the caravan's wagons. The body is of one of the Oskoro people, and thus a priceless object. As Driwana investigates where the body came from and where it was intended to go, she finds herself on the trail of a great evil that leaves deceit and corruption in its wake.
Catalina has lost everything: her throne, her people, her best friend. She's been banished to the Yanu Jungle, but she won't stop trying to escape and regain all she has lost. She's rescued by Manuel, the son of a general. Together, they will search for the lost city of gold that could buy allies for them both. But first they must find a way to stop the corruption that's threatening to destroy the jungle and its people from within.
After a terrible freshman year in which she loses her only friend, math prodigy Nephele invents time travel to give herself a chance at a do-over. Only instead, she traps herself in a time loop where time advances without her. On her tenth shot at the ninth grade, she has a teacher who used to be a classmate, and finally has a new friend in a student named Jazz. She's also figured out how to undo her time loop, but why go back to the past when she has something worth staying for, now?
News and Views
Interview with E. Lily Yu at Lightspeed
R.B. Lemberg made a thread of quotes from Ursula K. Le Guin's poetry on the third anniversary of her death.
Constelación Magazine has released its first issue to Kickstarter backers and subscribers. They'll start releasing one story a week on their website this week.
Stampede Ventures and wiip are adapting the first book of Embers of War.
Shiv Ramdas: Supernatural or Super Unnatural – An Examination of Postcolonial Horror
An amazing Twitter thread that uses That Bernie Sanders Picture to show the relative size of ocean animals. Also, the Bernie meme hits The Fellowship of the Ring and WandaVision.
The biopic about Tove Jansson is coming to the US, Canada and UK!
Rest in peace, Mira Furlan, who played Delenn in Babylon 5. JMS has written a beautiful eulogy for her.
Finn deserved better – and so did Black Star Wars fans
A Texas Lawyer cited Lord of the Rings in a pro-Trump lawsuit, to the utter bafflement and/or fury of a lot of Lord of the Rings fans (for example).
In other legal news, Margaret Weis and Tracy Hickman have filed for dismissal of their lawsuit against Wizards of the Coast without prejudice.
Space station detectors found the source of weird 'blue jet' lightning
Important dinosaur butthole discovery
On Book Riot
A battle guide to the top 20 military fantasy books
10 female assassin books about death, justice, and survival
You have until January 24 to enter to win a copy of Tales from the Hinterland.
This month you can enter to win $100 to the bookstore of your choice, a 1-year Kindle Unlimited Subscription, or your own library cart.
---
See you, space pirates. If you'd like to know more about my secret plans to dominate the seas and skies, you can catch me over at my personal site.