Sponsored by You Have A Match by Emma Lord.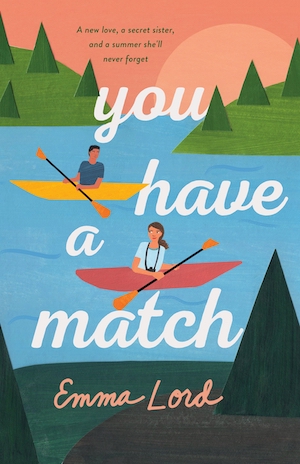 When Abby signs up for a DNA service, it's mainly to give her friend and secret love interest, Leo, a nudge. But she shockingly discovers she's a sister to shimmery-haired Instagram star Savannah Tully. It's hard to believe they're from the same planet, never mind the same parents. They make a plan to meet up at summer camp and figure out why Abby's parents gave Savvy up for adoption. But things never go as planned, do they?
Welcome to Read This Book, the newsletter where I recommend a book you should add to your TBR, STAT! I stan variety in all things, and my book recommendations will be no exception. These must-read books will span genres and age groups. There will be new releases, oldie but goldies from the backlist, and the classics you may have missed in high school. Oh my! If you're ready to diversify your books, then LEGGO!!
Born January 25, 1950, today would be Gloria Naylor's 71st birthday. Naylor was born in New York City to sharecroppers who escaped the segregated South and migrated north to Harlem in search of better opportunities. She took to writing at an early age and kept notebooks full of short stories and poems. Although she initially majored in nursing while attending Brooklyn College, after reading The Bluest Eye by Toni Morrison, Naylor changed her major to English and went on to earn an M.A. in African American Studies from Yale University. Her thesis eventually inspired her second book Linden Hills. However, Gloria Naylor is best known for her debut novel, The Women of Brewster Place.
This novel in seven stories explores how these women came to reside at Brewster Place. As these women forge lives in a bleak inner city neighborhood, their romances, friendships, hopes, and struggles show the inner working on what it means to be a Black woman in America.
The Women of Brewster Place won the 1983 National Book Award in the First Novel category and was adapted into a television miniseries of the same name by Oprah Winfrey.
I can easily say my reading life is better because of The Women of Brewster Place. It is always a pleasure to read stories centered around Black women, but along with the pleasure of seeing myself and my kin reflected in The Women of Brewster Place came the pain that often goes along with being a Black woman in America. Naylor masterfully shows what lies at the intersection of class, race, sexuality, and gender through the lives of Mattie, Etta, Theresa, and the other women of Brewster Place who represent the many Black women who continue to make a way out of no way in every redlined neighborhood across America.
Although The Women of Brewster Place is a must-read book, it is my duty to forewarn you. This probably won't be a light beach read. The story includes violence and sexual assault against women, the death of a child, homophobia, and sporadic use of the n-word. Despite those warnings, this is a book you'll want to add to that ever growing TBR.
Until next time bookish friends,
Katisha
---
Find more of me on Book Riot.
Find more books by subscribing to Book Riot Newsletters.