Sponsored by AfterShock Comics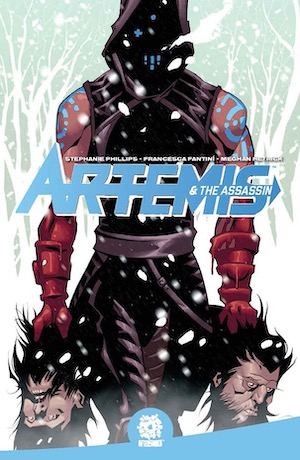 For a price, a top-secret assassination organization will travel through time and interfere with watershed moments. Trained as the agency's top assassin, Maya is sent to kill Virginia Hall, the deadliest spy of WWII. Charged in with carrying important plans about the invasion of Normandy to the allied troops, Virginia's death would have a cataclysmic effect on WWII as we know it.
Welcome to Check Your Shelf. I started my day today by seeing a ginormous spider hanging over my nightstand. When I turned my head to yell for my husband, the spider somehow disappeared, and we still haven't found it……we may have to nuke our apartment from orbit now.
Let's talk about books to distract me from the monstrous spider that may still be lurking around my bed. *shudder*
---
Collection Development Corner
Publishing News
Josh Hawley finds a new publisher for his book after Simon & Schuster dropped him. Conveniently, Simon & Schuster also manages the distribution for Regnery Publishing (Hawley's new publisher), so…take all this with a large grain of salt.
In addition to Connecticut's investigation, there's a class-action lawsuit issued against Amazon for colluding with the Big 5 publishers to inflate ebook prices.
Publishers need more Black translator friends.
"Black bookstore" is more than just a label.
New & Upcoming Titles
A first look at Anthony Doerr's new book, Cloud Cuckoo Land.
Thirteen-year-old Brayden Harrington who befriended Joe Biden over their shared stutter, will have a children's book coming out this summer called Brayden Speaks Up.
Inauguration poet Amanda Gorman's upcoming books shoot to the top of the Amazon best-seller list. Also, make sure to check out our introduction to Amanda Gorman and her work!
CNN's Don Lemon announces his next book: This Is the Fire: What I Say to My Friends About Racism.
Kelley Armstrong announces an upcoming time-traveling mystery series.
Weekly book picks from Booklist Reader, Bustle, Buzz Feed, Crime Reads, The Millions, New York Times, Publishers Weekly, Shelf Awareness, and USA Today.
January picks from Crime Reads (true crime), Pop Sugar (romance), and Tor.com (horror/genre-bending books).
Most anticipated books of 2021 from Advocate (LGTBQ), Amazon (cookbooks), Book Page, Bustle (debuts), Buzz Feed (YA SFF), Esquire, io9 (SFF), and Wired.
What Your Patrons Are Hearing About
The Doctors Blackwell: How Two Pioneering Sisters Brought Medicine to Women and Women to Medicine – Janice P. Nimura (New York Times, NPR, USA Today)
Let Me Tell You What I Mean – Joan Didion (Entertainment Weekly, LA Times)
The Rib King – Ladee Hubbard (LA Times, Washington Post)
Yellow Wife – Sadeqa Johnson (NPR)
Concrete Rose – Angie Thomas (Washington Post)
RA/Genre Resources
Why are so many romance novels set during the Regency period?
On the Riot
15 cozy mysteries coming out in the first half of 2021.
10 propulsive books that everyone will be talking about in 2021.
New romance novels you might have missed in 2020.
10 of the buzziest books from 2020 to catch up on.
5 ways to find the best book recommendations.
Looking for a great middle grade book? Try #BookMatch.
Reading pathways for Laini Taylor.
---
All Things Comics
DC is launching a crossover Batman and Scooby Doo Mysteries comic book.
Netflix is adapting the YA graphic novel Heartstopper by Alice Oseman.
On the Riot
5 new & upcoming graphic novels.
4 of the best comics about politics.
10 Mangatubers you should be watching.
---
Audiophilia
YALSA posts its 2021 list of Amazing Audiobooks for Young Adults.
This audiobook app will tell unheard African stories.
11 funny audiobooks to lighten the dreary mood this winter.
On the Riot
Audiobook apps for bilingual readers and language learners.
5 must-listen short story collections on audio.
---
Book Lists, Book Lists, Book Lists
Children/Teens
10 interactive stories for hands-on kids.
10 YA books that put the #MeToo conversation front and center.
17 YA books featuring Black teens.
YA books guaranteed to make you LOL.
Adults
10 best political books of 2020 by Black women.
Self-help books by Latinx authors.
The literature of children who raise themselves and demand justice.
10 climate change novels about endangered and extinct species.
10 snowbound thrillers to read this winter.
6 books that straddle the line between "honest" and "too honest."
6 stories for fans of Australian gothic.
On the Riot
20 informative & inspiring plant books for kids.
Book Riot readers pick the best YA books of 2020.
Read Harder: a book with a beloved pet that DOESN'T die, and a book that demystifies a common mental illness.
14 adult fairy tales for the young at heart.
A battle guide to the top 20 military fantasy books.
16 books that Reddit thinks will be classics. (Honestly, I'd argue that a lot of these books are already classics!)
10 books about sex work by sex workers.
5 historical spy thrillers based (in part) on real events.
Best books about dysfunctional families.
10 female assassin books about death, justice, and survival.
7 books about the history of tea.
15 uplifting book club books to make you smile.
14 books about dark academia.
Most commonly-assigned books in US colleges.
---
Level Up (Library Reads)
Do you take part in Library Reads, the monthly list of best books selected by librarians only? We've made it easy for you to find eligible diverse titles to nominate. Kelly Jensen created a database of upcoming diverse books that anyone can edit, and Nora Rawlins of Early Word is doing the same, as well as including information about series, vendors, and publisher buzz.
May no one encounter any large insects or arachnids this week. See everyone on Friday.
—Katie McLain Horner, @kt_librarylady on Twitter. Currently reading Whisper Network by Chandler Baker.