Sponsored by Black Spot Books, an imprint of Vesuvian Media Group.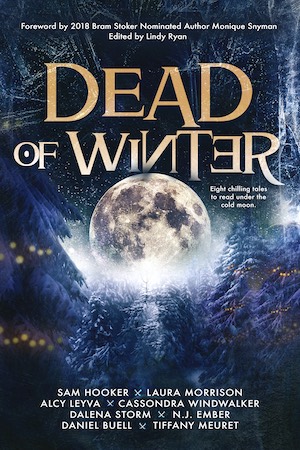 Despite the twinkling lights and steaming cocoa, the winter months are the darkest time of the year—a season of short days, long nights, and cold skies. In this special anniversary anthology, the best-selling and award-winning authors of Black Spot Books mix Ye Olde Yuletide hauntings with modern-day holiday horrors to weave a chilling new collection of eight chilling winter tales to read under the Cold Moon. From frozen forests stalked by eerie Christmas ghosts to rotting gifts of winter malice, the spirits of Christmas come home for the holidays in the Dead of Winter.
Hey there Horror Fans, I'm Jessica Avery and I'll be delivering your weekly brief of all that's ghastly and grim in the world of Horror. Whether you're looking for a backlist book that will give you the willies, a terrifying new release, or the latest in horror community news, you'll find it here in The Fright Stuff.
Life hasn't been easy on any of us lately, and I don't know about you but my usual coping methods have started to fail me one by one. When all this started last spring, I was devouring horror content non-stop, which proved a wonderfully cathartic way to deal with my anxiety and anger. But in the last few months I haven't been able to read or watch horror. I was starting to worry it was going to be permanent, which – among other things – would have made writing this newsletter a little difficult.
Turns out what I needed wasn't a break from horror, it was a healthy dose of nostalgia.
When I was younger I had a massive vampire obsession – in fact it was vampire fiction that originally made me into a horror reader! I don't remember what age I was when I first read Interview with the Vampire, but my collection of Vampire Chronicles hardbacks still occupy valuable shelf space in my apartment. I found Mary Downing Hahn's Look for Me By Moonlight in my school library and it blew my tiny fangophile mind. And I still love that book so much that I write about it every chance I get (thank you Book Riot for perpetually indulging my obsessions). I was born at the end of the '90s vampire craze, was in my late teens when it came around again, and now it seems that finally – after a general vampire burn out following the Twilight explosion of the early 2000's – vampires are making (yet another) come back. Last year gave us the amazing anthology Vampires Never Get Old, and 2021 will see the publication of the book that single-handedly freed me from my book slump: Mina and the Undead.*
(*I'm not sure it has a US release day yet, but Mina and the Undead will be out April 1st in the UK from Uclan Publishing. So remember: Book Depository is your international book friend, friends.)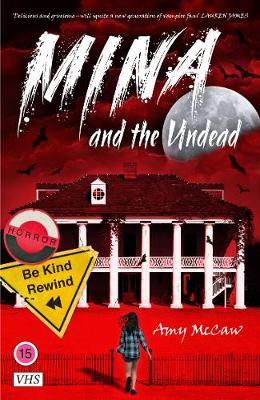 Amy McCaw's debut YA horror novel set in 1995 New Orleans, is a nostalgia-driven, retro trip through the vampire fervor of the '90s. Twin sisters Mina and Libby find themselves embroiled in the nightmarish game of a serial killer who is draining his victims of blood and staging them in macabre scenes of violence across the city. In a city drunk on vampire mania, it's hard to say if this killer is a pretender, or a true immortal.
Nostalgia is a common theme in the horror genre. Moreso, I think, than other genres. Sometimes you'll see works in romance, fantasy, or sci-fi that allude to or play homage to their genre's history, but there is something about horror that really seems to invite that perspective. Too much nostalgia can be counterproductive, of course. There have been times when the horror genre has shown a tendency to use nostalgia to gloss over a history of racism, homophobia, misogyny and more. As responsible readers we want to be aware of these tendencies, of our history, and our need to consider the horror genre critically.
But – particularly in the right hands – nostalgia can serve a genuine purpose in storytelling. It evokes feeling. We are nostalgic about things we enjoyed and loved. Indulging in doing or consuming things we love makes feel happy, and finding ways to make yourself happy is one of the best ways that you can take care of yourself. It can be hard to find joy when it seems like everything is figuratively, and sometimes literally, on fire around you. We're all tired/sad/mad/scared/grieving right now. It's ridiculous how much we've been through, and that – despite absolutely EVERYTHING going on – many of us are still called to go about our day to day lives as though everything were normal.
We need joy in our lives right now, more than ever. Mina and the Undead brought me joy! McCaw made me remember how much glee I used to get out of vampire fiction, something that I indulge in far too infrequently these days. At one point McCaw referenced Rasputina's "Transylvanian Concubine" as the song in the background of one of the club scenes and I was just overwhelmed with all these happy, fuzzy nostalgia feelings and memories of watching Buffy re-runs on the tiny screen of the TV in my parent's bedroom after school.
It was such a small thing, but it made me genuinely joyful. So many of the little nods to vampire classics in this book were so delightful, and McCaw's love for the genre so clear. Mina and the Undead was all fake fangs, a few real ones, cheap velour, underground blood bars and black lace parasols, and I ate it up.
So here's a little end of January reading challenge: in the midst of keeping up with what's hot off the presses, and in between the horror that shocks you viscerally or rocks you emotionally, add a horror book that sets off your warm, fuzzy nostalgia feelings. Maybe it will be something drowning in 80's neon like Grady Hendrix's hilarious but so gross My Best Friend's Exorcism, or something like Stephen Graham Smith's amazing The Last Final Girl which is a loving homage to slash films everywhere. The Rewind or Die series by Unnerving Books is a whole line of short novels based on a love of retro-horror and creature features.
Just find something that makes you happy. Something that reminds you why you love horror, why you've always loved horror, how you got started loving horror. Find a little pocket of nostalgia and let it bring you some much needed joy.
---
As always, you can catch me on Twitter at @JtheBookworm, where I try to keep up on all that's new and frightening.