Sponsored by Baen Books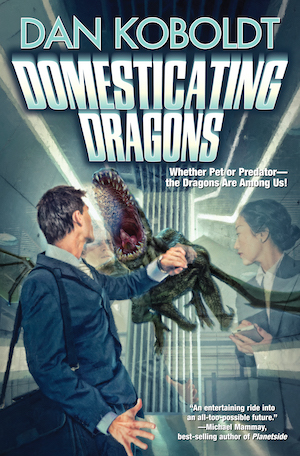 What could possibly go wrong? | Newly minted Ph.D., Noah Parker landed his dream job at Reptilian Corp. one of the hottest tech companies. He's eager to put his genetic engineering expertise to use designing new lines of Reptilian's feature product — living, breathing dragons. Reptilian is desperate to crack the general retail market by creating a dragon that can be the perfect family pet. While Noah's research may help Reptilian create domesticated dragons, Noah's has a secret plan to slip changes into the dragons' genetic code, bending the company's products to another purpose entirely.
Happy Friday, shipmates! And here's hoping it's a brighter Friday for you than the one that came before. It's Alex, writing to you from the past where I just finished watching the livestream of the inauguration, and if you have not watched Amanda Gorman's inaugural poem, you need to. So I'm here with some hopeful SFF books for you on a hopeful day. Let's keep sailing together for the horizon, though the storm still rages—and stay safe out there. I'll see you again on Tuesday.
Thing I want to share with everyone today: Short Film: Tȟokáta Hé Miyé /My Name Is Future
Let's make 2021 better than 2020. A good place to start? The Okra Project and blacklivesmatter.carrd.co
---
News and Views
Nalo Hopkinson spoke with CBC radio about being the first Black woman to become a Damon Knight Grand Master
Zig Zag Claybourne made an awesome playlist for Afro Puffs Are the Antennae of the Universe
Congratulations to Lennixx-Nickolai Treat Bad Moccasin for winning the 2020 Imagining Indigenous Futurisms Award
LA Review of Books has a piece about George MacDonald, who was a major influence on the Inklings
David Barnett writes a tribute to Storm Constantine in The Guardian
Elizabeth Olsen on how she transformed her performance for each episode of WandaVision (Related: WandaVision is the most important thing to happen to the MCU since Iron Man. It's certainly sucked me back in.)
You've still got a few days if you'd like to get in on the January 27 Frontiers Lecture about Titan.
On Book Riot
14 adult fairytales for the young at heart
Who was Mary Shelley? An exploration of her life
Reading Pathways: Magical worlds and dreamy fantasy with Laini Taylor
This month you can enter to win $100 to the bookstore of your choice, a 1-year Kindle Unlimited Subscription, or your own library cart.
Free Association Friday: Hope
You know how I'm feeling this week? Hopeful. Hopeful. Not because I think everything is magically better and every problem is in the rearview mirror… but because I feel like thing can get better. And in honor of that, here's some books that give me that same feeling of hope, of looking forward.
"I believe that any dad who raises his child to believe the world is full of magic, and that there's always hope no matter what, truly deserves for her to rescue him one day when he needs it."
Do you need any more than that? In a world of water, a submarine pilot must rescue her dad and take down a corrupt government.
After a meteor strike means humanity has to get off the planet right now (right now being the 1950s) the next step in the reach for the stars is establishing a moon base. Nicole Wargin, wife of a senator and a Lady Astronaut in her own right, takes what might be her last trip up to the Moon just in time for conspiracies to reach a head and disaster to strike. She and her crewmates have to figure out how to keep everyone alive, find the traitors—and remind the world that hope will be found in space. (This one also involves an epidemic, so take care if you want to avoid that.)
Aliens who are distantly related to humans are made into refugees when their homeland is destroyed, and so they reach out to the people of Earth for a new home. Now the two clashing societies must work together if they are to save themselves and find a new way of being.
Freedom, Truth, Justice, and Reasonably Priced Love. The May revolutionaries of Ankh-Morpork aren't asking for anything that unreasonable, are they? Sam Vimes gets to live through this revolution twice; once as an idiotic youth and once as his world-weary adult self, kicked back in time by a mysterious accident and still in pursuit of a murderer. He knows how the revolution goes; he knows how many of his friends fall. And he'll try to save them anyway, even if it means sacrificing his own future life.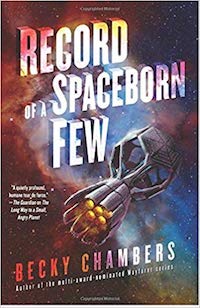 The Exodus Fleet is a living relic of humanity's escape from Earth; humanity has mostly moved on at this point. While the Exodans grapple with their obsolete home and the fundamental question of if their way of life is worth saving at all, the fleet offers a new home and a new beginning to those who feel lost and disconnected from their own lives.
This one might be a bit close to home because the inciting incident for concerts (and other public gatherings) becoming illegal is a pandemic, but…
A musician who has been cut off from her audience performs illegal, underground concerts, and a young woman who spends all her life in the online world makes it her mission to find musicians and bring them to a new, virtual audience.
LaGuardia by Nnedi Okorafor, art by Tana Ford
I generally don't do graphic novels in this newsletter since they have their own newsletter, but I'm making an exception for this one. In a world where aliens are real and living among us, a Nigerian-American doctor anmed Future who is pregnant under "mysterious" circumstances smuggles an illegal alien plant into NYC and settles into her grandmother's tenement, among African and shape-shifting alien immigrants. The community faces discrimination, travel bans, and other very topical problems… and if that's not enough, Future's pregnancy seems to be changing her…
---
See you, space pirates. If you'd like to know more about my secret plans to dominate the seas and skies, you can catch me over at my personal site.