Sponsored by Erewhon Books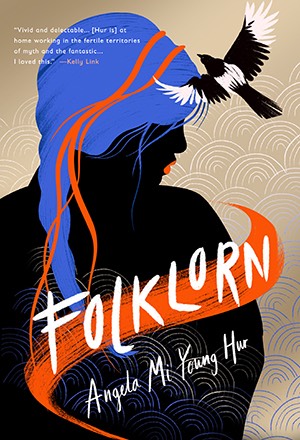 Physicist Elsa Park is on the run from the ghosts of her childhood, who find her even in the frozen wasteland of Antarctica, eager to drag her home to fulfill her destiny. Her mother always warned that the women of their line inevitably succumb to a curse, destined for the same ominous, early deaths as their ancestresses from Korean myth. Now, as an adult, Elsa must return to California, to her shattered family and the handwritten pages of her mother's dark tales, if she's to stop what's coming. Read the book that Pulitzer Prize finalist Kelly Link calls "vivid and delectable."
Welcome to Check Your Shelf. WE MADE IT. The inauguration proceeded normally, and there was joy, laughter, the best types of historical moments, Lady Gaga, and an unbelievable poetry reading. I wore pearls, a blazer, and my Nevertheless, She Persisted t-shirt to work from home today, and yes, I may have busted out my last mini bottle of prosecco at 11 in the morning so that I could toast my TV and weep into my glass. To paraphrase something I've seen on social media a LOT this week, I am overjoyed that the last four years are over, and saddened that the last four years happened at all.
It's a new day, and a new administration. Let's library.
One small note: Some of you may have received Tuesday's newsletter on Thursday instead. No change is being made to the schedule, it was just a bloop!
---
Libraries & Librarians
News Updates
A member of the New Orleans Public Library Board of Directors accused the library director of spreading misinformation about a recent attempt to significantly cut library funding.
The Big 10 libraries commit to managing their separate collections as a single collection, allowing individual libraries to focus on more distinctive collections and services.
BiblioBoard and Publishers Weekly's BookLife launch a new library ebook program for self-published authors.
YALSA names the 2021 Best Fiction for Young Adults.
These were the top ebook checkouts from the Austin Public Library in 2020.
Cool Library Updates
The Boston Public Library announces its new Repairing America initiative.
Bearded dragons make great library pets! (I agree! I'm not a big fan of reptiles, but here are a couple photos of me with my previous library's resident dragon, Lizzie.)
Worth Reading
Are anti-racism book challenges on the rise?
Book Adaptations in the News
Netflix and Ibram X. Kendi are teaming up to adapt his anti-racism books.
The creators of You are adapting another Caroline Kepnes novel for TV.
Tessa Thompson's new production company is producing an adaptation of Nnedi Okorafor's Who Fears Death?
Amazon Studios is adapting Rachel Givney's novel Jane in Love for film.
Keegan-Michael Key is starring in the upcoming adaptation of Stephen Mack Jones' August Snow PI series.
The adaptation of Jennifer Mathieu's YA novel Moxie is hitting Netflix on March 3rd.
Here's the trailer for To All the Boys: Always and Forever, which will be the final film in the To All the Boys trilogy on Netflix. The Kissing Booth will also finish up on Netflix this year.
Trailer for Eleanor Catton's The Luminaries.
---
Books & Authors in the News
David Weber is out of the hospital after being treated for COVID.
---
Numbers & Trends
Self-improvement books did very well at the beginning of the year.
This Tintin comic book art breaks auction record for most expensive comic book art at $3.1 million dollars.
---
Award News
PEN International awards the 2021 Award for Freedom of Expression to Tsitsi Dangarembga's This Mournable Body.
Sisters in Crime unveil a new award for emerging LGBTQIA+ crime writers.
---
Pop Cultured
No Time to Die is moving its release date again from Easter weekend to sometime in the fall of this year.
---
Bookish Curiosities & Miscellaneous
The Epilogue Kitchen in Salem, Oregon allows customers to add anti-racist books to their takeout orders.
The Brooklyn Book Bodega looks to fill Brooklyn with "100 book homes."
Maya Angelou is the latest addition to the Barbie line of Inspiring Women dolls. Take a look at this doll, because it is GORGEOUS!
Ursula K. LeGuin gets her own postage stamp in 2021.
James Baldwin's record collection is now a massive 478-track Spotify playlist!
---
On the Riot
I lost my dream job: keeping library vibes alive in hard times.
What alternatives are there to Goodreads?
How to handle fictional character deaths with kids. (Honestly, I think a lot of us adult readers could use some tips too…)
---
Alright, friends. The work is far from over, but please take a moment to let some of the weight from the last four years roll off your shoulders this weekend. I'll leave you with the Mumford & Sons song I quoted on my sign at the Women's March four years ago: "Didn't they say that only love would win in the end?" Breathe, hydrate, and moisturize. And I'll see you next week!
—Katie McLain Horner, @kt_librarylady on Twitter.