Sponsored by Outside, Inside by LeUyen Pham.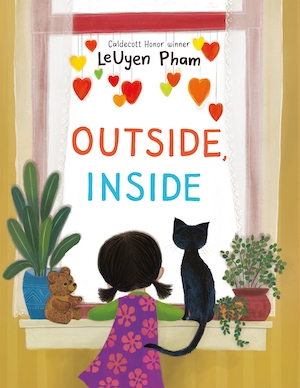 Outside, it was quieter, wilder, and different. Inside, we laughed, we cried, and we grew. Don't miss this moving picture book from Caldecott honoree LeUyen Pham, celebrating hope, essential and frontline workers, and our community coming together to face the COVID-19 pandemic.
Happy Thursday, star bits! The world feels a little brighter today, and I am excited to "spend" a little time with you, talking about bookish stuff. It has been hard to concentrate on reading this week, but I have been plugging away at it anyway, because I am loving The Love Songs of W.E.B. DuBois by Honorée Fanonne Jeffers. It is over 800 pages long, but so far, is entirely worth it. I've also been pecking away at about a dozen more titles. I can no longer remember what it was like when I used to practiced book monogamy!
Moving on, today I have exciting adaptation news, cover reveals, and book talk for you. Plus a picture of Farrokh, looking all regal. Whatever you are doing or watching or reading this week, I am sending you love and hugs. – xoxo, Liberty, Your Friendly Neighborhood Velocireader™
Trivia question time! What classic children's novel has the alternate title of How Toys Become Real? (Scroll to the bottom for the answer.)
Deals, Reals, and Squeals!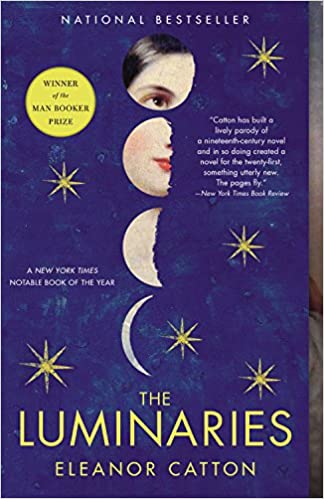 Here's the first trailer for The Luminaries, which is premiering on Valentine's Day.
American Spy author Lauren Wilkinson is working on the screenplay for the adaptation of Don DeLillo's Libra.
Lambda Literary announced that applications are now open for four cash prize opportunities for LGBTQ writers.
The You show creators will reunite to adapt Providence by Caroline Kepnes.
Netflix is teaming up with Ibram X. Kendi to adapt his anti-racism books.
Rachel Givney's novel Jane in Love, about Jane Austen, will be a film.
Queen Sugar has already been renewed for a sixth season ahead of its season five debut. And Snowpiercer has been renewed for a third season.
The US Postal Service Literary Arts series will release a stamp honoring Ursula K. LeGuin later this year.
Here's the cover reveal for Carefree Black Girls: A Celebration of Black Women in Pop Culture by Zeba Blay.
And the cover reveal for You've Reached Sam: A Novel by Dustin Thao.
And one more: Here's the cover reveal for Rosaline Palmer Takes the Cake (Winner Bakes All) by Alexis Hall.
Here's the first look at the upcoming Netflix adaptation of Behind Her Eyes by Sarah Pinborough.
A Willy Wonka prequel is in the works.
Book Riot Recommends
At Book Riot, I work on the New Books! email, the All the Books! podcast about new releases, and the Book Riot Insiders New Release Index. I am very fortunate to get to read a lot of upcoming titles, and learn about a lot of upcoming titles, and I'm delighted to share a couple with you each week so you can add them to your TBR! (It will now be books I loved on Mondays and books I'm excited to read on Thursdays. YAY, BOOKS!)
Excited to read:
I attended a publisher event this week with several Harper authors who have novels coming this year, and this is the one that I was most excited about. It's a horror novel about a young Black woman named Mira who returns to her southern hometown to attend a wedding for an old friend. The site of the wedding? Woodsman plantation. And while Mira is haunted by terrible memories from when she was young, the plantation is literally haunted by the spirits of slaves. It is supposed to be a creepy horror novel and a powerful indictment of the how this country still clings to parts its racist history.
I know that I REALLY want to read this because after the event, I went to mark it down on my "get this as soon as possible" list, and discovered I had already marked it down. I hope to get my hot little hands on it really soon.
What I'm reading this week.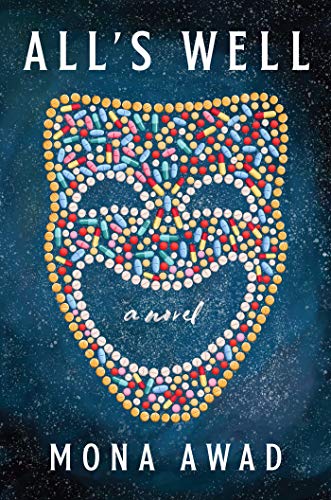 All's Well by Mona Awad
¡Hola Papi!: How to Come Out to Your Boyfriend in a Walmart Parking Lot and Other Lessons on Love, Race, and Sexuality by JP Brammer
The Love Songs of W.E.B. DuBois: a Novel by Honorée Fanonne Jeffers
Cultish: The Language of Fanaticism by Amanda Montell
The Kids in the Hall: One Dumb Guy by Paul Myers
Song stuck in my head:
Burn Down the Mission by Elton John. (Also, I'm still really into listening to songs I loved when I was young. You can listen to a lot of them in this playlist I made!)
And this is funny:
This tweet deserves an award.
Happy things:
Here are a few things I enjoy that I thought you might like as well:
And here's a cat picture!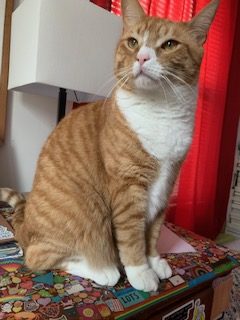 My little glamourpuss.
Trivia answer: The Velveteen Rabbit by Margery Williams.
You made it to the bottom! High five. Thanks for reading! – xo, L