Sponsored by Reading Group Gold.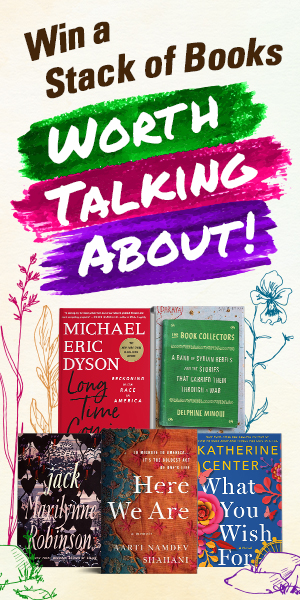 Book Riot is teaming up with Reading Group Gold for a chance to win a stack of books worth talking about! One winner will receive each of the following titles to add to their TBR pile: Here We Are: To Migrate To America… It's the Boldest Act of One's Life by Aarti Namdev Shahani, Long Time Coming: Reckoning with Race in America by Michael Eric Dyson, Jack: A Novel by Marilynne Robinson, The Book Collectors: A Band of Syrian Rebels and the Stories That Carried Them Through a War, Delphine Minoui, Lara Vergnaud (Translated by), and What You Wish For by Katherine Center.
I feel like I want to start every one of these newsletters with something like "fwoof, what a time." But that is because it is accurate. Sometimes nothing helps like the calm absorption of facts into one's brain though, and in those times, we turn to the world of nonfiction. Here're this week's new releases!
The Black Panthers were founded in 1966 in Oakland, California and quickly became a hugely influential group in America. This graphic novel "explores the impact and significance of the Panthers, from their social, educational, and healthcare programs that were designed to uplift the Black community to their battle against police brutality through citizen patrols and frequent clashes with the FBI, which targeted the Party from its outset."
Elizabeth Blackwell was the first woman in America to receive a medical degree (which she was able to achieve in part because the students voting her into the school thought it was a joke). She and her sister Emily, also a physician, founded the New York Infirmary for Indigent Women and Children, the first hospital staffed entirely by women, and were very interesting figures. Check this out if you're looking for some new women's history reads.
Ok, this is awesome. McKinley, a writer and curator, looked at how images of African women were primarily seen from an anthropological perspective or exoticized, and so in this book, she "draws on her extensive collection of historical and contemporary photos to present a visual history spanning a hundred-year arc (1870–1970) of what is among the earliest photography on the continent. These images tell a different story of African women: how deeply cosmopolitan and modern they are in their style; how they were able to reclaim the tools of the colonial oppression that threatened their selfhood and livelihoods." Awesome.
Once again: fwoof. Patricia Highsmith was a…hm. Lot going on there. Author of Carol (aka The Price of Salt), Strangers on a Train, and The Talented Mr. Ripley, she was an acclaimed writer. But in this new biography, Bradford "considers Highsmith's bestsellers in the context of her troubled personal life; her alcoholism, licentious sex life, racism, anti-Semitism, misogyny and abundant self-loathing." He also points out that "her status as an LGBT icon is undermined by the fact that she was excessively cruel and exploitative of her friends and lovers." If you want to learn more about Highsmith and what on earth her deal was, here's this new bio.
---
For more nonfiction reads, check out the For Real podcast which I co-host with the excellent Kim here at Book Riot. If you have any questions/comments/book suggestions, you can find me on social media @itsalicetime. Until next time, enjoy those facts, fellow nerds.