Sponsored by The Experiment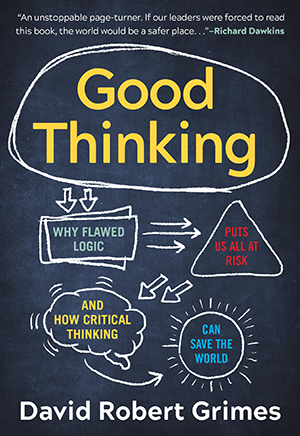 Good Thinking is our best defense against anti-vaccine paranoia, climate denial, and other dire threats of today. Author David Robert Grimes helps us identify seductive and destructive bad logic. Take the "fallacy of the undistributed middle": The ancient Greek philosophers are dead. Jimi Hendrix is dead. Thus, Jimi Hendrix was a Greek philosopher. In closing such logical loopholes, Grimes dismantles dangerous conspiracy theories and common misconceptions. Packed with fascinating characters—from a murderous pope to a superstitious pigeon—this book can help us fight willful ignorance and plain old irrationality in all its forms.
Welcome to Check Your Shelf. I know that libraries are supposed to be nonpartisan, but as a private citizen, let me just say that I will be very, very excited to see a certain high-ranking member of the federal government move out of his residence this week. Fingers crossed that we don't have any more shenanigans, riots, coups, insurrections, or assassination attempts.
---
Collection Development Corner
Publishing News
The state of Connecticut is investigating Amazon's ebook distribution and pricing.
Publishing industry members unite to block Trump administration book deals.
Powell's responds to protests over Andy Ngo's book.
Sourcebooks donated $200,000 from its 2021 Ruth Bader Ginsburg wall calendar to different organizations that RBG championed during her lifetime.
New & Upcoming Titles
Publishers Weekly posts its adult book announcements for Spring 2021.
Sally Rooney is publishing a new novel this fall.
Senator Amy Klobuchar has a new book coming out: Antitrust: Taking on Monopoly Power From the Gilded Age to the Digital Age.
Duchess Sarah Ferguson is publishing her first novel.
Billie Eilish announced an upcoming photobook with a narrated companion audiobook component.
Weekly book picks from Bustle, Buzz Feed, Crime Reads, LitHub, The Millions, New York Times, Shelf Awareness, and USA Today.
January picks from Amazon (mysteries, SFF, bio/memoir), Bitch Media, BookPage (cozy mysteries), O: Oprah Magazine, Pop Sugar (mysteries, romance, YA), and Tor.com (fantasy, science fiction, YA SFF).
Most Anticipated Books of 2021
Most anticipated picks from Amazon (true crime), Buzz Feed (two separate lists), Chicago Tribune, Electric Lit (poetry), Elle, Entertainment Weekly, Kirkus Reviews, The Millions, Nightfire (horror), NPR (poetry), Parade, and Tor.com.
Keep an eye on these authors this spring.
R.O. Kwon shares 43 books by women of color to read in 2021.
Upcoming YA books by Black authors that you need to read.
What Your Patrons Are Hearing About
That Old Country Music: Stories – Kevin Barry (New York Times, NPR)
The Crooked Path to Abolition: Abraham Lincoln and the Antislavery Constitution – James Oakes (New York Times, USA Today)
Aftershocks – Nadia Owusu (New York Times, NPR)
Yellow Wife – Sadeqa Johnson (Washington Post)
RA/Genre Resources
The rise of apocalyptic and climate fiction.
California crime writers discuss police, fires, pandemic, proposition politics, and the future of crime fiction.
Where to start with Octavia Butler's books.
On the Riot
It's our most-anticipated books of 2021!
24 must-read 2021 books in translation.
A history of anti-racist literature.
A study in detective duos.
Why locked room murder mysteries are the bomb.
Reading pathways for Cassandra Clare.
---
All Things Comics
YALSA picks its 2021 Great Graphic Novels for Teens.
On the Riot
9 graphic memoirs and true stories by women.
A reading list to pair with Wonder Woman: 1984.
---
Audiophilia
Best new mysteries to try on audio.
On the Riot
8 of the best audiobooks narrated by Nancy Wu.
Best earphones for audiobooks. (Based on personal experience, I'm going to guess that my current earbuds are NOT on this list…)
---
Book Lists, Book Lists, Book Lists
Children/Teens
10 series for fans of Dav Pilkey.
Adults
6 books to understand this precarious political moment.
18 #OwnVoices books to help you better understand disability and chronic illness.
7 Caribbean books to add to your TBR.
12 historical novels to read based on your pandemic hobby.
10 of the best books by the late Eric Jerome Dickey.
6 disorienting reads for a very disorienting time.
On the Riot
8 memorable middle grade books about grief.
3 YA books for fans of Bridgerton.
6 informative books for queer teenagers.
15 books by and about the Bidens (including Major and Champ!)
Books by and about Madame Vice President-elect Kamala Harris for readers of all ages.
Read Harder: a book set in the Midwest, a children's book that centers a disabled character but not their disability, a book of nature poetry, a historical fiction novel with a POC or LGBTQ+ protagonist.
Learn your historia with these 20 books about Mexican history.
10 books to help you get through Dry January.
The best books about World War I.
The best personal-growth books for becoming your best self.
Best beach reads, for those of you already looking ahead to summer.
9 diverse romantic comedies to leave you smiling.
Books to read while you wait for Season 2 of Russian Doll.
10 books that take place in a desolate landscape.
15 books about family secrets.
Pottery books for beginners.
12 of the best machine learning books for beginners.
---
Level Up (Library Reads)
Do you take part in Library Reads, the monthly list of best books selected by librarians only? We've made it easy for you to find eligible diverse titles to nominate. Kelly Jensen created a database of upcoming diverse books that anyone can edit, and Nora Rawlins of Early Word is doing the same, as well as including information about series, vendors, and publisher buzz.
Catch you all on Friday.
—Katie McLain Horner, @kt_librarylady on Twitter.