Sponsored by Solaris, an imprint of Rebellion Publishing.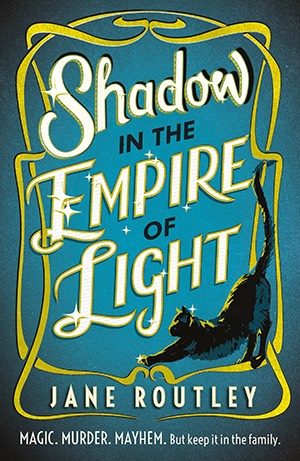 Magic. Murder. Mayhem. But keep it in the family. Shine's life is usually dull: an orphan without magic in a family of powerful mages, she's left to run the family estate with only an eccentric aunt and telepathic cat for company. But when the family descend on the house for the annual Fertility Festival, Shine is plunged into dark intrigue; stolen letters, a fugitive spy, and family drama mix with murder, sex and secrets, and Shine is forced to decide both her loyalties and future…
Welcome back, book fans! There are some exciting things happening this week and I am here for all of it. In the book world, I am particularly excited about the release of The Rib King by Ladee Hubbard. It's possibly my favorite book of the year already. I read it last summer and I still think about it all the time. And I am also a big fan of Saving Ruby King by Catherine Adel West, so you bet your sweet bippy that I signed up to hear Hubbard and West in conversation on Thursday!
Speaking of today's great books, for this week's episode of All the Books! Tirzah and I discussed some of the wonderful books being released today, such as Last Night at the Telegraph Club, Remote Control, Winterkeep, and more.
And now, it's time for everyone's favorite gameshow: AHHHHHH MY TBR! Here are today's contestants:
Last year, I read a fantastic book about the first women to run a military hospital, and now this year, I read another excellent book about two more trailblazing women in the medical field. It's the story of Elizabeth Blackwell, who defied societal conventions and studied medicine in the mid-19th century, becoming the first woman in America to receive an M.D. Later she was joined by her younger sister, Emily, who also became a physician, and together they founded the New York Infirmary for Indigent Women and Children, the first hospital staffed entirely by women. Nimura does an excellent job setting the scene with her subjects as she explores the sisters' early years and careers, as well as their complicated relationship with each other. (You can also read about Elizabeth Blackwell in Women in White Coats: How the First Women Doctors Changed the World of Medicine by Olivia Campbell, which is out March 2.)
Backlist bump: No Man's Land: The Trailblazing Women Who Ran Britain's Most Extraordinary Military Hospital During World War I by Wendy Moore (Not quite backlist yet, but it's a really great book and will be out in paperback in April.)
And this is a powerful novel about Frankie Green, a young man in Jamaica who is trying to make a better life for himself and his family. But Frankie's father has been shot in gang violence, and with the mounting medical bills threatening to crush them, Frankie sees no other way to help than to join his uncle's gang. But he finds himself in a situation he never thought he would be in, and Frankie realizes he should get out as soon as he can—but is it too late to leave? Frankie Green is faced with impossible decisions and a longing for a different life, and readers' hearts will break for him.
Backlist bump: Long Way Down by Jason Reynolds
I have long been fascinated by Wallis Simpson, the woman who won over the King of England, causing one of the biggest scandals in England's history. They fell in love, but because Simpson was a soon-to-be divorced American, it wasn't possible for them to wed, meaning King Edward VIII would have to look elsewhere for his queen. But instead, he abdicated on December 10, 1936, leaving his position as ruler of England and following his heart. Many books have been written about Simpson, but this is a more in-depth look at the whole time period, including their romance, the King's politics and the attempt on his life, his detractors who wanted him gone for various reasons, and the ensuing scandal over the abdication.
Backlist bump: The American Duchess: The Real Wallis Simpson by Anna Pasternak
---
Thank you, as always, for joining me each week as I rave about books! I am wishing the best for all of you in whatever situation you find yourself in now. – XO, Liberty