Sponsored by Yen Press.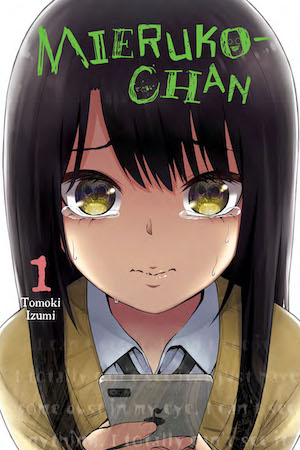 A normal girl was living a normal life-until she wasn't. One day, she could see…everything. What's a girl to do when hideous monsters appear no matter which way she turns? And on top of that, nobody else can see them! Obviously, there's only one thing that makes sense-ignore them. Kinda hard to put theory into practice, though, when the ghosts know she's watching…
Hey there Horror Fans, I'm Jessica Avery and I'll be delivering your weekly brief of all that's ghastly and grim in the world of Horror. Whether you're looking for a backlist book that will give you the willies, a terrifying new release, or the latest in horror community news, you'll find it here in The Fright Stuff.
If you are anything like me, you've been carefully monitoring Tor's new horror imprint Nightfire for news about their upcoming titles. They've been dropping some really exciting announcements in recent months, both about new titles they've acquired and previously published titles that they have picked up for re-release. But just recently they announced their entire Fall 2021 line-up, and I couldn't be more delighted to talk about some of these forthcoming TBR must haves.
Along with three new paperback editions of previously released titles (including the highly anticipated re-release of Silvia Moreno-Garcia's much beloved Certain Dark Things), Nightfire will be releasing five hardcover titles that are either new to print or, in the case of Thomas Olde Heuvelt's novel, making their English-language debuts. The line-up of new releases also includes an anthology collecting works form some of horror's most exciting authors. Nightfire is clearly determined to hit the ground running and prove that they are everything their audience has been looking for in a mainstream horror imprint.
Oops. Here I am talking about The Last House On Needless Street again. But this Nightfire release is definitely one of the most anticipated titles of 2021.The available synopsis is limited, but full of promise: a serial killer, a stolen child, death, revenge, a (suspiciously) ordinary house, and a dark forest hiding dark secrets. Add to that the tantalizing suggestion that whatever we're expecting is not to be trusted, and honestly sign me right the heck up.
Echo by Thomas Olde Heuvelt
Along with releasing a new paperback edition of Heuvelt's lauded witchcraft horror novel, Hex, Nightfire is also releasing a hardcover translation of his 2019 novel, Echo. Following a climbing trip in the Swiss Alps gone wrong, Nick Grevers wakes up to find that his climbing partner Augustin is dead and Nick's face has been maimed and swathed in bandages. They had been scaling the ominously named Maudit, a little documented mountain, when in its valley they found something waiting for them in the mountain's shadow. And though Nick has survived, he is haunted by what has transpired. More than even he knows. I'm not sure if this is going to end up being monsters? Ghosts? I'm always down for a little demonic possession? I mean the peak is called Maudit, which basically means damned (feel free to shout at me on Twitter if I've got that wrong). But whatever it is that's haunting Nick is bound to be capital-T terrifying.
That cover though. Definitely one of those books I'll have to flip upside down when not reading it because talk about creepy! Dark tourism meets horror wedding culture when a group of friends choose an abandoned Heian-era mansion as a wedding venue. But this house has literal skeletons, not in its closets but in its walls and under its floor. Beneath the foundation lies the body of a bride, and the girls who were sacrificed to keep her company rest uneasily between the walls. What should have been a fun night of thrills in a creepy old house turns into a nightmare as the friends find themselves pursued by the lonely, hungry bride. I don't know about you, but this sounds like total nightmare fuel. I embrace my imminent insomnia
So this sounds AMAZING. Maybe I'm biased by my love of historical horror, or my general dislike of Puritans whom I shall be glad to see get beat down by some gnarly black magic (fingers crossed), but I definitely need to add Slewfoot to my reading list. Abitha is already betrothed to a stranger when she arrives at the Puritan colony that is to become her home, only to find herself widowed almost as quickly as she became a bride. Now she stands alone, grasping at her sudden freedom in the midst of a pious and patriarchal society that would rather see her tucked neatly under the thumb of another man. Slewfoot is a newly woken spirit who like Abitha is searching for his place in the world. Suspicious deaths in the colony give rise to rumors of witchcraft, and Abitha and Slewfoot must decide who they will be and how to survive in a world determined to see them hang.
This anthology, a tribute to the classic 1980 Dark Forces anthology edited by Kirby McCauley, features 12 all-new stories from some of the modern horror genre's most prominent voices, including Stephen Graham Jones, Alma Katsu, Priya Sharma, Caroline Kepnes, and more. With an introduction and a new short story by Josh Malerman of Bird Box fame, and an afterward and story by horror legend Ramsey Campbell. You all know how much I love anthologies as it is, and I'm super excited for a new piece by Priya Sharma! I devoured her collection All the Fabulous Beasts last year and it was so gorgeous.
Fresh from the Skeleton's Mouth
Hailey Piper has a new short story collection coming out May 7, 2021! Pre-orders for Unfortunate Elements of My Anatomy are open now at your preferred retailer.
Audiobook fans this one's for you: The Women of Weird Tales, recently released by Valancourt Books as part of their Monster, She Wrote series, is now available in audio version narrated by Tanya Eby. The Women of Weird tales is an anthology of stories by women that were published in Weird Tales magazine between the 1920s and 1950s.
S.T. Gibson is holding a giveaway for an annotated copy of her forthcoming (and highly anticipated by this newsletter author) A Dowry of Blood. The giveaway ends on 1/31, so be sure to go enter before it's too late!
---
As always, you can catch me on twitter at @JtheBookworm, where I try to keep up on all that's new and frightening.