Sponsored by Flatiron Books, publisher of Tales from the Hinterland by Melissa Albert.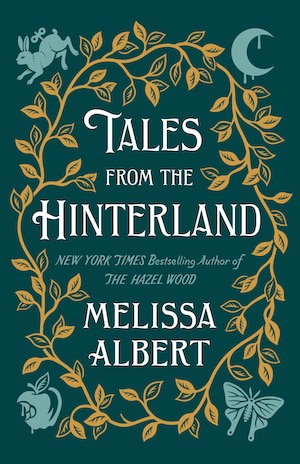 A gorgeously illustrated collection of twelve original stories by the New York Times bestselling author of The Hazel Wood and The Night Country. Journey into the Hinterland, a brutal and beautiful world where a young woman spends a night with Death, brides are wed to a mysterious house in the trees, and an enchantress is killed twice—and still lives. Perfect for new readers and dedicated fans alike, Tales from the Hinterland will include gorgeous illustrations by Jim Tierney, foil stamping, two-color interior printing, and two-color printed endpapers.
Happy Tuesday, shipmates! It's Alex with some good news: we made it through one of the more bonkers weeks we've had in a series of years with some really bonkers weeks! Who knows what we've got coming in the next seven days–I wish you strength and fortitude and a break from doomscrolling. So in the spirit of that last item, how about we check out the new releases since reading is a good way to occupy your ears or eyeballs with something non-terrible. I've got some SFF news for you, too, and may that also be a welcome break. Stay safe out there. Eyes up.
Thing that made me smile this week: I cannot get enough of sea shanty TikTok.
Let's make 2021 better than 2020. A good place to start? The Okra Project and blacklivesmatter.carrd.co
---
New Releases
Note: The new release lists I have access too weren't as diverse as I would have liked this week.
Delly, a partly-educated fire witch who also happens to be a part-time thief and con artist, fast talks her way into a bodyguard job for a wealthy lady who will soon be married. She quickly has designs of her own on one of her fellow bodyguards who is out of her league and absolutely irresistible. But soon unknown assassins really are trying to kill Delly's charge. Can she save one lady and romance another?
The heir to the Frozen Crown of Seravesh must seek an alliance with the nation of Vishir if she's to save her people from invaders unleashed by a mad emperor. But she's ill-equipped to play politics and she's soon mired in court intrigues and far in over her head and threatens to reveal one of her darkest secrets–that she's a witch.
Another wayward child finds her way to a magical doorway that takes her to a land of centaurs, kelpies, and unicorns–a land where she's expected to be a hero, though heroism comes in many forms.
Zax travels to a new reality every time he falls asleep, with no control over where he ends up. He has to rely on his wits and what small advantages he can find in each world if he wants to survive–though sometimes he can take friends with him if they're unconscious in his arms before he falls asleep. And there's someone following him, someone who wants his uncontrollable power, which would require taking his blood.
Sik is an ordinary kid who just wants to go to school and help his parents out in the deli they own. But then the Mesopotamian god Nergal comes looking for him, convinced that Sik holds the secret to eternal life–and indeed, Sik is unexpectedly immortal. Soon, he's embroiled in ancient business, and he's got to work with the adopted daughter of Ishtar and a retired hero named Gilgamesh if he's going to save New York City from a plague.
The Stranger Times is a newspaper that covers the unexplained and inexplicable, run by a rag-tag group of journalist-rejects who all have their own serious problems. But as their newest reporter starts to dig into her first investigation, they realize that some stories they've recently dismissed are real, and indicate the presence of unimaginable powerful and dark forces.
News and Views
Cory Doctorow wrote an epic Twitter thread about NK Jemisin's The City We Became
7 Surprising Facts About Octavia Butler
I See No Choice But to Resign From This Death Star as it Begins to Explode
Now that The Great Gatsby is public domain, we can have things like this: an AO3 work in which "Gatsby" has been search+replaced with "Gritty," thus transforming it into a work of dark fantasy.
New short story from Sam J. Miller, a birthday present for David Bowie: Let All the Children Boogie
SFWA Grand Master James Gunn has passed away
Turkey's legacy with sci-fi and superheroes in film
Tor.com has a conversation with author Charles Yu
Alex Brown's list of must-read speculative short fiction from December 2020
File 770 has a cute new entry in its ongoing series of cat pictures. They've also got highlights from the WFC 2020 interview with Brandon Sanderson.
The Jewish Museum of Maryland has an exhibit running through April 11, 2021 called Jews in Space: Members of the Tribe in Orbit. The website's got a lot of cool virtual stuff on it too!
The oral history of the making of Terry Gilliam's 12 Monkeys
And this isn't SFF as such, but I thought my fellow writers out there might find this of interest: Haymarket Books just published The Anti-Racist Writing Workshop
On Book Riot
Some more peculiar books from the new weird genre
This month you can enter to win $100 to the bookstore of your choice, a 1-year Kindle Unlimited Subscription, or your own library cart.
---
See you, space pirates. If you'd like to know more about my secret plans to dominate the seas and skies, you can catch me over at my personal site.