Sponsored by Baen Books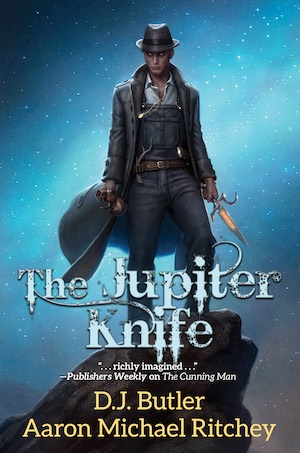 While dowsing a well, Hiram and his son Michael hear a cry of help from the ghost of a small boy. Suddenly a prosperous rancher is murdered right before them. In an attempt to help the ghost and find the killer, Hiram and Michael navigate an eccentric cast of characters: failed bank robbers, an inept sheriff, a crazy prospector, and a preacher with an apocalyptic grudge. While the murderer is slowly moving against them, there is an astrological puzzle that must be solved before they are trapped beyond escape.
Welcome to Check Your Shelf. I'm starting off this week in a fog of anger, fear, and frustration, and it just boggles my mind that everyone in the US is just expected to continue working and going about their business after everything that's happened. I wasn't onsite at my library after the attack at the Capitol, but I can only imagine the types of patron questions we might be getting this week.
---
Collection Development Corner
Publishing News
Simon & Schuster has canceled Senator Josh Hawley's upcoming book following the deadly insurrection at the Capitol on January 6th.
Publishers Weekly launches a new virtual US book trade fair in May.
Indie bookshops in the UK and Ireland defy COVID to record their highest numbers in seven years.
The Guardian posted its annual literary calendar, with dates for big book releases, adaptations, literary festivals, award ceremonies, and more.
New & Upcoming Titles
Ausma Zehanat Khan announces a new crime series!
I don't usually feature cover reveals on here, but I took one look at the cover of Bethany C. Morrow's upcoming spin on Little Women, called So Many Beginnings, and I HAD to share it! This is so unbelievably gorgeous!!
Lil Nax X put out a social media post asking fans to buy his children's book C is For Country, and well, it worked!
Weekly book picks from Buzz Feed, Crime Reads, New York Times, Publishers Weekly, Shelf Awareness, and USA Today.
January book picks from Amazon, Bustle, Crime Reads (psychological suspense), Good Morning America, io9 (SFF), Lambda Literary, and Town & Country.
The Best Books of 2020 are still trickling in from Bustle (romance), Elle, Locus (speculative fiction in translation), NYPL (baseball), Publishers Weekly, and The Rumpus.
Best 2020 books by women of color.
Most anticipated books of 2021 from Amazon (SFF, true crime), Autostraddle (LGBTQ & feminist picks), Bookmarks (SFF), Buzz Feed (fantasy, LGBTQ YA), Cosmopolitan (YA), Crime Reads, Electric Lit (debuts, books by women of color), Entertainment Weekly, Epic Reads (YA), Essence, Kirkus, Lit Hub, Nerdist, Riveted Lit (YA), Seattle Times, Star Tribune, and Vulture.
What Your Patrons Are Hearing About
The Prophets – Robert Jones, Jr. (New York Times, USA Today, Washington Post)
Outlawed – Anna North (NPR, USA Today, Washington Post)
The Liar's Dictionary – Eley Williams (New York Times, NPR)
Black Buck – Mateo Askaripour (Washington Post)
RA/Genre Resources
The best way to read John le Carré's George Smiley books.
On the Riot
10 YA books from January 2021 to put on your TBR, plus more upcoming YA picks for this winter.
Why James Baldwin should be considered required reading.
Reading picks from the new weird genre.
A guide to the Bridgerton books.
Readalikes for Haruki Murakami.
---
All Things Comics
On the Riot
The best comics that Rioters read October – December 2020.
---
Audiophilia
Library Journal picks the best audiobooks of 2020.
AudioFile announces the winners of the January Earphone Awards.
5 audiobooks for new beginnings.
On the Riot
6 audiobooks to help you out of your post-holiday reading slump.
---
Book Lists, Book Lists, Book Lists
Children/Teens
150+ kids books by/for/about Latinx people coming out in 2021.
9 chapter books for fourth graders.
Adults
NYPL put together reading recommendations for the 2021 Read Harder Challenge!
10 crime novels now in the public domain.
Books that find joy in everyday life.
5 recent books with superpowered characters.
12 self-improvement books so good, you'll want to read them twice.
5 books on climate change.
On the Riot
The best books Rioters read from October – December.
Read Harder: A book by or about a non-Western leader, an #OwnVoices YA book with a Black main character that isn't about Black pain, an #OwnVoices book about disability, a memoir by a Latinx author, and a realistic YA book not set in the US, UK, or Canada.
The most recommended books from Get Booked in 2020.
5 fiction books to make you really mad about capitalism.
What to read after marathoning Bridgerton on Netflix.
What to read after you've been let down by Cyberpunk 2077.
6 Black indie SFF authors you should be reading.
10 nonfiction books on friendship for adults.
The most popular books on TikTok.
A reading list to pair with Wonder Woman: 1984.
The Rory Gilmore reading list.
---
Level Up (Library Reads)
Do you take part in Library Reads, the monthly list of best books selected by librarians only? We've made it easy for you to find eligible diverse titles to nominate. Kelly Jensen created a database of upcoming diverse books that anyone can edit, and Nora Rawlins of Early Word is doing the same, as well as including information about series, vendors, and publisher buzz.
Not quite sure how to close the newsletter this week, other than take care of yourselves, and don't worry if work feels like the absolute last thing you can do right now. I'll catch you on Friday.
—Katie McLain Horner, @kt_librarylady on Twitter. Currently reading These Women by Ivy Pochoda.