Sponsored by Flatiron Books, publisher of Tales from the Hinterland by Melissa Albert.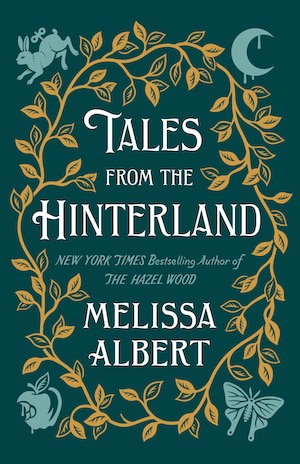 A gorgeously illustrated collection of twelve original stories by the New York Times bestselling author of The Hazel Wood and The Night Country. Journey into the Hinterland, a brutal and beautiful world where a young woman spends a night with Death, brides are wed to a mysterious house in the trees, and an enchantress is killed twice—and still lives. Perfect for new readers and dedicated fans alike, Tales from the Hinterland will include gorgeous illustrations by Jim Tierney, foil stamping, two-color interior printing, and two-color printed endpapers.
Happy Tuesday, star bits! We are almost halfway through January already and I am hip-deep in books! There are a lot of great books coming out today, and I am excited to share a few that I loved. And let's hear it again for books: hip-hip-hooray! Because honestly, kittens, they are really helping me get through each day. I hope that you have found some wonderful things to read, too, or anything that makes you happy right now.
Speaking of today's great books, for this week's episode of All the Books! Vanessa and I discussed wonderful books being released today, such as Yellow Wife, The House on Vesper Sands, What Could Be Saved, and more.
And now, it's time for everyone's favorite gameshow: AHHHHHH MY TBR! Here are today's contestants:
This powerful debut is about love and loss, set in a fraught political climate. For years, Tomás Orilla has been in love with Isabel, the daughter of his mother's friend. The year is now 1976 and Tomás is a medical student. He has moved back to Buenos Aires in the hopes of being with Isabel for good. But their work to fight an increasingly oppressive and violent regime leads to tragedy for them.
Now, ten years later, Tomás is living in America and trying to figure out what he wants from his marriage when he is summoned back to Buenos Aires. There he will have to face the ghosts of his past, and come to terms with his guilt and pain over what happened a decade before, in order to move on with his life.
This is a beautiful, heart-wrenching book, based in part on true events from Loedel's life. I try not to use the adjective 'haunting' very often, but it definitely applies here.
(Content warning for physical violence, illness, infidelity, sexual assault, and murder.)
Backlist bump: Swimming in the Dark: A Novel by Tomasz Jedrowski (Not technically backlist yet, but since 2020 felt like five years long, I'm totally picking it.
And here is another tremendous, heartbreaking book! A young writer in Australia takes a part-time job as an emergency dispatch operator for 911. As the weeks go by, the negative effects of listening to people's cries for help start to seep into her life, and she becomes more reckless with her own life.
Also chronicled is the adventures of her great-great-great-great grandfather, the British explorer John Oxley, who traveled around Australia two centuries earlier believing there to be an 'inland sea'.
This is a stark look at violence, desperation, climate change, and PTSD, but it's also incredibly original and a beautiful exploration of second-hand trauma interwoven with the climate crisis.
(Content warning straight across the board, because I read this a long time ago and cannot remember all the specifics. It is pretty bleak, so be prepared.)
Backlist bump: The Hunter by Julia Leigh
I am a huge fan of Kevin Barry. I don't think his work gets nearly enough attention in the US. His last book, the novel, Night Boat to Tangier, was one of my favorites of 2019. His work is always a little funny and a little unusual. This new collection is more of his magic in smaller bites. It's eleven stories based in Ireland, full of love and life, grief and hope. With some sex and magic sprinkled here and there. It's a perfect collection for people who like to savor short stories and read them a little bit at a time. (I also highly recommend his novel Beatlebone, which involves John Lennon and a shapreshifter in Ireland in 1978.)
Backlist bump: Night Boat to Tangier by Kevin Barry
---
Thank you, as always, for joining me each week as I rave about books! I am wishing the best for all of you in whatever situation you find yourself in now. – XO, Liberty