Sponsored by Erewhon Books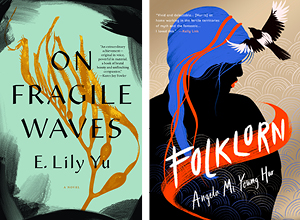 Join us for two incredible journeys that will take you across the globe. On Fragile Waves is the poetic story of a family escaping war-torn Afghanistan and seeking asylum in Australia with nothing but their stories to their name, haunted by who and what they left behind. In Folklorn, physicist Elsa Park is on the run from the ghosts of her childhood, who find her even in the frozen wasteland of Antarctica, eager to drag her home, where her family's curse awaits. Featuring ghosts and fables, war and trauma, these titles will stay with you for a long time.
Happy Friday, shipmates. Congratulations on making it to the end of… *checks notes* the first full week of January, 2021. It's.. been a week. This is Alex, with some news items for you and some rambling about my favorite comfort read, because for some reason I feel like a comfort read is warranted right now. Thank you in advance for your indulgence when you get to the end of the newsletter. Anyway, I hope you're staying safe, I hope you're drinking water and eating a food at appropriate intervals. I'll see you on Tuesday!
Let's make 2021 better than 2020. A good place to start? The Okra Project and blacklivesmatter.carrd.co
---
News and Views
Congratulations to the winners of the 2020 Stabby Awards!
You can read an excerpt from Aliette de Bodard's Fireheart Tiger.
John Wiswell: Weird Plagues: How Fear of Disease Mutated into a Subgenre
Check out this Kickstarter for khōréō, a magazine of speculative fiction by immigrant and diaspora writers.
The Royal Mint is going to release some commemorative HG Wells coins, which have a couple of puzzling flaws on them.
Netflix dropped a preview for the Korean sci-fi movie Space Sweepers and I am VERY EXCITED.
David Weber is doing all right in the hospital so far. Updates from him are being posted on his author Facebook page.
Super interesting! A study examines the way conspiracy theories relate to folkloric structures.
A study was just published about an unusual star astronmers have observed.
Another cool astronomy thing: Phil Plait on the massive solar flare that hit Earth in 774 AD.
On Book Riot
What to read after you've been let down by Cyberpunk 2077
6 Black indie SFF writers you should be reading
This week's SFF Yeah! podcast is about some books we're finally getting around to reading
This month you can enter to win $100 to the bookstore of your choice, a 1-year Kindle Unlimited Subscription, or your own library cart.
Free Association Friday: The book that's going to get me through this.
I'm sure it doesn't come as a surprise to you that I'm actually writing this newsletter from the past. In general, I normally write the newsletter a day and a half before it hits your inbox. So from the hopefully calmer vista that is Friday the 8th, keep in mind that I'm talking to you from the evening of Wednesday the 6th.
Yeah. It's sure been a day. It's my sincere hope that you, 36 hours in the future, have been able to stop doomscrolling twitter and clenching your teeth around an endless scream of anxiety and rage (though not, sadly, surprise). I am unfortunately not in that place, because we're still in the middle of the coup, and while I sincerely hope that by now it can be considered "failed," I don't know in the past. I'm drinking a glass of red wine (the first of many this evening, no doubt) and as you can imagine, books are basically the last thing I can brain about at the moment. If you want a more useful assessment of books to check out perhaps, click on my post about Black indie SFF writers and look in awe at the amazing cover of Nicole's book.
That was the long explanation as to why, if I'm going to talk about anything book-related today, it's going to be my go-to comfort read, which I already mentioned back in November, sorry. But I'll probably be going to sleep tonight listening to a random chapter of it.
Maia is the half-goblin, youngest son of the Emperor and has lived his entire life in exile, comfortable in the knowledge that he will never have to be involved in politics. When his father and all of half-brothers are killed in an airship "accident," he suddenly finds himself in power, navigating intrigue that he was never prepared to deal with.
Why do I love this book so darn much and find it so darn comforting? I'd be lying if I didn't immediately point to the audiobook, which is read by my favorite narrator of all time, Kyle McCarley. That I listened to it first in audiobook means that Kyle got me over my personal, wretched hatred of constructed languages. Thanks to him, I didn't spend a lot of time grumpily muddling through made-up elvish words, because he read them for me in his beautiful voice.
But ultimately, it's more about the content. Maia is, through and through, a terribly kind and empathetic person who is trying to do a job he was never trained to do… and do it right, because he understands he has a duty to be a good Emperor even if he doesn't have the training and has to figure it out for himself. There's a bit of plot in that he has to solve the mystery of his father's death and… oh, right, he survives a freaking coup using empathy and persuasion and the strength of relationships. But mostly, it's about him building relationships and figuring out who he wants to be as a leader, and I love it all, because I love him as a character.
And it's going to have a sequel of sorts, which is about the arch-angsty gay elven priest Celehar: The Witness for the Dead. Let the record show that I am personally disappointed in everyone who did not give me this news immediately.
I hope you, too, have a book you an hold close like a well-worn teddy bear. May they give us the comfort that will grant us the strength we need for whatever is to come.
---
See you, space pirates. If you'd like to know more about my secret plans to dominate the seas and skies, you can catch me over at my personal site.