Sponsored by Houghton Mifflin Harcourt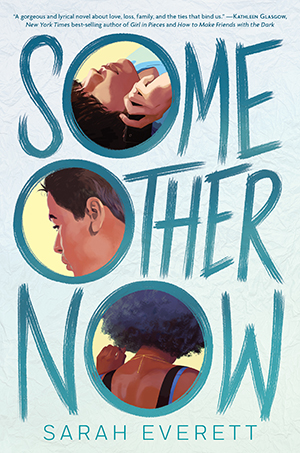 This luminous and heartbreaking contemporary novel follows a girl caught between two brothers as the three of them navigate family, loss, and love over the course of two summers.
Welcome to Check Your Shelf. I'm writing this newsletter as more information pours in about Wednesday's armed insurrection in Washington DC, and I'm struggling so hard to focus on anything library or work-related right now, and I imagine everyone else is as well. So, here's a list of library-related news articles that can hopefully act as a distraction for you. If not, they'll be here when you're ready to focus on literally anything else.
---
Libraries & Librarians
News Updates
First Lady Dr. Jill Biden will be speaking at the 2021 ALA virtual Midwinter Meeting.
Many of you have probably seen this already, but NetGalley announced that they were hacked on December 23rd.
Cool Library Updates
The American Indian Library Association announces their Read Native 2021 challenge.
Milwaukee's "Book Fairy" has donated thousands of books to Little Free Libraries.
These were the most borrowed books of 2020 in New York City.
Worth Reading
Why soaring ebook checkouts are worrying libraries. And as an interesting companion piece, a look at ebook licensing for school libraries.
Ways to get kids more excited about reading.
---
Book Adaptations in the News
A producer working on the Netflix adaptation of The Three-Body Problem was poisoned in an alleged murder plot. ** insert spit take here **
Netflix settled with the Conan Doyle estate over their lawsuit against the Enola Holmes movie.
Samuel L. Jackson is starring in Apple+ TV's adaptation of Walter Mosley's The Last Days of Ptolemy Grey.
Lydia Millet's A Children's Bible is being turned into a limited series.
His Only Wife by Peace Adzo Medie is going to get an adaptation.
On Earth We're Briefly Gorgeous is getting a film adaptation.
Frances McDormand is producing and starring in the adaptation of Women Talking by Miriam Toews.
Blumhouse Productions is developing a sequel to The Exorcist. I have…well, I have some feelings about this.
Casting update for the Game of Thrones prequel.
JJ Abrams' Bad Robot Productions has optioned the rights to Burn by Patrick Ness.
Charlie Mackesy forms his own production company and teams up with Bad Robot to adapt an animated short of his award-winning book, The Boy, the Mole, the Fox, and the Horse.
Noomi Rapace will star in a gender-swapped film adaptation of Hamlet.
Jennifer Lopez is producing and starring in an adaptation of Isabella Maldonado's book, The Cipher.
There's going to be a Little House On the Prairie reboot.
The Flight Attendant has been renewed for a second season with HBO Max.
His Dark Materials gets a third and final season at HBO.
Locke and Key gets another two seasons with Netflix.
Here are trailers for the Netflix adaptations of Shadow and Bone and The White Tiger.
---
Books & Authors in the News
A Black teenager was expelled from his elite private high school after his mother complained about his English class reading the play "Fences" by August Wilson.
Multiple authors across different franchises have said that they haven't received any royalty money after Disney acquired multiple properties in 2012.
Shirley Jackson's son uncovered an unpublished short story by his mother called "Adventure on a Bad Night." The story has been published in The Strand Magazine.
Roxane Gay is starting a book club in 2021!
February 18th has been named Toni Morrison Day in Ohio.
Take a peek at all of the books that are now officially in the public domain.
---
Numbers & Trends
Publishers say that "the Trump bubble is already starting to deflate."
OverDrive gives us a look at the top ebooks and digital audiobooks borrowed from public libraries in 2020.
Will we see an increase in illustrated novels in the future?
---
Award News
All of the award-winning novels of 2020.
Here are the longlists for the 2021 PEN America Literary Awards.
---
Bookish Curiosities & Miscellaneous
The Teen Reader Society, a new nonprofit organization, will donate free books to children who were directly affected by the West Coast wildfires.
"I've never felt less festive": the art of writing Christmas novels, 365 days a year.
Debunking the myth of "real reading."
It's okay if you didn't read this year.
---
On the Riot
A social media strategy for libraries.
A Little Free Library walking tour of this writer's neighborhood.
6 historical libraries that were tragically destroyed.
25 book-to-movie adaptations to look forward to in 2021.
A collection of different 2021 reading challenges from across the Internet.
Book Riot contributors talk about their biggest bookish achievements in 2020.
This Book Riot contributor talks about working at an Illinois Barnes & Noble. As a frequent shopper at multiple Barnes & Nobles in Illinois, I appreciate this.
My Goodreads TBR is my biography.
Music to listen to while reading.
How and why to spring clean your digital book clutter.
---
Solidarity to anyone in or near DC who has had a much more immediate experience of this week's chaos. Stay hydrated, everyone.
—Katie McLain Horner, @kt_librarylady on Twitter.