Sponsored by A Bestselling and Beloved Must-Read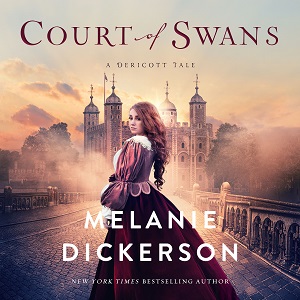 From New York Times bestselling author Melanie Dickerson comes a reimagining of the Wild Swans—the first book in a new series of fairy-tale retellings set in medieval England! Enter for a chance to win the Court of Swans audiobook!
Hola Audiophiles, and welcome back! I am fresh off two glorious weeks of sleeping in, reading, eating, and lather-rinse-repeating. I feel refreshed and kinda sorta hopeful for a less-hellish 2021! Let's kick off the year with a fresh batch of audiobooks and think positive thoughts.**
**Past Vanessa wrote and scheduled this newsletter hours before the news coming out of the US Capitol broke. I went from feeling the bliss of hope to the crush of anger and terror. I don't know what else to say here, so I'll just say that I think it's still important to keep hope alive even when it's hard to be hopeful. Sending you all a virtual hug for whatever it's worth.
Ready? Let's audio.
---
New Releases – week of January 5 (publisher descriptions in quotes)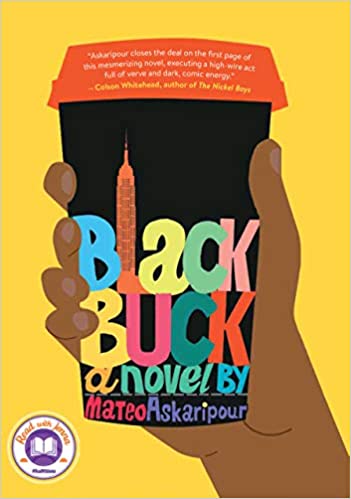 Unambitious 22-year-old Darren is perfectly content living with his mom and working at Starbucks, but his mom wants him to want more. Then a chance run-in with the smooth-talking CEO of New York's hottest tech start-up leads to Darren joining his team. Within a week, Darren has transformed into "Buck", a ruthless salesman unrecognizable to his friends and family (and the only Black person at the mysterious, cult-like, company). "But when things turn tragic at home and Buck feels he's hit rock bottom, he begins to hatch a plan to help young people of color infiltrate America's sales force, setting off a chain of events that forever changes the game." (fiction)
Read by Zeno Robinson (Ali Cross by James Patterson, Hi Five by Joe Ide)
Sixteen-year-old Tessa Johnson has rarely seen herself reflected in the pages of the romance novels she loves (relatable, Tessa!). The only place she gets to be the leading lady is in the love stories she writes. She's ecstatic when she's accepted into the creative writing program of a prestigious art school, but gets smacked with a case of writer's block during her very first workshop. But it's okay! Her bestie Caroline has a plan! All Tessa needs is a real-life love story for some inspiration via a list of romance novel-inspired steps to a happily ever after. But Tessa finds these steps may actually be pulling her further and further away from herself… (YA romance)
Read by Jordan Cobb (Deathless Divide by Justine Ireland, A Song of Wraiths and Ruin by Roseanne A. Brown, two books I really need to read)
Teen social activist and history buff Kezi Smith is killed under shady circumstances after attending a social-justice rally. Her sister Happi and their family are left reeling and devastated as Kezi becomes yet another victim in the fight against police brutality. Then Happi begins to question the idealized way her sister is remembered. Perfect. Angelic—"one of the good ones." (contemporary YA)
This narrator trio tho!!! Bahni Turpin, Jordan Cobb, and Carolyn Smith. What?!
Lore by Alexandra Bracken
For centuries, Zeus has punished the gods with a game called the Agon wherein the gods must walk the earth as mortals and then be hunted for their immortality. Fun! Only a handful of gods remain, the rest replaced by mortals who killed them and ascended. Lore is the lone survivor of a line of god hunters who were brutally murdered by a rival family. With the Agon approaching, Lore sees a chance for revenge against the mortals-turned-gods responsible for her family's deaths.
Read by Fryda Wolff (Mass Effect Andromeda: Nexus Uprising by Jason M. Hough, K. C. Alexander and Mass Effect: Initiation by N. K. Jemisin, Mac Walters)
Seventeen-year-old Ada is all smiles on her wedding day: she loves her husband and she loves working as an apprentice to her midwife mother. But a year later, she hasn't been able to get pregnant, which is kind of a big deal when you live in a town where barren women are routinely hanged as witches. That's when she packs up and joins the notorious Hole in the Wall Gang, a band of outlaws led by a preacher-turned-robber known as the Kid. "Charismatic, grandiose and mercurial, the Kid is determined to create a safe haven for outcast women. But to make this dream a reality, the Gang hatches a treacherous plan that may get them all killed. And Ada must decide whether she's willing to risk her life for the possibility of a new kind of future for them all."
Read by Cynthia Farrell (The Unhoneymooners by Christina Lauren, This is How You Lose the Time War by Amal El-Mohtar, Max Gladstone)
Latest Listens
Tiny Pretty Things by Dhonielle Clayton and Sona Charaipotra
TW: eating disorders and body stuff (not quite body horror, but close if you're squeamish).
Oh my gatos, y'all. The release of this book's Netflix adaptation reminded me that I'd been meaning to read it for years, it's so my kind of book (I know, I know: story of my life). I finally read it over the break and wooooooow. It's like Center Stage meets Black Swan and Fatal Attraction.
The book is primarily told from the perspectives of Gigi, Bette, and June, three young ballerinas at an intensely competitive ballet school in Manhattan. Kind and lighthearted Gigi just wants to dance, but the act could literally kill her. She's also the only Black girl at the school, so… you can guess how that goes. Privileged New Yorker Bette is… how do I put this? Picture a version of Regina George who pops a lot of pills and has a serious complex from dancing in the shadow of her ballet-star sister. She'll stop at nothing to end up on top, and I do mean nothing. *shivers* June is a dangerous perfectionist who has to land a lead role this year, otherwise her super-controlling mom will pull her from the school. Everyone's losing their sh*t because the cast for the school's Nutracker performance is about to be announced, and an absolute mess of a scandal erupts when the Gigi lands the role of Sugar Plum Fairy. Everyone thought it would be Better. Bette for damn sure thought it'd be Bette. But it's not, and not everyone is willing to accept that.
This is absolutely one of those books that makes you hold your breath and grip the nearest object with white knuckles. The competitive nature of ballet and all the related pressures, body issues, disordered eating, etc all leap off the page and smack you in the face: it's tense and uncomfortable and vicious. I loved how the authors also examined the motivations of the less palatable characters (hurt people hurt people, it turns out). If you're in the mood for an absolute ride of a book full of characters you both love and love to hate with narration that matches the AAAAAAAH-level tension and pace, pick up Tiny Pretty Things (and it's sequel, Shiny Broken Pieces).
Read by Imani Parks (Saving Ruby King by Catherine Adel West, Monday's Not Coming my Tiffany D. Jackson), Nora Hunter (You Don't Know Everything, Jilly P! by lex Gino), Greta Jung (The Last Story of Mina Lee by Nancy Jooyoun Kim, Your House Will Pay by Steph Cha)
From the Internets
Any Bodega Boys fans out there? Check out Audible's interview with Desus and Mero and a discussion of their book, God-Level Knowledge Darts: Life Lessons from the Bronx.
New year, new beginnings! Here are five audiobooks about new beginnings brought to you by the good folks at Audiofile.
Libro.fm has a quiz to help you pick your first listen of 2021 (or not first if I know my audience)!
Over at the Riot
6 Audiobooks to Help You Out of Your Post-Holiday Reading Slump
---
Thanks for hanging with me today! Shoot me an email at vanessa@riotnewmedia.com with with all things audiobook or find me on Twitter and the gram @buenosdiazsd. Sign up for the In The Club newsletter and catch me once a month on the All the Books podcast.
Stay bad & bookish, my friends.
Vanessa