Sponsored by our Books Worth Talking About prize pack giveaway!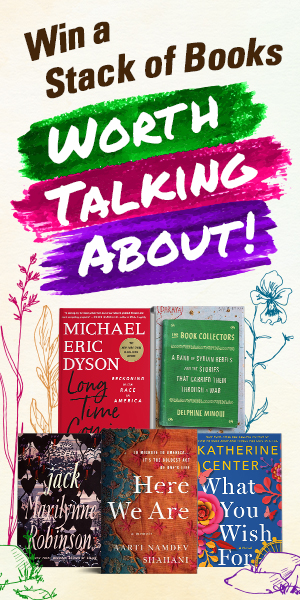 Book Riot is teaming up with Reading Group Gold for a chance to win a stack of books worth talking about! One winner will receive each of the following titles to add to their TBR pile: Here We Are: To Migrate To America… It's the Boldest Act of One's Life by Aarti Namdev Shahani; Long Time Coming: Reckoning with Race in America by Michael Eric Dyson; Jack: A Novel by Marilynne Robinson; The Book Collectors: A Band of Syrian Rebels and the Stories That Carried Them Through a War by Delphine Minoui, translated by Lara Vergnaud; and What You Wish For by Katherine Center.
Welcome to In The Club, a newsletter of resources to keep your book group well-met, well-read, and well-fed. It's our first club gathering of the year and you know what that means: time to remind everyone of my propensity for terrible bookish song remixes!
Go, go, go, go go, go, go, shawty
It's a new year
The pandemic's still going, but it's a new year
We're gonna get vaccinated in the new year
And we gon' talk about some books up in this new year!!
You can find us in the club… at home, snug as a bug
Look buddy we're curling up with blankets and warm mugs
We read diverse books from both big and indie pubs…
So you wanna join this club? Let's talk about books and grub.
To the club!!
---
Nibbles and Sips
In my family, the holidays aren't officially over over until el Día de Los Reyes, also known as Three Kings' Day or Epiphany. We (normally) gather on January 6th and share a Rosca de Reyes, a wreath-shaped bread/cake situation that typically consists of flour, eggs, butter, and candied fruit (you may know it as Kings' Bread or King cake). Inside there are one or more plastic baby figures that represent—you guessed it—lil' baby Jesus. Whoever gets the plastic baby in their slice has to host a meal or party on February 2nd, also knows as Candelaria Day.
Religious element aside, I love the tradition of la rosca for bringing people together. So why not do a bookish version? For those book clubs made up of quaranteams, or clubs who meet in safe, socially distanced settings, share a version of a rosca. Stuff it with one or more plastic figurines (you can buy these online and get creative if the baby thing creeps you out), then have the person(s) who get the figurine host your next gathering. Maybe they can also pick your next book!
If you want to make a traditional bread, here are a few recipes for Rosca de Reyes, Epiphany cake, and King Cake.
How I Spent My Holiday Vacation
The curse that put me in a reading slump this year seems to have been lifted over my much-needed two weeks off. Twas glorious, I think I read 10 books in two weeks! Three of them stuck out to me as having great book cub potential.
This book was my big white whale, a book I've picked up and put down several times and finally tackled in the final days of 2020. At an elite college tucked away in Vermont, a group of eclectic misfits opt to study Ancient Greek—and only Ancient Greek—under the tutelage of a charismatic and unconventional professor. We learn right away that the narrator and his friends have committed a murder, then slowly come to understand how the bubble of a world they've crafted for themselves may have facilitated the crime, one where the self-importance runs high and the boundaries of ethics and morality are blurred. This is me putting it very, very simply so that you might experience the entirety of this beautiful mess for yourself.
Book Club Bonus: This is a little longer than I'd normally suggest for book club, and many of you may have already conquered it. I'm tossing it in anyway because it's a polarizing read rich with book club potential. I really was not a fan of The Goldfinch and was scared Donna Tartt may just not be for me, especially since there are some definite similarities in pace and the characters' drug, drink, and angst-filled ennui. But the slow revelation of each character's background and motivation in The Secret History was both maddening and ingenious to me, plus the searing critique of elitist institutions. You may agree or want to chuck this book at the wall—discuss!
Tiny Pretty Things by Dhonielle Clayton and Sona Charaipotra
TW: eating disorders and body stuff (not quite body horror, per se, but think the physical toll of dancing on the body).
Gigi, Bette, and June are three young ballerinas at the intensely competitive American Ballet Conservatory in New York City. Kind and lighthearted Gigi is the only Black girl at the school and just wants to dance, but the act could literally kill her. Privileged New Yorker Bette is a piece of work (!!!) dancing in the shadow of her ballet-star sister, and she'll stop at nothing to end up on top. June is a dangerous perfectionist who has to land a lead role this year to keep her mother from pulling her from the school, and she too is ready to do so by any means necessary. Feathers are ruffled (understatement!) when Gigi is chosen for the role of Sugar Plum Fairy in the school's Nutracker performance, and an absolute mess of a scandal ensues. I caught myself holding my breath over and over while reading this book and gripping it with white knuckles. What a ride!
Book Club Bonus: There's plenty to discuss about the competitive nature of ballet and all the related pressures, body issues, disordered eating, etc. But also dive into the motivations of the less palatable characters (hurt people hurt people!): none of their dysfunctions exist in a vacuum.
I hope to internalize and put the ideas in this book into practice more in 2021. Reshma Saujani is the founder and CEO of Girls Who Code and starts off by telling us about the time she quit her stable and lucrative career for a disastrous run for political office. She not only lost, she lost hard. The hardest! That moment was a turning point in Saujani's life and a hell of an epiphany: women are taught to chase perfection since childhood, and that pattern ends up holding us back in adulthood. Through a combo of personal anecdotes and some in-your-face statistics and studies, Saujani challenges readers, especially women, to embrace imperfection and live a bolder life.
Book Club Bonus: You know how bad I am at reading self-help, but this book resonated with me tons and gave me some Year of Yes vibes. Share the ways in which you have and continue to hold yourself back (whether you identify as a woman or not) in the name of perfection. On the flip side, examine how teaching boys to be always be brave and not perfect could be problematic, too.
Suggestion Section
January Book Club picks from PBS and Vox.
In case you missed it over the holidays: Reese Witherspoon's Hello Sunshine Book Club and Literati partnered to delivered 11,000 books to kids in the LA area
Barnes & Noble announces its January book club pick: Better Luck Next Time by Julia Claiborne Johnson.
---
Thanks for hanging with me today! Shoot me an email at vanessa@riotnewmedia.com with your burning book club questions or find me on Twitter and the gram @buenosdiazsd. Sign up for the Audiobooks newsletter and catch me once a month on the All the Books podcast.
Stay bad & bookish, my friends.
Vanessa