Sponsored by AfterShock Comics.
Ultra-modern megacities reward millions of their citizens with a completely funded life, with every need met, from food to housing and healthcare, in order to compete in an economic power struggle in which population is key. But a few rural residents still cling to their independence in what last American small towns are left. When a nearby megacity pressures the people of a small town to join up or else, a young teenage girl named Clem will learn how far she'll go to defend her principles.
Happy new year, star bits! It's the first Monday of 2021 and it's time for a bit of bookish excitement. The book world was quiet over the holidays, but I still have a few fun things to share with you, including a delightfully nerdy video, a cat collage, and one of my new favorite books coming in 2021! I can't wait to share another bookish year with you. I think it will be one for the books. (Sorry, not sorry.)
Here's Monday's trivia question: How many acts are there in Romeo and Juliet? (Scroll to the bottom for the answer.)
Deals, Reals, and Squeals!
Here's what is entering the public domain in 2021, including The Great Gatsby.
Epic nerdpurr alert: Start your first full week of 2021 off with warm fuzzies by watching this video about a book blogger who chose this year's Goodread's Challenge color.
Here are 25 book-to-movie adaptations to watch for in 2021.
Cynthia Erivo will star in and produce a film about the enslaved Yoruba girl who became a gift to the Queen of England, who was the subject of the book At Her Majesty's Request by Walter Dean Myers.
First Lady Jill Biden will speak at the 2021 ALA Virtual Midwinter meeting.
HBO Max revealed the new characters from the Gossip Girl reboot.
Book Riot Recommends
At Book Riot, I work on the New Books! email, the All the Books! podcast about new releases, and the Book Riot Insiders New Release Index. I am very fortunate to get to read a lot of upcoming titles, and learn about a lot of upcoming titles, and I'm delighted to share a couple with you each week so you can add them to your TBR! (It will now be books I loved on Mondays and books I'm excited to read on Thursdays. YAY, BOOKS!)
Loved, loved, loved:
Holy cats! I thought I had already talked about this book in this newsletter, but it turns out I was wrong, and now I am sad I have been keeping it from you for so long, because it's so freaking good! Fans of The Time Traveler's Wife—this is the book you have been waiting for!
There's a lot I can't tell you about this book without ruining it, so I'm going to try and give you a brief summary using non-spoilery things that you can also learn from the jacket copy. If you want to jump in without learning anything, this is where you get off the train.
Okay, the rest of you, meet Thora and Santi. They are two strangers who meet in a foreign city, and really hit it off. Sadly, something is going to happen to one of them shortly after. But fear not, because they're going to meet again in the next life. And the next, and the next, and the next… Over the years, Thora and Santi are reunited in new lives, with new roles. And over their lifetimes, they are girlfriend/boyfriend, father/daughter, doctor/patient, teacher/student, etc. And with each new life, they begin to remember a little bit more about their past lives. How many lives will they have to live to get the answers to why the universe keeps them together?
This is such a luxurious, immersive read. I loved the premise, I loved the reveals, and I loved Thora and Santi, especially all their different roles in their new reincarnations. Meet Me in Another Life is a beautiful story of life, death, family, friendship, love, and beliefs. And it asks the question: can anyone ever really know someone else completely? Mark this one down now, kittens, it's going to be HUGE.
(Content warnings for discussions of illness, death, car accidents, drowning, fire, physical violence, murder, chemical use, and animal cruelty.)
What I'm reading this week.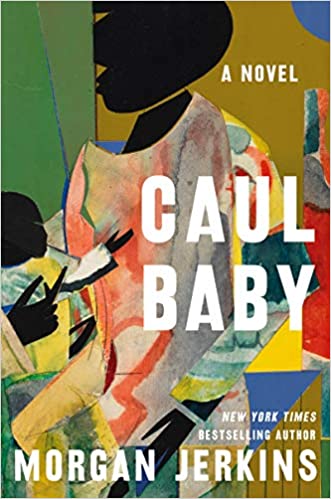 Caul Baby by Morgan Jerkins
Yellow Wife by Sadeqa Johnson
Detransition, Baby by Torrey Peters
The Prophets by Robert Jones, Jr.
The Bonfire of the Vanities by Tom Wolfe
Pun of the week:
I don't trust stairs. They're always up to something.
And this is funny:
I love that people have this much time on their hands.
Happy things:
Here are a few things I enjoy that I thought you might like as well:
The Good Place: I rewatched the whole series last week and this hilarious, weird, heartsqueezing show was exactly the balm I needed for my soul.
Jigsaw puzzles! Still on a HUGE puzzle kick. Several of you have asked how I do puzzles with destructive felines in the house, and the answer is: very carefully. I only do 500-piece puzzles, because I cannot leave them unattended or the cats will destroy them. So once I start a puzzle, I am committed to finishing it.
Shudder, the streaming service for horror, thriller, and suspense genres. I treated myself to a subscription as my Christmas present and it's amazing. First movie I watched? The Lost Boys.
Numberzilla. Still not tired of this game.
Purrli: This website makes the relaxing sounds of a cat purring.
And here's a cat picture!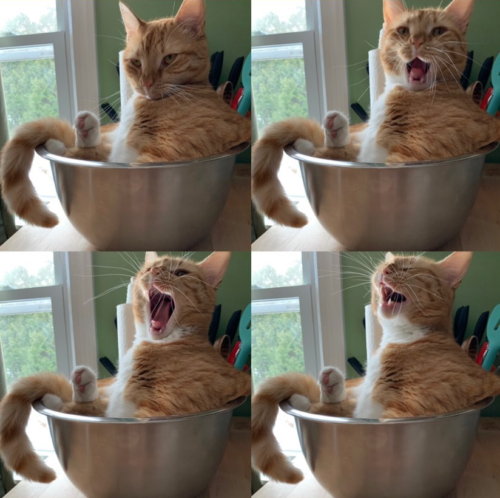 Yes, these are pictures of Zevon captured mid-yawn, but I like to think he's laughing.
Trivia answer: Five.
Remember that whatever you are doing or watching or reading this week, I am sending you EXTRA love and hugs. Please be safe, and be mindful of others. It takes no effort to be kind. I'll see you again on Thursday. – xoxo, Liberty