Sponsored by Flatiron Books, publisher of Tales from the Hinterland by Melissa Albert.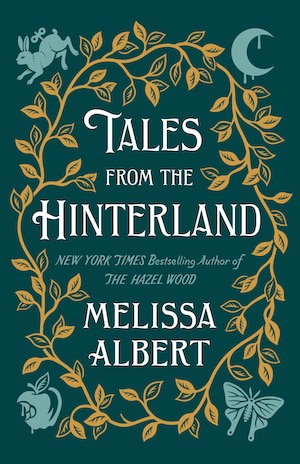 A gorgeously illustrated collection of twelve original stories by the New York Times bestselling author of The Hazel Wood and The Night Country. Journey into the Hinterland, a brutal and beautiful world where a young woman spends a night with Death, brides are wed to a mysterious house in the trees, and an enchantress is killed twice—and still lives. Perfect for new readers and dedicated fans alike, Tales from the Hinterland will include gorgeous illustrations by Jim Tierney, foil stamping, two-color interior printing, and two-color printed endpapers.
Welcome to 2021, dear shipmates! We made it past the flipping of the calendar page, and while things still look very much the same (obviously), I'm trying to keep my heart filled with hope (though considering I rang in the new year by finally watching the original John Carpenter's The Thing while drinking champaigne, well…). Yes, it's Alex, with the first round of new releases for a new year, and a few hopefully interesting news items. Stay safe out there, and I'll see you on Friday!
Thing that made me laugh: This is very sweary, but here's "turning random internet drama into songs, part 2" and I cannot stop watching it.
Let's make 2021 better than 2020. A good place to start? The Okra Project and blacklivesmatter.carrd.co
---
New Releases
Note: The new release lists I have access too weren't as diverse as I would have liked this week.
Persephone Station is a backwater planet that the United Republic of Worlds is content to ignore while a corporation makes its home there—and keeps its secrets. Rosie is the owner of a bar that caters to tourists and criminals; Angel is a criminal who does a favor for her. The result is that they both end up in hot water with the corporation—and its private army.
Noah, a man with a shiny new PhD in genetics lands his dream job at a company where he gets to design new lines of living, breathing dragons. These creatures have mostly been used for industrial purposes until now, but the company's eager to break into the general retail market by designing dragons into the perfect pet. But Noah has other ideas, and his own changes he wants to make to the draconic genome…
A newly-minted 16-year-old Jedi Knight named Vernestra Rwoh is handed a first assignment that feels frustratingly like a babysitting gig: supervise an aspiring inventor four years her junior as they head to a new space station. But bombs go off in the ship as soon as they're out of reach of easy help, and Vernestra has to keep her charge and several other survivors of the bombing alive after they land their escape pod on a nearby moon.
A humble scribe who thought she was only supposed to record the great deeds of others discovers she may have more power than she could have imagined in a world that stands at the brink of the next Great Dying.
Lore by Alexandra Bracken
Every seven years, nine Greek gods must walk the earth as mortals. There, they are hunted by those eager to kill a god and seize their immortality. Lore is the survivor of a line of these hunters who were brutally murdered by a rival family. Now, she's got a chance for revenge against the man-turned-god responsible for their deaths.
Twelve years after a bloody war that has left two nations licking their wounds and smoldering with leftover animosity, the villagers of an isolated village named Jalard have been largely untouched by this trauma. But their yearly contact with the outside world brings shocking changes. Normally, representatives of the Academy come to take two villagers away to join the institute, which has been a great honor. Until this year, when a shocking announcement leaves the residents of Jalard questioning just where their people have been going all these years.
News and Views
Per Harry Turtledove, David Weber is in the hospital due to COVID.
Ranking every superhero origin movie I could remember – there's TWENTY-NINE. Whoof.
Martha Wells has a thread on Twitter about pirated editions on Kindle and the battle she's having with Amazon regarding some work she's self-published. If you're not aware of this issue, it's very worth reading.
Anathema has done their December 2020 issue as a Showcase Edition. If you're looking for more short fiction from queer people of color, this is a great place to start reading.
James Nicoll on the strange experience of reading a book series in the wrong order
I watched Wonder Woman 1984 over Christmas. Sorry to say I did not like it. This is probably the best review I've seen of the movie (and much more concise than mine).
Sarah Gailey has shared an awesome cocoa recipe. (Full disclosure: Sarah and I have the same agent.)
Addressing The Mandalorian as a diaspora story.
If you feel like being sad, io9 has a list of who our community lost in 2020.
On Book Riot
10 under-the-radar fantasy and science fiction books from 2020
Dragons, war and magic: a flock of books like Eragon
Fantasy, dark sarcasm, and sci-fi: reading pathways to Jay Kristoff
12 must-read high fantasy novels coming out in the second half of 2020
This month you can enter to win $100 to the bookstore of your choice, a 1-year Kindle Unlimited Subscription, or your own library cart.
---
See you, space pirates. If you'd like to know more about my secret plans to dominate the seas and skies, you can catch me over at my personal site.