Sponsored by Baen Books.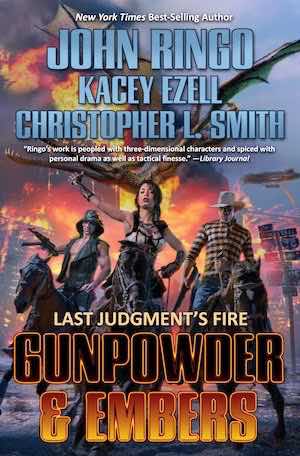 War in the smoking ruins of tomorrow! Thirty years ago, the world ended. Giant electrovoric ants and pterodons came through a rift in space-time, millions of humans died, and that was that. Without electricity, most survive at subsistence level. For Chuck Gibson, the simple life of a rancher was enough. But then he met a mysterious dying stranger and now he's on the road of destiny accompanied by a mystic warrior monk, a beautiful dragon tamer, a runaway cultist, and a mystic drunken lecher—all searching for the key to reclaiming humanities past and future.
Gather around Gothic lovers, I'm Jessica Avery and I'll be delivering your weekly brief of all that's ghastly and grim in the world of Horror. Whether you're looking for a backlist book that will give you the willies, a terrifying new release, or the latest in horror community news, you'll find it here in The Fright Stuff.
It seems fitting to me that Mary Shelley's great promethean work should have first been published in what is – at least where I am – the darkest, most inhospitable time of the year. While snow in December is usually looked for, and welcomed as a precursor of a properly wintery holiday season, we always see the worst storms and coldest weather in January and February. On years when we aren't pummeled with weather, it's usually because we're trapped in a polar vortex too cold and dry even to produce the moisture needed for snow. It's so cold that it gets into your bones and even though the sun shines and the skies are clear, the world feels sharp and white. It's a time of death, and also beginnings. A bit like Frankenstein.
Though the creation of the novel first began with that now famous stay in Geneva in 1816 – when Mary, Percy, and their young son traveled to the lake to stay with consummate dirtbag Lord Byron – it was two years later in January of 1818 that Shelley's Frankenstein as published. Fitting – like I said – that a novel full of such stark and vast northern landscapes, as much about hubris and creation as it is about murder and monsters, would be released to the world in the dark days after the bright holiday season. A book that is both fascinating and beloved in its own right, and also the parent to so many favorites of modern pop culture.
So it is with great affection that I say: Happy 203rd Birthday, Frankenstein! Let's celebrate!
The Best Frankenstein Editions for a Reread
This is my favorite edition of Frankenstein. I mean I'm unapologetically obsessed with Norton Critical Editions anyway because they're like buying the special edition of a book and having it come with all the bonus features. There are actually more pages of critical and contemporary content in this edition than there are pages in Frankenstein itself! Norton editions tend to be more expensive, but are always worth it.
If you want something a little less academic, but still beautiful and possessing a little something extra, consider this hardcover edition of Frankenstein. It's one of a collection of horror novels that Penguin curated and released as deluxe hardcovers back in 2013, each of them containing both the collection forward by horror film genius Guillermo Del Toro and a text introduction by a well-known literary personage. The intro for Frankenstein is written by Elizabeth Kostova, author of The Historian.
This edition for Frankenstein is for if you really want to nerd out. I have the annotated Dracula from this series (also from Norton, this is now a W.W. Norton appreciation newsletter, apparently) and let me tell you these hefty, beautiful editions are chock full of marginalia to make sure that you get the most out of every possible detail of the novel.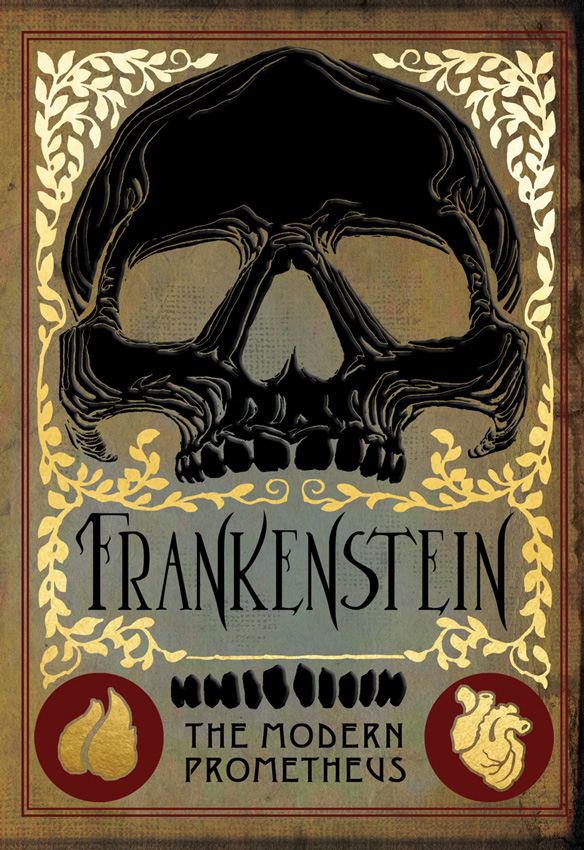 Ethereal Visions' Illuminated Frankenstein
This is the most expansive edition on the list, but also the most beautiful. For the art lover, or the Frankenstein devotee, Ethereal Visions' Illuminated Frankenstein is breathtaking. Really. Do yourself a favor, click through to their product page, and feast your eyes on some of the devastatingly gorgeous illustrations that bring Shelley's novel to vivid life.
Frankenstein Adaptations in Film and on the Page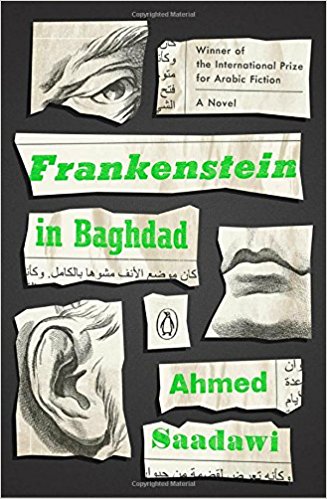 This modern retelling of Frankenstein, set in U.S.-occupied Baghdad, is about a man sewing together body parts to make a single corpse. A corpse that then disappears. Then a string of murders across the city is accompanied by rumors of a hideous, bullet-proof creature. Hadi, who was only stitching body parts together into corpses to force the government to recognize them as people and give them a decent burial, realizes that he has, in fact, created a person. A monster that feeds on human flesh.
Mary Shelley's Frankenstein (1994)
Hands down the best film adaptation of Frankenstein out there I swear on the grave fight me. Fight me. Okay don't fight me. But listen. Every film adaptation of Frankenstein, much like any film adaptation of a novel, takes liberties with its source text. What Mary Shelley's Frankenstein manages to do, even though it's excessively (sometimes absurdly) dramatic and at times guilty of questionable costuming choices, is capture the spirit of the novel.
Elizabeth McHugh's collection of blackout poetry and visual art may be small, but it is powerful. Using the text of Frankenstein itself McHugh has crafted 52 pieces of stunning blackout poetry that stand as both a tribute to and a deconstruction of Mary Shelley's original novel. If you're a fan of poetry, Frankenstein, or both, I highly highly recommend this recent release. It's a love letter to its source text.
The Royal Ballet's Frankenstein
Really, Jessica. A Ballet? Yes. Because 1) It's so beautiful that it actually causes me physical pain, and 2) in this newsletter we respect all the incredible ways that works of horror make their way into the world. Staring Royal Ballet principals Federico Bonelli, Laura Morera and Steven McRae, choreographer Liam Scarlett's ballet adaptation of Frankenstein (which debuted as part of the company's 2016/17 season) is a dark and breathtaking. Even if you're not a ballet fan you should at least watch the clips that the Royal Ballet uploaded to their Youtube channel and see for yourself. Lowell Liebermann's score is beyond gorgeous.
---
As always, you can catch me on twitter at @JtheBookworm, where I try to keep up on all that's new and frightening.