Sponsored by Flatiron Books, publisher of The Flatshare by Beth O'Leary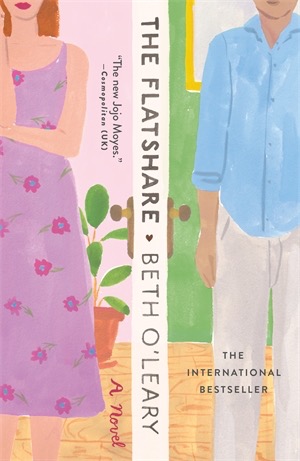 What if your roommate is your soulmate? A joyful, quirky romantic comedy, Beth O'Leary's The Flatshare is a feel-good novel about finding love in the most unexpected of ways. After a bad breakup, Tiffy Moore needs a place to live. Desperation makes her open-minded, so she answers an ad for a flatshare. Leon, a night-shift worker, will take the apartment during the day, and Tiffy can have it nights and weekends. In fact, they'll never even have to meet. Tiffy and Leon start writing each other notes. Even though they are opposites, they soon become friends. And then maybe more.
Welcome to Check Your Shelf, and welcome to a brand new year! I hope everyone had a safe and relaxing holiday. I did my best to bring some positive energy into 2021 by syncing up the drum solo from "In the Air Tonight" to play at exactly midnight on New Year's, so…hope it helps!
I'm not thrilled about going back to a regular work schedule, but c'est la vie. Let's take a look at what we missed over the last couple weeks.
---
Collection Development Corner
Publishing News
Edelweiss announced the launch of Edelweiss BookFest, a virtual event scheduled to take place at the beginning of June. This is supposed to temporarily fill the gap left behind by Book Expo.
A look at the bizarre phishing scam within the publishing industry, which targets unpublished manuscripts.
Here's a recap of the turbulent publishing protests in 2020.
Are publishing diversity efforts starting to kick in?
Business was actually good for publishers in 2020.
The weirdest book news from 2020.
New & Upcoming Titles
8 books from 2020 that best captured the mood of the year.
Weekly book picks from Crime Reads and Shelf Awareness.
January picks from Barnes & Noble, Entertainment Weekly, Epic Reads (YA), New York Times, Time, and Washington Post.
Best Books of 2020
Best books of 2020 from The Atlantic, Bustle, CBS News, HuffPost, and Vogue.
Crime Reads picks the best traditional mysteries, historical mysteries, and international mysteries of 2020.
Children's publishers share their favorite books of 2020.
From Lambda Literary staff: the books that helped them manage 2020.
LitHub and indie booksellers recommend the best under-the-radar books of the year.
And finally…everything you need to know about 2020's biggest and best reads.
Most Anticipated Books of 2021
Most anticipated books of 2021 from AARP (nonfiction), Amazon (mysteries & thrillers), Barnes & Noble, Book Marks (books in translation), Bustle, Datebook, The Guardian (fiction and nonfiction), Pop Sugar, Seattle Times, Time, and Vogue.
What to read in 2021, based on your favorite books of 2020.
What Your Patrons Are Hearing About
The Prophets – Robert Jones Jr. (Entertainment Weekly, LA Times)
Bedeviled: A Shadow History of Demons in Science – Jimena Canales (Washington Post)
The Wrong Family – Tarryn Fisher (USA Today)
Nick – Michael Farris Smith (Washington Post)
On the Riot
10 under-the-radar fantasy & science fiction books from 2020.
Reading pathways for Jay Kristoff.
Why queer holiday stories are necessary.
This reader has conflicting feelings about reading what everyone else is reading (and I imagine that a lot of librarians feel the same way from time to time).
---
All Things Comics
On the Riot
10 queer comics and manga that made 2020 bearable.
---
Audiophilia
23 audiobooks that were really popular in 2020.
12 best-selling audiobooks across genres.
On the Riot
8 of the best poetry audiobooks performed by their authors.
---
Book Lists, Book Lists, Book Lists
Children/Teens
18 YA mystery books like One of Us is Lying.
Adults
Writers recommend books that Joe Biden should read.
Angela Davis and other radical reading suggestions for 2021.
8 novels about female superheroes.
On the Riot
14 of the best books about unions, organizing, and American labor.
8 books to pair with your favorite gentle reality TV shows.
5 short books to help you finish that Goodreads reading challenge (or start your new one).
Read Harder: a book with a cover you don't like, a romance by a trans and/or nonbinary author, a work of investigative nonfiction by an author of color, and a food memoir by an author of color.
15 weed books that illuminate, demystify, and celebrate cannabis.
6+ books to teach you about Judaism.
10 books on architecture for non-architects.
---
Level Up (Library Reads)
Do you take part in Library Reads, the monthly list of best books selected by librarians only? We've made it easy for you to find eligible diverse titles to nominate. Kelly Jensen created a database of upcoming diverse books that anyone can edit, and Nora Rawlins of Early Word is doing the same, as well as including information about series, vendors, and publisher buzz.
---
Use that new year energy to stay hydrated and moisturized! I'll catch you all on Friday.
—Katie McLain Horner, @kt_librarylady on Twitter. Currently Muppet-arming about Solutions and Other Problems by Allie Brosh. (So mother-forking funny!!)