Sponsored by the Faraway Collection, from Amazon Original Stories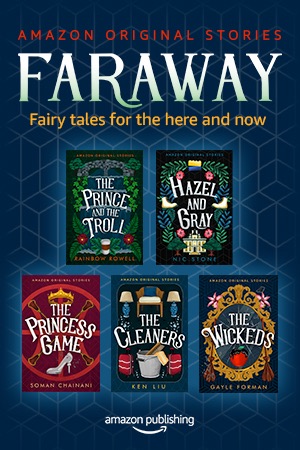 Once upon a time is now. From bestselling authors Rainbow Rowell, Nic Stone, Soman Chainani, Ken Liu, and Gayle Forman come five short twists on classic fairy tales that take the happily-ever-after in daring new directions. Whether read or listened to in one sitting, prepare to be charmed, moved, enlightened, and frightened all over again. Prime members read and listen to the Faraway collection for free.
Happy 2021, YA Readers!
To launch the new year right, I thought it would be fun to ask some of your favorite seasoned YA authors (aka: they've published a book before) to highlight some debut YA books that they're super excited about in 2021. Each of the seasoned authors has a new book hitting shelves this year, which you'll also get to explore after their recommendation.
It's so hard to be a first-time author, as you're starting without anything to showcase your skills and voice. This is even more true during a pandemic, where all of the potential places for getting the word out there are far more limited than in the past.
But as you'll see: we're in for an incredible year in YA debuts, as well as YA from beloved voices already writing young adult lit.
---
Ever since I heard about Ray Stoeve's debut, Between Perfect and Real, I've been dying to read it. I'm a sucker for stories set in the theater, so Ray's story about a transgender guy using theater to find his place ticks all the boxes for me. Between Perfect and Real looks funny and thoughtful, and I'm here for it. — Shaun David Hutchinson, whose A Complicated Love Story Set In Space hits shelves January 19.
The moment I saw the cover for Ashley Shuttleworth's A Dark And Hollow Star, it immediately landed at the top of my to-buy list. I mean, those wings, am I right? This dark, urban fantasy has all the elements I've been craving in YA: a group of queer teens, secret fae Courts and immortal realms, and a murder mystery. A Dark and Hollow Star fills the dearth of queer representation in the deep catalogue that is YA books about the fae. As a queer teen, I deeply identified with these stories, yet more often than not queer characters remain on the sidelines. Here they are the heroes at the story's heart and I cannot wait to dive in. — Amanda Joy, whose A Queen of Gilded Horns (second in a duology!) hits shelves March 16.
There is very little I love more than a romantic comedy with a Black girl at the center, so I was sold on the pitch for Happily Ever Afters before I'd even finished reading the description. Reserved Tessa doesn't see herself in the romances she loves, so she writes her own. But in order to write, she has to find some inspiration (in the form of a swoon-worthy new boy, Nico) through her romance novel checklist. This book is exactly the type of heartwarming, uplifting content we need more of in the world right now. — Leah Johnson, whose Rise To The Sun hits shelves July 6.
The debut I'm most excited about is Emery Lee's MEET CUTE DIARY–first of all, talk about a hooky title and concept. I'm immediately into it. And then you get to the actual book: after Noah's blog about Trans happily-ever-afters is exposed as fiction, he agrees to start fake dating Drew to save the blog. There's PINING, y'all! This is one meet cute you do not want to miss. — Tess Sharpe, whose mystery/thriller The Girls I've Been hits shelves January 26.
Prepped by Bethany Mangle (February 23)
You would think after living through the great COVID toilet paper shortage of 2020 that I'd have no interest in reading a book about people hoarding food for the end of the world … but you'd be wrong. Doomsday preppers fascinate me, so I can't WAIT to read Bethany Mangle's PREPPED. I love a messy family story, and the romance subplot sounds spot-on. February 23, 2021 can't come fast enough! — Lauren Morrill, whose next book It's Kind of a Cheesy Love Story hits shelves March 9.
Reset by Sarina Dahlan crossed my radar and this post apocalyptic sci-fi sounds incredible! Pitched as Brave New World meets The Vow, Reset is set in a self-sustaining utopia where all memories are wiped every four years in the hopes of preventing prejudice and war. When Aris, a scientist who shuns love, meets Benja, a free-spirited warrior who is certain his dreams of a past lover are actually memories, her world is turned upside down, and I cannot wait to find out what happens. — Heidi Heilig, whose On This Unworthy Scaffold hits shelves March 9 (it's the conclusion to her "Shadow Players" trilogy!).
---
May your TBR be ever-growing!
See you later this week for YA book news and new YA book releases. In the meantime, happy reading.
— Kelly Jensen, who is looking forward to Not Here To Be Liked by Michelle Quach, a book about a girl who, despite being supremely qualified to be editor-in-chief of her school's paper, loses out to a less-talented male peer and begins a feminist revolution in her school. Out in September!